As critics hail her one of the biggest, breakout stars of RuPaul's Drag Race UK season 2, thanks in part to her one-of-a-kind dry sense of humour, stoic personality and killer long legs, self-confessed "Queen of Clapham" Tia Kofi finds herself riding high on the crest of a rainbow coloured wave as she delights fans with the release of her debut single, Outside In.
"I don't quite know what to make of everything that's going on right now to be honest with you." Tia says as we catch up to talk all things Drag Race related, making music and her hopes and plans for the future. "Thinking back to the start of this whole process of being on the show, you for sure have a bit of a plan going in there, but as soon as you walk in, and turn that corner into the studio, that's as far as the plan goes because at the end of the day, you can't plan for what you don't know. And really, none of us had any idea what was to come. So it was all about just living in the moment, trying to enjoy the experience as a whole and then building on the opportunities presented to you going forward."
Instantly engaging, super friendly and genuinely self-deprecating, with a humble attitude that you just can't help but warm too, Tia ticks all the boxes! And with her two feet clearly and firmly on the ground, there certainly seems to be no danger of this down to earth Queen turning into an overbearing or problematic diva anytime soon.
"My family keep me level headed." Tia admits. "When I told my Dad I was going on the show he was like 'Drag Race?.. is that like Top Gear?' so there's no airs and graces with us (laughs). I think right now they're all a little taken aback by what's going on to be honest with you; but they love it! My sister is an avid watcher, and she loves to give me a weekly debrief on everything which is pretty funny."
As an advocate for change, and a champion for ensuring equal representation stands within the drag community, all jokes aside, Tia clearly takes her new found social status seriously, and is passionate to use her platform for the greater good of people who are just like her. "As a community we need to be supportive of one another, and be aware of what's happening socially and politically. I think it's important to raise awareness of all of my POC Queens out there doing their thing! So as well as enjoying myself and having fun, that's something I hope to be able to shine a spotlight on… as I now have way more social media followers than I did a few weeks ago! (laughs)"
Meet Tia Kofi | RuPaul's Drag Race UK Series 2
"This (performing, being on stage) is something I've always wanted to do." Tia says candidly. "You can never really predict what's going to happen or how you're going to be perceived by the public on these kinds of shows, but the audiences reaction to me has been amazing – I can't quite believe it, it's a lot to take in."
Such sudden, overnight fame and notoriety on any level must be a pretty difficult concept to get your head around, and whilst we're almost certain there will have been a period of having to mentally process and adjust to her 'new normal', we imagine that overall, Tia must be feeling pretty good about where she's at in her life right now…
"Yeah… you could say my life has been somewhat of an absolute whirlwind these past 12 months! (Laughs) And I say that because being on the show was one thing, it's incredible and it was a dream, but then there are all of these other amazing opportunities that come as a result of taking part in such a massive show like Drag Race, and I don't know if I'd ever really thought about before – not that I expected that any of this to happen to me! But it's been wonderful, really wonderful."
---
"You can never really predict what's going to happen or how you're going to be perceived by the public on these kinds of shows, but the audiences reaction has been amazing."

Tia on her appreciation of support from the public.
---
In years gone by, at this point in the series' run, it would have been the norm for the Queens taking part to now be hitting the drag scene hard, performing their acts at clubs and events up and down the country, trying to capitalise on their heightened profiles and new found celebrity status. But the world is a very different place in 2020 and 2021, real life has slowed down, and our regular way of living has undoubtably had to change. For the 12 contestants taking part in season 2 of the hit BBC Three show, going from the dizzying highs and excitement of filming to life in lockdown, then having to navigate their way through the juxtaposition of living in between those two completely different worlds must have been tricky.
"For me personally, having all of this (the show) going on, has been really good for me during the whole pandemic and time in lockdown." Tia admits. "Because obviously like you say, I'm the same as everyone else in that I can't really do all that much at the moment, and I guess you can sometimes start to feel a bit isolated and cut off from the world because of that, so to have the show and to feel all of the love from people on social media… well, it's all just a bit overwhelming to be honest with you! But it's amazing, I'm so appreciative."
During those months of self-isolation, and being encouraged to stay home and stay safe, how did Tia manage to remain positive and keep her spirits up we wonder…
"I've found for me, that the most important thing is to keep busy and to find other things to focus on rather than the reality of what's going on in the 'real world', if that makes sense? So right now my flat is completely covered in wigs and I'm taking my time in sorting them out all out (laughs). On a serious note though, after being on the show and then having this time out, its given me this new sense of freedom, and the ability to explore my own thoughts and creativity, even more so than I did before."
---
"You're looking from the outside in, and I'm doing fine…"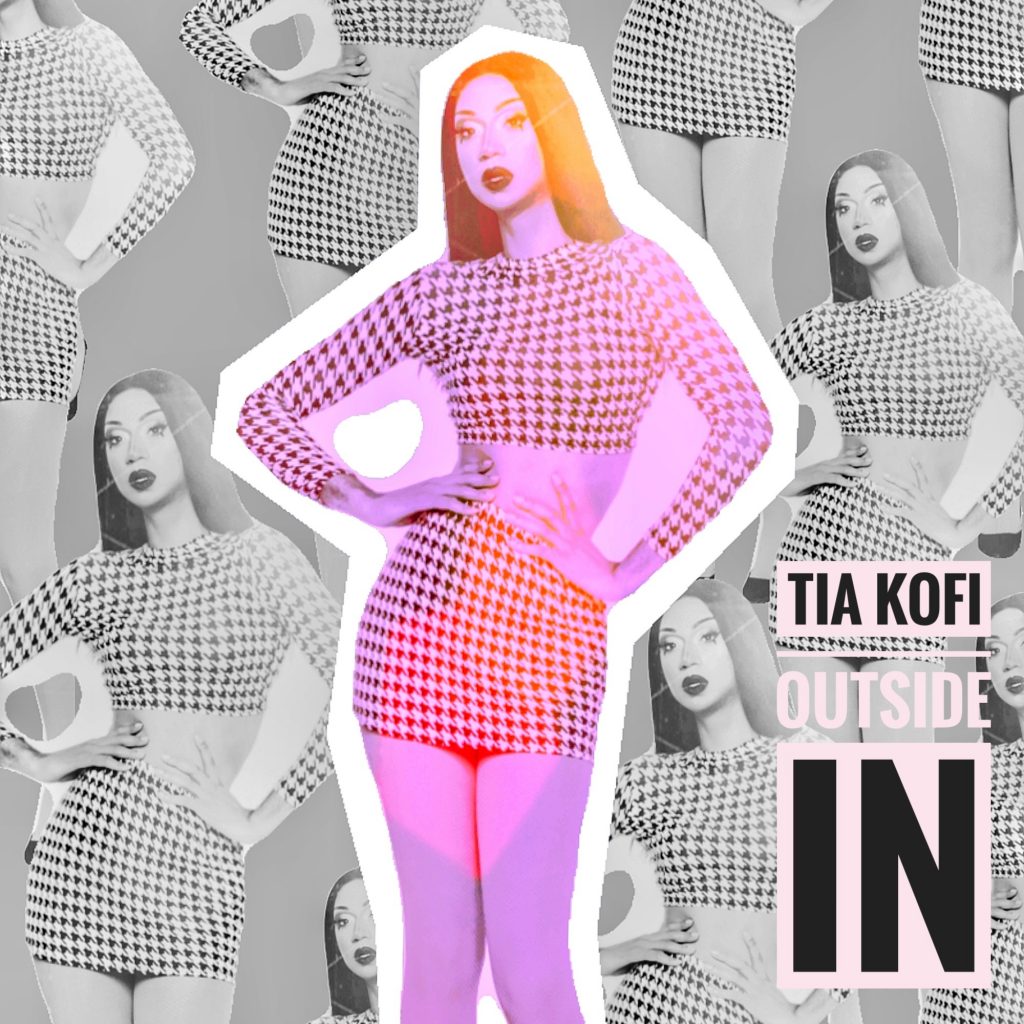 Fresh from her universally praised appearance on RuPaul's Drag Race UK, and keen to show the nation exactly what she's capable of, Tia Kofi delivers her debut single, Outside In.
Released today (February 19th) via Intention Records, and written by pop royalty Little Boots, Tom Aspaul and Gil Lewis (MNEK, HRVY, Kelly Clarkson), the glorious, electro-pop song serves as the perfect musical introduction to Tia as a bona-fide and legitimate recording artist in her own right!
"Releasing this single is super, super exciting!" Tia tell us, her voice palpable with excitement. "Working with Little Boots and Tom Aspaul just blows my mind – they are pop music icons and they've written my first single?!.. what is my life? (Laughs) I honestly feel so blessed and fortunate to have even had the opportunity to work with such talented and respected artists – I mean, Tom's album is incredible, and shout out to Little Boots and her track 'Remedy' because it is one of my favourite ever songs – I actually play it in my set at drags shows, which is hilarious to think about now!"
Coming off of a hugely successful run on a hit reality tv series, doesn't always guarantee commercial or chart success, and with this in mind, we can't help but wonder how Tia's feeling as the single is finally released… "Erm… well I obviously I want people to like it (laughs). But more than that, I just want to have fun and enjoy this whole experience. I'm hoping though that this single is maybe a bit of a game changer when it comes to the kind of music you're used to hearing from a Drag Race UK girl… I call it a dance-floor filler, with an emotional backdrop – and would doesn't want to hear a song like that?"
Describing the single further she adds: "It's definitely a bop!.. if I may say that about my own song! Its got a real dance / disco vibe and sound to it, which I think is its main appeal because it evokes that feeling of being back on the dance-floor, going out, having fun and partying with friends, which I think we are all in need of right now aren't we? It's reminding people that we will soon be back out, socialising and having a good time again."
Tia Kofi x Outside In
For those naysayers though, who chose to think that Tia releasing a single is just some sort of gimmick, and a project designed to cash in on her new found fame, they'd be unequivocally wrong.
"I've always written music and performed my own stuff. I actually wrote two songs for a couple of the Queens featured on last series of the show, so I've definitely been working away at this for a while now. And even before that, growing up I always loved performing but I never really had an idea, or was able to find what it was that I wanted to do career-wise. Pop music was a real game changer for me, because before that I was very much about musical theatre and auditioning for parts in the school play, but through doing drag I realised… well, it finally gave me the confidence to take control and perform and sing the kind of material that I wanted to. It was all the drag (laughs), all of this that you see… it was all the drag."
Looking to the future, what does Tia hope to achieve music-wise we ask… "Well, we're working on bits and pieces of music here and there, so this definitely won't be the only song you hear from me put it that way; there's plenty more bops more to come! And you know, I want to venture out a little bit more, and work with more incredible writers, and maybe with some of the other Queens; it would be interesting to some music with them. I've been scribbling away, writing in my notepads, recording voice notes of melodies on my phone, I have lots of ideas for music. In fact, if anybody's been wondering what I've been doing for the whole 7 months of lockdown – I'd say I was busy writing songs."
---
RuPaul's Drag Race UK: Season 2 Promo
---
Shantay, Tia Kofi is here to stay!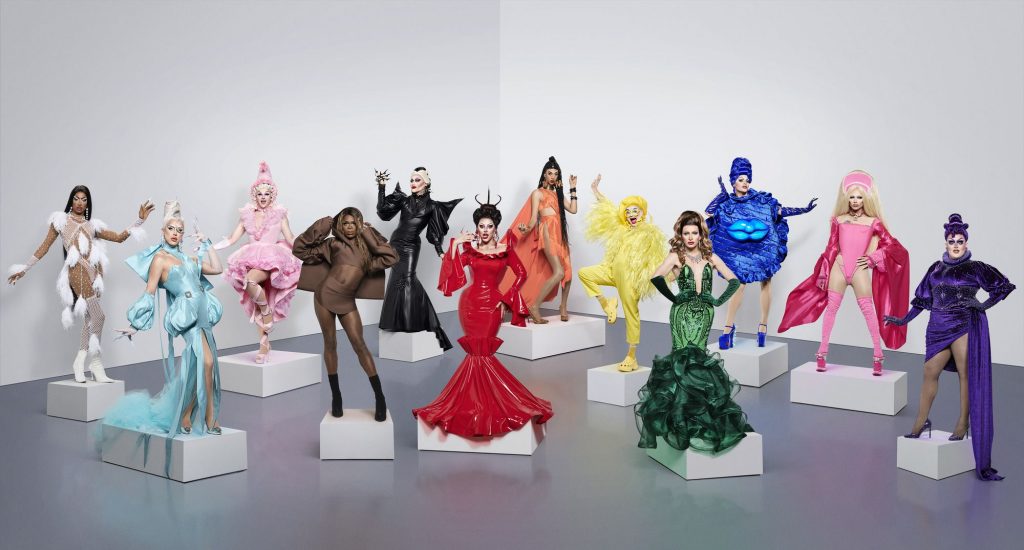 Since it's debut on the American cable network channel Logo TV back in 2009, reality competition series RuPaul's Drag Race has gone on to become a gigantic hit with television audiences around the world with the franchise airing shows in the United Kingdom, Australia, Canada, Spain, the Netherlands and Israel.
For a drag act looking to take her career to the next level, securing a place on such a high-profile show, must be a dream come true we say to Tia… "There are no actual words for me to describe how I feel about being on the show – it's just amazing! When you think about how many people applied to be on there, and then for me to be one of the people they chose to take part; it's madness!"
"It's taught me so much, but I think what I've realised most throughout all of this, is that you really have to embrace every single moment that comes your way, good and bad, because you can never take an experience like this for granted – it's a once in a lifetime thing and when it's done, it's done."
As a quintessential British Queen, with a wicked sense of humour, flawless vocal and genius comedic timing, loyal viewers of the show have unanimously fallen over heels for Tia Kofi – with her hilarious one-liners, and satirical commentary during the programmes 'confessional' segments proving to be a big hit with audiences.
"It's interesting to see those (confessionals) now, because obviously at the time you have no idea what people are saying. And I'm such an awkward rambler, so sometimes when I watch myself back I do laugh and can't believe a lot of what I said."
"But the audience reaction has been amazing! I know I keep saying it, but I really am so appreciative of being on the show and I feel really humbled almost that it's become such a source of joy and entertainment for people – like what a cool legacy to be a part of something that gives that to people during a time like this! It's a ray of sunshine for people to look forward to every week, and the thought of that alone makes me really happy."
---
"You really have to embrace every single moment that comes your way, good and bad, because you can never take an experience like this for granted."

Tia on learning to live in the moment.
---
As with any reality television show, there can be downsides to living your life on screen for everyone to see, and whilst everyone watching at home instantly warmed to Tia, the Essex native found herself, at times, on the receiving end of harsh criticism from some of the other contestants taking part.
"It's difficult to hear those kinds of criticisms sometimes, but as we said before I think it's more important to focus on the positives and the good moments, and to be honest… I was more interested in hearing feedback and critiques from the judges themselves, rather than from shady contestants."
Always the bigger person, and ever the class act, Tia choses to rise above and take the high road, adding: "Whatever is said on the show in the heat of the moment, and whatever happens in the future, there's always going to be a bond there between us Queens! And I know that's the case with most contestants whatever season they appear on, but I think for us, on season 2 of the UK version of the show, our bond kind of goes that little bit deeper, because nobody on past or future versions of the programme will ever know what it was like to do all of this during a global pandemic… we ended up filming the longest series ever! (Laughs)"
Reflecting on her current placing in the world, and the outpouring of love and support bestowed upon her, Tia admits she's feeling good about whats to come, as she now begins to look towards her future: "Drag Race UK has given me the kind of platform that I could never have imagined having before. It's completely opened up the world to me, to Tia, and I can't wait to see what happens next…"
Outside In is available to download / stream now.
---
Let us know your thoughts on Tia Kofi over on Twitter @CelebMix now!