Leading American musical instrument brand Epiphone have this week unveiled the all-new Epiphone Power Players – a collection that offers Gibson Les Paul and SG guitar shapes in a "high-quality, youth-sized guitar, that is easy-to-play and an ideal learning or traveling guitar".
---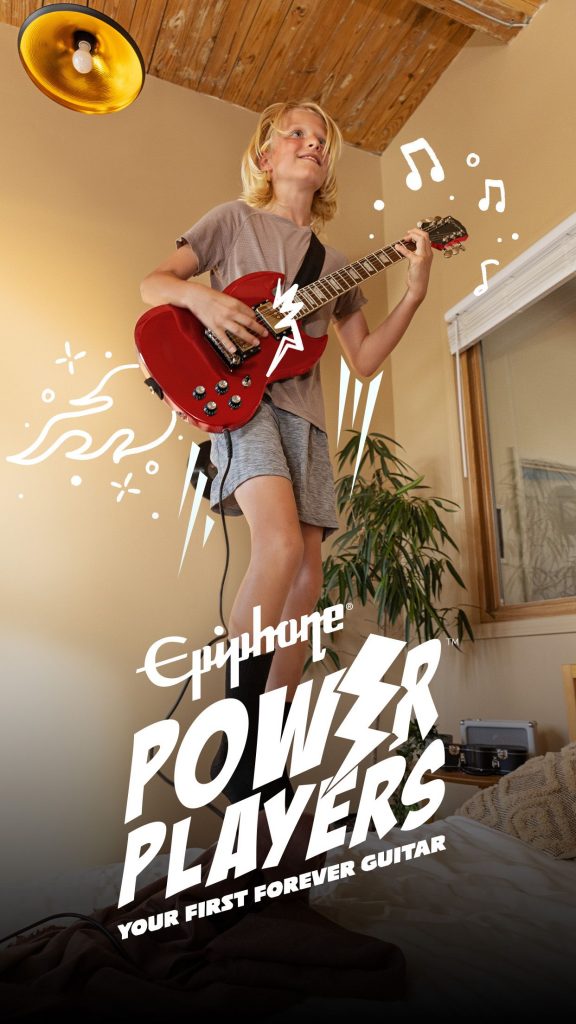 ---
Accessorised with a guitar strap, cable and picks, and a gig bag, the brands first-ever youth-sized guitar collection is tested and approved by music teachers, leaving customers safe in the knowledge they are purchasing high-quality Epiphone guitars, with better sound and playability, that will inspire and build confidence in new players, keeping them more engaged as they learn the instrument.
"The Epiphone Power Players Les Paul and SG is designed to be the solution for beginning youth musicians, parents, and music teachers to kickstart a guitar playing journey–the first forever guitar!" Krista Gilley, Director of Brands at Gibson Brands says in a press release. "The challenge was to solve for the earliest stage of playing–Epiphone's First Stage–by building confidence for youth players with a product that is tailored to them in size and playability, while offering the thrill of playing the same iconic Gibson guitar body shapes they recognise their favourite artists play on the biggest stages around the world. Next, we solved the need for a high-quality and reliable beginning guitar that parents can trust in and provided a solution for music teachers to offer an accessible Gibson Brands guitar to support their lessons and product recommendations. From the Gibson Labs, we are excited to introduce the Epiphone Power Players Collection to solve an array of needs in the market and inspire young guitarists everywhere."
---
Epiphone Power Players | Your First Forever Guitar
---
The Epiphone Power Players Les Paul is a 3/4+ version inspired by the legendary Gibson Les Paul shape. With a 22.73" scale length, and a slightly smaller mahogany body making it lighter and therefore easier to play, this model is perfect for youngsters looking to pick up an instrument for the first time.
For more experienced guitarists, the Epiphone Power Players Les Paul is an excellent travel guitar for the road as it sounds better and stays in tune longer than any other "student model" guitars due to its high-quality components and superb build quality.
The Epiphone Power Players SG is a trimmed-down version of the iconic Gibson SG – with a 22.73" scale length, and slightly smaller body, again making it an excellent choice for younger players, yet this guitar is not a toy. The Power Player SG is a solid travel guitar for the road, and it's powered by a pair of Epiphone 650R and 700T ceramic humbuckers which help to create a "rich, and full and unmistakable SG sound".
The Epiphone Power Players are available worldwide through authorised Epiphone dealers.
---
Let us know your thoughts on Twitter @CelebMix now!