British singer/songwriter Purdy is currently riding high and feeling the love from television audiences around the world following her show-stopping performance of Frankie Valli's classic hit Can't Take My Eyes Off You in the Netflix series, The Crown – the historical drama that portrays the story of the Royal Family from 1947.
With the shows current season, chronicling the relationship of Prince Charles and Princess Diana, including their now infamous 1983 tour of Australia in 1983, Purdy appears as the lounge singer who serenades the royal couple as they perform their first publicly filmed dance.
"I absolutely love the series!" Purdy tells us excitedly. "I'm also quite fascinated by the history of the royal family too, so being a part of the show has been incredibly exciting for me – it's a huge honour."
---
Introducing Purdy…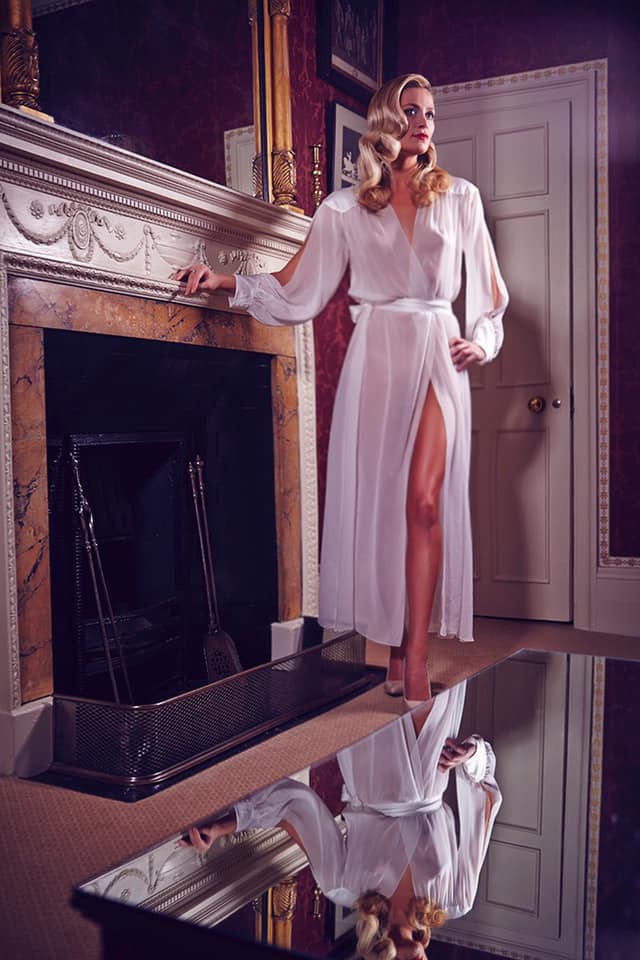 As an accomplished musician and recording artist in her own right, Jazz singer Purdy has carved out quite the incredible career for herself following the release of her debut album Diamond In The Dust back in 2015.
From her highly praised support tour with Jools Holland, to performing a self-penned Remembrance song in front of 90,000 people at Wembley Stadium, guesting with Jamie Cullum on the BBC Cheltenham Festival stage, opening up for Lana Del Ray on Richard Branson's Necker Island and singing with Simply Red on The Royal Variety Show – the super talented singer/songwriter has done it all!
We caught up with Purdy for a virtual chat via Zoom to talk childhood ambitions, songwriting, new music and of course, The Crown…
These past few weeks must have been incredibly exciting for you, with your cameo in the brand new series of The Crown premiering on Netflix – how are you feeling now the show is finally out?
Do you know, I've actually been really surprised at how everyone has reacted to it! My involvement in the show is obviously only small (laughs) it's a very tiny moment in a huge series – but I suppose it was a big moment in real life wasn't it? So it was quite amazing to be a part of recreating that almost iconic memory in the lives of Charles and Diana.
It's so amazing! When did you first hear of the role, and how did you eventually end up being cast in the part?
Sonia Jones, a dear friend of mine who is quite a renowned vocal coach, got a call from a member of the shows production team as they were looking for a jazzy sounding singer to cast in this particular scene (of the royal couple's first publicly filmed dance), so she put a few of people forward that she thought would be suitable, with me being one of them, and I was just really lucky that Julian Jarrold, the director of show chose me!
The series as whole is always so beautifully shot, but the ballroom scenes in which you feature, look particularly stunning! How did it feel to be there, in person, filming on the day?
It definitely felt very special, and the fact that everyone was there, working together to create a really wonderful moment, was just a magical thing to be a part of. It was a very long day, we were onset for around 13 hours and it was tiring, so in the moment I don't think any of us realised just how epic it was going to look! We were obviously aware of our surroundings and we'd see the cameras sweeping in, out and around, capturing everything that was going on, but it really wasn't until I saw it back, that I understood the scale of everything.
Did you feel at all nervous whilst on set?
Do you know it was quite nerve wracking yeah, maybe because it was slightly different to what I do normally, and I was very conscious that what I was doing when the cameras were rolling was part of one big a big take, so if I messed up, I'd messed up for everybody (laughs). There were about 300 people in the room, including cast and crew, so there were a lot of eyes everywhere!
Can't take my eyes off you – Purdy & Jamie McCredie
You perform a version of the classic Frankie Valli track 'Can't Take My Eyes Off You', what an incredible song…
I know! It's amazing isn't it? I can honestly say it's up there as one of my own personal choices for a being a first dance at a wedding (laughs) I love it.
How was it recording and performing such an iconic number that so many people know and love?
It was fun… maybe a little daunting (laughs). It was great to have both my fellow songstresses Aimee Hodnett and Kate Parr up there with me, they are both theatre actresses so they both took to the whole thing like ducks to water – especially when it came to mastering the dance routines, because it just not something I'm used to doing, but I got there in the end! Even though we'd pre-recorded the song, the director decided that he wanted me to do a couple of live takes, which was fine but also really kind of nerve-wracking too! Watching it back I've got a feeling they did use one of the live takes because… it's not perfect (laughs).
Do you have a favourite memory of being on set?
I think seeing Josh O'Connor and Emma Corrin at work, doing what they do, was really special. Seeing their devotion to that particular moment in the story – the choreography and the dance work which they'd had to learn was just incredible; I was quite mesmerised watching them.
Being a part of such a massive show, with a huge global audience, gives you this incredible platform to introduce yourself as an artist to a new group of people who may not be as familiar with your work…
Yeah, I hope so. I've done little features in film and on television before but nothing quite like 'The Crown' – this experience felt very special and looking to the future it would be nice if this were to lead on to other things.
---
It definitely felt very special, and the fact that everyone was there, working together to create a really wonderful moment, was just a magical thing to be a part of.

Purdy describing the atmosphere on set as she filmed the now iconic ballroom scene.
---
As a child growing up, did you always have dreams and aspirations of becoming a singer and performer?
Do you know what, I always sang and I always wrote songs as a child, I found that it was just something I really enjoyed doing; and I loved playing around with harmonies, but because my brothers were in a band, they were signed to EMI actually… this is going to sound ridiculous, but I didn't want to copy them (laughs) so I actually started out in this industry doing running work on tv and film sets. I was a researcher on 'Ant & Dec's Saturday Night Takeaway' for a little bit, as well as doing many other things, but no matter how hard I tried to ignore music, I just found that it was a part of me and I couldn't really escape it.
How did you make the transition from working behind the scenes in film and television, to then becoming a recording artist?
(Laughs) I actually ended up doing a season in Zermatt, Switzerland and singing every night to an audience made up of drunk skiers and holiday makers! Which sounds really random, but it was actually really great for me as it helped me to learn my craft. So once I got home, I put a little band together and I've been doing this (music) ever since.
Which artists and performers would you say have inspired you the most?
Ooh I have so many different musical influences… and I think that's because there were 5 of us growing up in my house – I have three brothers and one sister – and all of us had such different and eclectic tastes in music, so from a really young age I was exposed to a lot of different styles and a lot of different artists, so I really do have an appreciation for all types of musical genres. But for some reason, I ended up falling in love with jazz! And as a teenager I spent a lot of time listening to the likes of Nina Simone, Ella Fitzgerald and Judy London – I just loved their lyrics and timeless messages in their songs. I guess the closest we've come to that calibre of artist this generation is Amy Winehouse.
Taking all of those different influences into account, how did you go about creating your own sound and style of music?
Do you know what, I think because music is such an an innate part of me and because I love it so much, I've just gone with my gut instinct and created a sound just feels natural to me, I don't know if I could define it. I think because I write my own material and my own lyrics, that can often dictate which direction you go in stylistically – I'm always continually writing things down and coming up with ideas for songs and the sound for each track comes from there I guess.
For a lot of artists, being in the recording studio is where they feel most at home. What do you enjoy most about being in that creative environment?
I just love the whole creative process, and I love collaborating with other people which is funny because I used to think I was better at writing songs on my own! The thought of having to go into the studio and write with other people who were essentially strangers, was always super nerve-wracking to me. But I've found over time that it's really good to be open and share my ideas with others. 
How would you best describe your writing style?
I like to think of my songs as being like stories, so I'd say it's quite conversational and honest. I have this obsession with words, thoughts and feelings, and so for me it's always really special whenever I get to stand up and perform in front of a live audience and tell my story because making a connection with people is so precious to me.
Is it ever daunting presenting new music to fans, and playing your songs live for the first time?
It can be, but it's not always something I think about when I'm in the studio working on new material, it's only afterwards when you have to go out there and perform it live that you think 'ooh I hope people think this is good!' When I was writing my first album, I was going through some stuff in my personal life – I was experiencing a little bit of heartache shall we say, so I just poured all of my feelings into my lyrics, which was really therapeutic to me, but it wasn't until afterwards I thought 'oh goodness, is anybody going to be able to relate to this?!' But when you get out there and play your stuff live and you see that the words you've written resonate with others, there's no feeling like it.
As 2020 draws to a close, what can we look forward to from Purdy in 2021?
Well, during lockdown I've been writing A LOT with my producer! So we're going to be releasing an EP of those songs in January, which I'm really excited about. The first single will be a bit of surprise for people I think because… well, let's be honest I'm not renowned for my happy songs, and this one is quite upbeat so I'm excited for everyone to hear it.
To listen to Purdy's music or to find out more information be sure to check out her social media accounts here: Facebook / Twitter / Instagram / YouTube / Spotify.
---
Let us know your thoughts on Purdy over on Twitter @CelebMix now!