If you're a fan of late (or late late) night television, you've undoubtedly heard the name James Corden.  While to most Americans, that name was unheard of a little over a year ago – he has certainly taken us all by storm during the last year and in the process, stolen our hearts.  James isn't new to television or fame, however, he has been a household name in Britain for some time, lucky them!
On March 29th James held a primetime special to celebrate a year of The Late Late Show, his smashing success carpool karaoke, and showcased his favorite moments from all the episodes of his show so far.  On top of his (and our) favorite moments, James celebrated by giving us a new carpool karaoke with Jennifer Lopez – and they KILLED it.
James started the show with a rap (something we've learned he's capable of thanks to the time he spends in the car with his celebrity friends) and it was absolutely perfect.  He took the hit Downtown and turned it into his own jam Prime Time and we can't deny that we already know it's going to be something we get stuck in our heads for a while.
Some of James' favorite moments are definitely some of ours too.
His first flashback was his carpool karaoke segment with Adele and her vocals are as good just driving around in the car as they are on stage.  James also surprised Adele during Hello with a beautiful set of high notes! (We really do think he could be One Direction's fifth member when they get back) They sang some of her hit songs, had a hilarious chat, and showed off her kick ass ability to rap.
James then showed off Crosswalk The Musical takes Grease where they took over an intersection and sang Grease hits in the middle of the road which was hilarious!  We're not sure how you get lucky enough to be on a segment like that, but James, we are volunteering.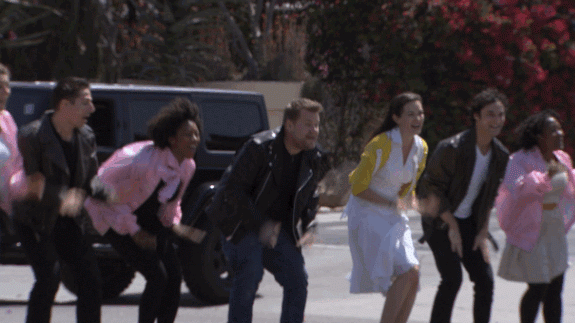 James then did a general overview of his favorite carpool karaoke moments where he sang and danced, changed clothes, and ordered food with Stevie Wonder, Chris Martin, Mariah, One Direction, Justin Bieber, Sia, Carrie Underwood, Jason Derulo, Jennifer Hudson, Elton John, and even Rod Stewart!
These had to be our favorite segments of his shows so far.  His interviews with celebrities are incredible, his skits are fantastic, but there is nothing like seeing your favorite musician belting out lyrics in the car with James.  Oh, and there's definitely nothing like Stevie Wonder calling James' wife either!
James then decided to show off the time he assisted Million Dollar Listing.  Obviously, he absolutely smashed it. He checked out the pool, the shower, and organized an open house to sell the home in three hours.  Tyga was the interested buyer and James was super convincing in selling absolutely all the house had to offer, including a working toilet.
We're still laughing.
We then got the newest carpool karaoke video featuring the incredible, talented, and gorgeous Jennifer Lopez!  They started off with My Love Don't Cost A Thing and talked about insuring body parts – by the way Jennifer hasn't insured her rump.    Jennifer went into music video mode and James had to pull over so she could show him how to properly be in a music video – full with lots of body touching and sensual looks into the camera.
James was smitten by Jennifer Lopez' phone contacts and asked to send a text to one person in her phone.  He picked Leonardo DiCaprio  and sent: "Hey baby, I'm kind of feeling like I need to cut loose, any suggestions? Let me know. J-Lo, you know, from the block."
We may have absolutely lost it when we found out the text actually went through.
"You mean tonight boo-boo, club wise?" was Leo's response, can we be Jennifer for a day and have the ability to text something like that to Mr. DiCaprio himself?
 James got a bit sentimental with thanks towards the end of the prime time special – you could tell how genuine he was and how much he appreciates his opportunity to not only hang out with incredible people every day, but entertain as he does it.
The first year of The Late Late Show has been incredible and we absolutely cannot wait to see what James has in store for us in the future.  Thank you for the laughs, the incredible interviews, and giving us the opportunity to see our favorite celebrities cut loose and have fun.