One of the UK's hottest couples and Made in Chelsea stars, Jamie Laing and Sophia Habbo are set to make a live stage debut of their hugely successful podcast 'Nearly Weds.'
The live show will take place next year at London's UnionChapel on 30th March 2023, and tickets went on sale at 9am on Friday 9th December and sold out within ten minutes.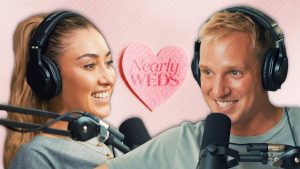 The podcast has already been listed in Apple's list of 'Shows We Loved' and has received over 12 million likes with clips shared of the show on TikTok. Newly Weds has been enjoyed by many people, those who are single, coupled up, engaged and married have all tuned into to listen to Jamie and Sophie.
Sophie and Jamie began their relationship when they got together on the hit reality show Made In Chelsea back in the summer of 2019. Their relationship began as close friends before blossoming further into a romance. The couple got engaged in the winter of 2021 just before Christmas.
If you're yet to tune into the podcast and haven't listened yet, you can expect to hear Sophie and Jamie spilling hilarious anecdotes of coupledom and offering a range of light hearted advice for anyone who's planning to get married, basing it on their own relationship.
Listeners can expect to hear something completely brand new from the pair with a lively and funny evening ahead. Sophie and Jamie are expected to discuss everything from venues to wedding vows, rings to reception, wine lists to guest lists. The coupe will cover every single element of getting married. We expect them to be talking about their final and finishing touches ahead of their big day!
Here at Celebmix we can't wait to check out the live debut of newly weds next year! Have you got your tickets? Let us know over on Twitter by giving us a tweet!