Always keep fighting.
These are the three words that began a movement inside the Supernatural fandom. Shortly after Jared Padalecki shared his story about his battle with depression, he began a clothing campaign pushing that message.
The phrase stuck. It gave motivation to the people who needed it… including Jared himself. It encouraged them that they could defeat the demons they were battling.
It didn't stop there. The Supernatural star presented a few more campaigns before bringing out a new message: love yourself first. Much like always, Jared held a livestream to explain the campaign.
Like the other campaigns Jared ran, the "Love Yourself First" campaign was very successful. It ran for a short while and many fans purchased clothing items sporting the phrase.
That brings us to Jared's latest campaign. Earlier today, he announced that he'd be having a livestream. When noon PST came around, he unveiled the next progression of the AKF line: "I am enough". This came a few days after Jared posted the following picture on Instagram.
The new design has both "AKF" and "Love Yourself First" printed on it, as well as the new phrase "I am enough". On top of that, many of the designs available (tank tops, tees, sweatshirts) are colored in rainbow. According to Jared, a dollar from each rainbow purchase will be donated to OneOrlando and Equality Florida's Pulse Victims Fund.
Just like his past campaigns on Represent, the design won't be available forever. All the items on the site can be purchased until July 4th. Once that day hits, you won't be able to buy anything with his design.
If you're interested in purchasing a clothing item with Jared's design, you can find it here. There are plenty of different colors and apparel items to pick from. Many of them have the rainbow coloring, but not all of them. They will begin shipping on July 20th.
It's been over a year since Jared's first campaign and instead of his movement slowing down, it's only gaining more momentum. Not only is it about continuing to fight, but now it's also about loving yourself and seeing yourself as enough. These messages have strengthened and helped many Supernatural fans.
https://twitter.com/MarrinNovak/status/744972831000166401
I really am inspired by the #SPNFamily #IAmEnough #YOUAreEnough #alwayskeepfighting #LYF Learning to love myself a little more everyday. :-)

— E.C. Lawton – Author (@ec_lawton) June 20, 2016
We can see why the Supernatural fandom is labeled as the "SPN Family". It's clear that not only do the fans provide support for Jared, but Jared provides support to the fans.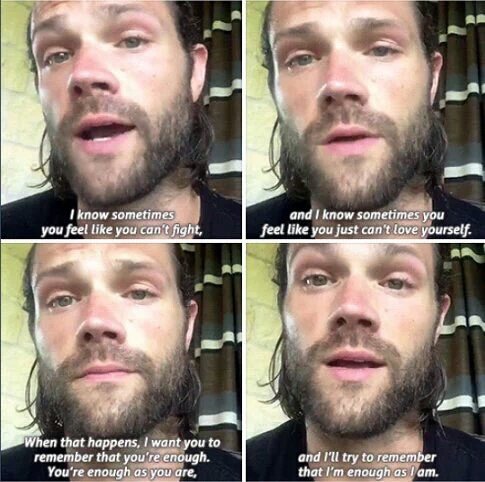 Will you be buying something from Jared Padalecki's latest campaign? Have you bought things from his past lines? Tell us in the comments below or tweet us @CelebMix. And remember…
Always keep fighting!