Two days before the return of Supernatural, Jared Padalecki has launched a brand new AKF (Always Keep Fighting) campaign.
The AKF movement originally started in 2015. After sharing his battles with his mental health, Jared decided to launch a clothing campaign. It raised money for multiple charities, including To Write Love On Her Arms. When the campaign ended, the statement stuck. Fans around the world continued using his mantra to keep up their fights.
Realizing how much the phrase and movement meant, Jared ran several more campaigns. He began adding new statements that were just as important to the fight, such as "Love Yourself First" and "You Are Enough." All of them were huge successes.
While Jared continued to use #AKF in many of his tweets, it has been a while since his last campaign. Some fans were beginning to think it wouldn't be coming back. Thankfully, that ended up not being the case.
In the past, Jared used Represent for his AKF campaigns. This time, he turned to Stands.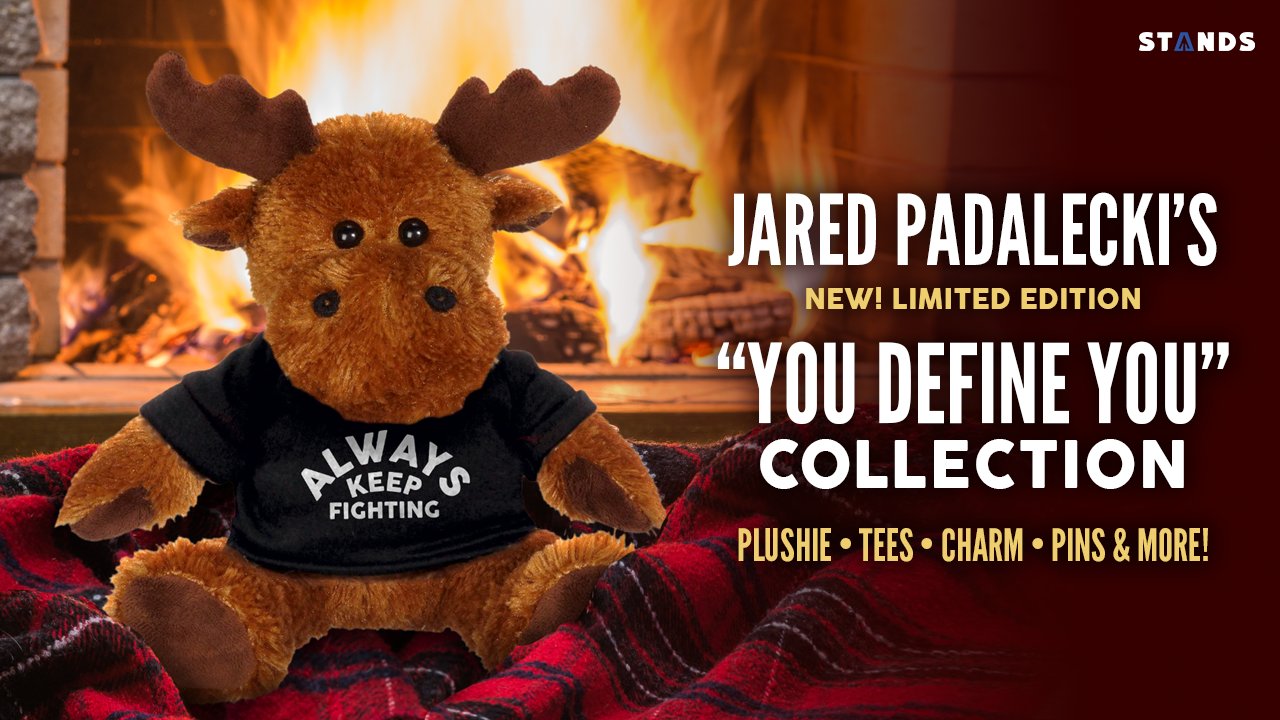 Many Supernatural fans are already aware of the brand. For years, they have been running campaigns involving the stars of the show. Each one offers a portion of the proceeds to one or several charities. They also sell an abundance of creative and eye-catching merchandise.
In the past, the AKF campaigns typically focused on different articles of clothing. This time, buyers have a lot more choices. Along with a new shirt design, Jared and Stands are also offering a faux leather bracelet, a charm, several pins, and an iron-on patch. A couple of the items include AKF's newest slogan: "You Define You." The stuffed moose in the photo above is also available.
Following the pattern of the other AKF campaigns (as well as Stands' usual setup), this launch will benefit charity. According to the company's website, a portion of the proceeds will benefit Dream Big! and spcaLA.
Dream Big! helps girls and young women from low-income situations participate in sports and physical activities. spcaLA is a "nonprofit animal welfare organization in Southern California that uses donations to run programs and services including Cruelty Investigations, Disaster Animal Response Team, Violence Prevention & Humane Education and a variety of shelter services." Make sure to check out their linked websites to learn more.
If you are interested in buying something from Jared's new line, you can check everything out here. Stands also provides a matching program for their campaigns. Those who cannot afford an item can sign up to receive one, and those who would like to help can sign up to donate an item from the campaign. To request an item, click here. To donate an item, click here.
Which item caught your eye? Will you be watching Supernatural this Thursday? Make sure to let us know by tweeting us at @CelebMix!