If you don't know who Jonathan Roumie is, now is the time to find out. He's best known for his roles in Ballers (2015), Chicago Med (2015), and most recently The Chosen (2017). He plays the leading part of Jesus Christ in the latter, which has a 100% critic rating on Rotten Tomatoes, meaning Jonathan's performance must be doing something right. This is Roumie's biggest leading role, and considering the series is an epic seven seasons long, it's a big deal. 
Roumie's Personal Connection
Roumie, who lives in LA, was struggling with the trials and tribulations of Hollywood life before he delved deeper into his religiosity at around the same time as he was cast in The Chosen. Just a few months prior to casting, Roumie had decided to make his faith the lens through which to see his life. As a devout Catholic, it makes his connection to the role of Jesus Christ even stronger.
Playing Christ has helped Roumie develop even more in his religious journey. It seems almost inevitable that when your day job requires putting yourself into the mind of Jesus Christ and researching His entire life, your connection will grow. Roumie has stated that his work on the show has strengthened his Christian mission.
Roumie shares his faith frequently via his social media networks, promoting the use of rosary beads, tips for Lent and well wishes for prayer, among a lot of other faith related content.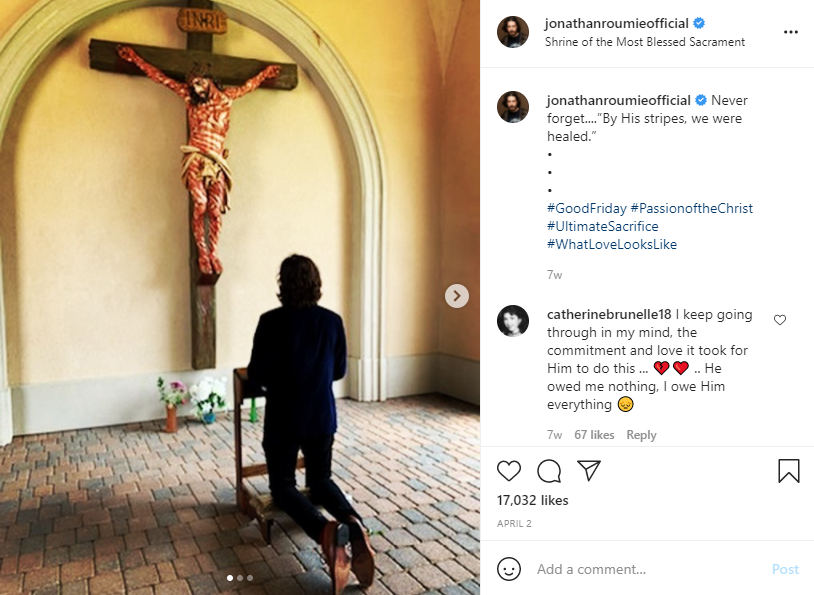 Roumie's Portrayal of Christ
Roumie's portrayal of Jesus in The Chosen is more relatable than any we've ever seen. The series significantly focuses on Jesus's humanity, making Him more accessible than most other depictions out there that often take a more mocking approach. Roumie's ability to bring out the personality of Jesus in such an intimate way shines throughout.
There's often a touch of playfulness added to reenactments of famous Biblical scenes that people have only ever viewed through a serious lens previously. This is a stark reminder for viewers that there's always more to discover about Jesus, which is perfect considering The Chosen will span seven seasons in total.
In Roumie's performance as Jesus, he expertly hones in on Jesus's kindness and grace. The way he acts out Jesus's interactions with those around him, whether that's the children or his friends, shows this is clearly a key character trait Roumie wants to highlight. Perhaps this is influenced by his own religious background and how he himself views Christ.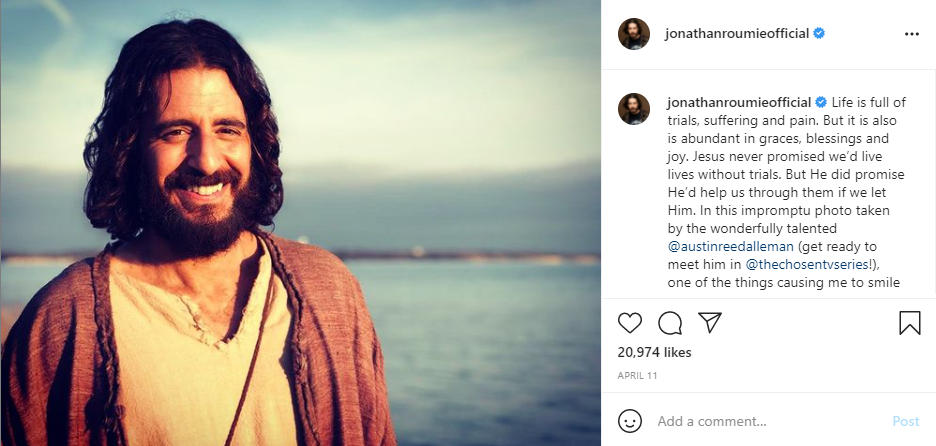 It's as though Jonathan Roumie is tasked with exposing the "other side" of Jesus. Not just the serious side, but the one that's as human as the rest of us. The one that does everyday tasks and has everyday conversations.
Just listening to any interview with Roumie makes it evident what a privilege he feels it is to be able to present Jesus to a wide audience in such a positive and engaging light. It's hard not to relate. Imagine being cast as one of the most famous figures to have ever existed while fostering a relationship with that figure dating back your entire life.
How Can You Watch Jonathan Roumie In The Chosen?
The Chosen app itself is one of the best ways we can think of to watch The Chosen. Firstly, it's free to download. Secondly, being an app, it's accessible from wherever you are whenever you want to watch it – yes, it's available worldwide. Secondly, it's more than just a place to watch The Chosen, this Christian app is the perfect place to consume bonus content surrounding the show or buy merchandise for any super fans out there.