The battle for Christmas number one 2020 is well and truly on, with husband and wife duo LadBaby leading the way with their latest charity release 'Don't Stop Me Eatin'.
A sausage roll infused parody of Journey's iconic hit 'Don't Stop Believin', 'Don't Stop Me Eatin' is Mark and Roxanne Hoyle's third charity single in aid of The Trussell Trust. After bagging the Christmas number one for the past two years with 'We Built This City (On Sausage Rolls)' and 'I Love Sausage Rolls', LadBaby became the first act to achieve two successive novelty Christmas number ones in the UK. The pair will be hoping to break even more records, raise funds and awareness for charity, and claim the top spot for the third time this festive season with 'Don't Stop Me Eatin'.
'Don't Stop Me Eatin' was released on Friday and is already leading the race for the coveted title of Christmas number one. However, in a bid to further cement their lead, today LadBaby have unveiled a new slow version of the track with Roxanne singing with Boyzone frontman Ronan Keating.
Set up as a surprise by her husband Mark, the duet was a dream come true for Roxanne who is a life-long Boyzone fan. Together, Roxanne and Ronan have transformed the novelty anthem into a heartfelt track which really hits home the importance of charities such as The Trussell Trust, particularly during such unprecedented times.
According to The Trussell Trust, more than 1.2 million emergency food parcels were handed out during the first six months of the pandemic, and this figure is set to rise to a rate of one every nine seconds this winter. Whilst 'Don't Stop Me Eatin' is a hilarious homage to a beige savoury treat, with plenty of references to some of the madness of 2020, at its core the track will help to make a huge difference when it comes to supporting food banks this year. It will also help The Trussell Trust work in the longer term towards a future where people won't need food banks.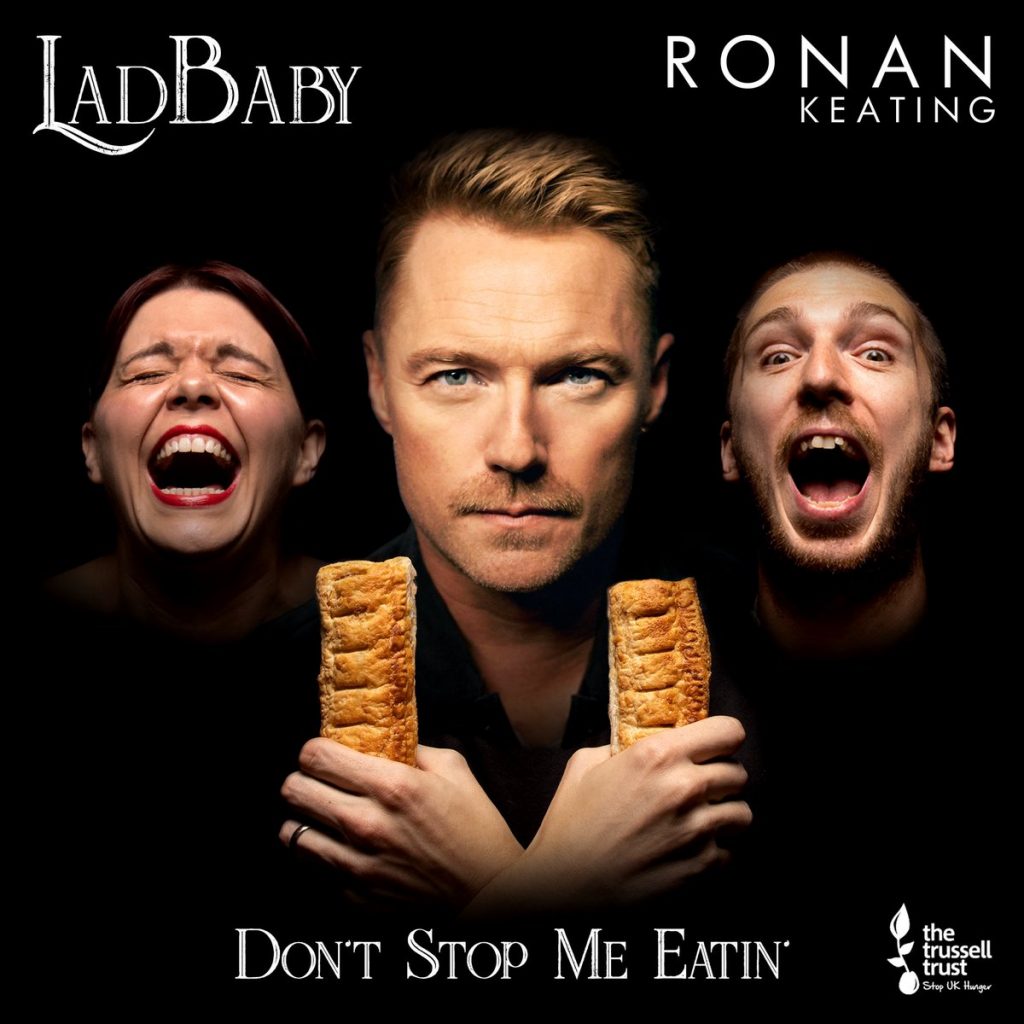 Speaking about his collaboration with LadBaby, Ronan said: "I was shocked by the statistics on poverty in the UK and how reliant so many people and families are on food banks. It's been a devastating year for many people so I was delighted to help Mark and Rox raise more money for the Trussell Trust and their amazing food bank operation."
Mark added, "Rox and I still can't believe this has happen! WE got to record a song ABOUT SAUSAGE ROLLS with Ronan Keating!!!!! A very surreal moment to hear a musical icon you've grown up listening to, singing a song you've written in your living room about sausage rolls to help raise money to feed people in poverty in the UK. Unbelievable. As a great man once said 'Life is a rollercoaster, you've just got to ride it'."
Sharing her excitement at performing with one of her idols, Roxanne commented: "RONANNNNNN KEATING!!!!! I GOT TO DUET WITH RONAN KEATING!!!!! I was just gutted I had to keep 2 metres apart. The whole thing was a dream come true and you can now search iTunes and find a song with ME AND RONAN KEATINGGGGGG!!!!"
LadBaby have already claimed the Big Top 40 Christmas number one for the third year running, and they'll be hoping to do the same this Friday when the Official Singles Chart is announced.
You can support LadBaby and The Trussell Trust by streaming and downloading 'Don't Stop Me Eatin' now.
Do you think LadBaby can claim the Christmas number one for a third year in a row? Let us know on Twitter @CelebMix