Ladies and Gentlemen; hold on to your seats.  Not only has Louis hosted a Cinderella ball in Prince Charming fashion, he's done so for a charity that helps seriously ill children in the UK take their minds and bodies off of nearly constant pain and illness and live a bit of a fantasy.
The dreams he granted tonight belonged to little girls and boys who wanted a Cinderella style ball and there was no one better to hold the title of host for the evening than Louis Tomlinson.  Louis pulled all the stops to make sure these little princesses and princes had a truly magical evening.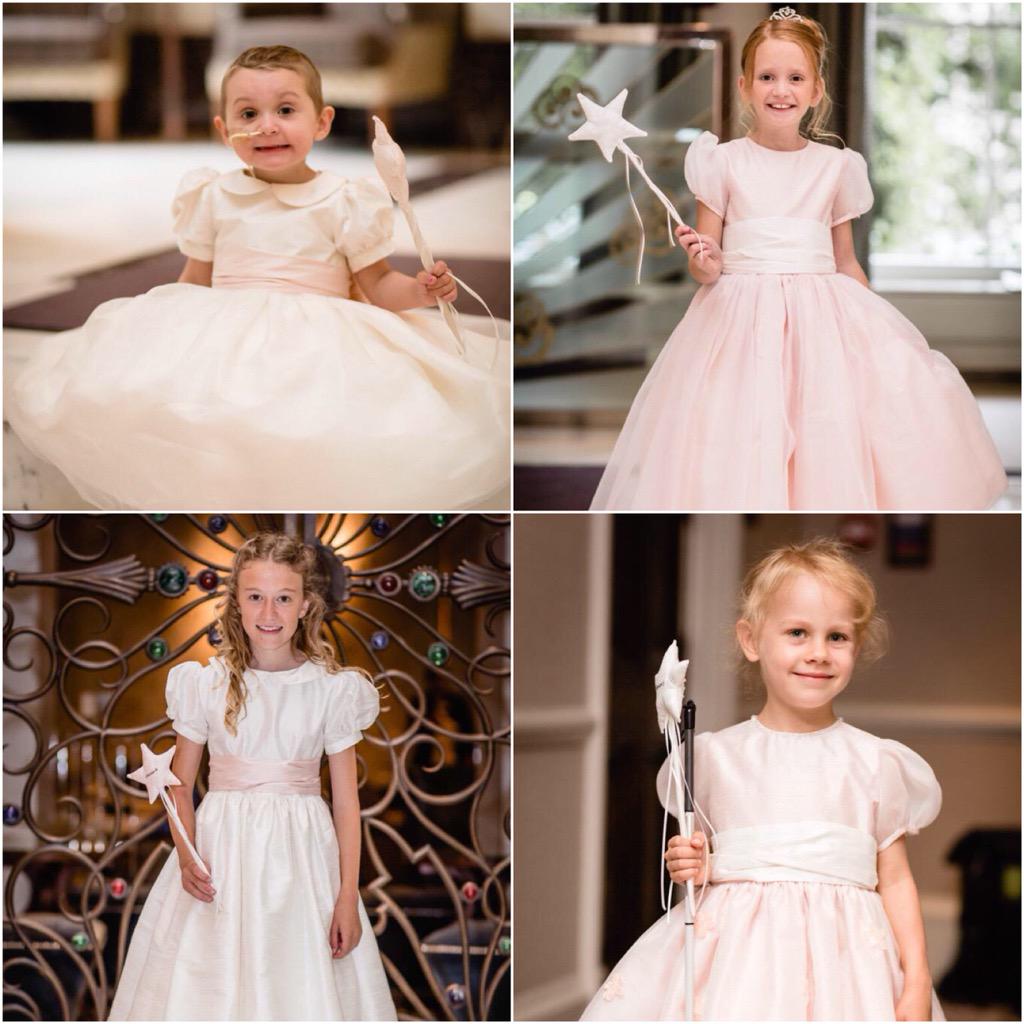 The Believe In Magic Cinderella Ball was held at The National History Museum of London and the location is one of beauty and splendor.  He didn't stop at a perfect place to hold the ball, though; he went as far as to make sure the little girls and boys had custom made gowns and fitted suits and wands with their names sewn in.  He made sure there was a candle lit red carpet for the princesses to arrive on up a lovely staircase that led them to the location where they'd spend their magical evening.  Inside there were tea lights, strands of lights, candles, beautiful shades of blue and purple…it truly looked like a scene out of Cinderella, and the little girls and boys were beautiful to match.  There were stations set up where princesses planned activities for the children to take part in during the ball as well, making sure whether you danced, sat, or played, your night was a magical experience.  Louis also hired 'paps' to take photos of the princesses and princes as they made their way to the ball and guests could be seen with large gift bags of presents for the little ones.  If that wasn't all enough in its own, Louis is said to have donated 2 million pounds to the charity, his giving heart is truly endless.
Louis showed up to the event wearing a black blazer, blue and deep red stripped tie, and tight jeans.  His best mate and fellow band member Liam Payne showed up next to him, supporting Louis and Believe in Magic.  Liam was wearing deep blue with a white undershirt and black tie. Louis spent the night as the host which included greeting the children and guests with a speech, spending time getting to know them and hearing their stories, dancing with the tiny princesses, and truly making them feel like their dreams had come true.   I don't know how anyone can look at Louis and see anything other than an angel on earth.  His heart is so big and so giving and the little kids he helped were so deserving of this, of everything.  Liam being there to support the charity as well shows that even with their busy careers and need to balance it with normalcy; they're willing to do anything to support a good cause.
Louis Tomlinson is a supporter of many charities alone and alongside his band mates in One Direction.  He works closely with the Eden Dora Trust; where he states that he heard of Eden's story and quickly became friends with her.  He posts often on social media various causes showcasing children who need help in the form of thoughts, prayers, and donations.  Louis has flown to see fans in hospitals, in their homes, and worked closely to try to make various wishes and dreams of these children come true.  This is all done while he balances a crazy tour schedule, once again proving how giving and loving he truly is.
When July of 2015 came we saw Louis begin to post about Believe In Magic which states in their twitter bio that:
Believe in Magic is a charity that spreads Magic to seriously and terminally ill children, with Magical experiences to make their lives happier! x
Immediately, fans became excited at the idea of Louis taking time on a break in his busy tour schedule to not only spend time giving back but to do so hosting a ball for children who are ill.  I remember looking back into my childhood; it was a dream of mine to be a princess; I think you can ask almost any girl, and even some boys and they'd agree. It's a lovely idea to get to dress up in a gown, get pampered, and be royalty for a night.  Louis being a part of that makes my knees weak, but also makes my heart explode, knowing how much a night like this means, and taking on the responsibility of it.
Believe In Magic is run by Meg Bhari and her mom Jean, and if you look at one of the first articles to mention the charity and look into the information about it; the headline reads as this.
WE SPEAK TO BELIEVE IN MAGIC'S MEG BHARI, THE TEEN WHO RUNS HARRY STYLES' FAVOURITE CHARITY
This is an article to thank Louis for his involvement in the charity, but it also means a lot that it is so important to Harry as well, his mom even tweeted about the event before it happened; showcasing her ongoing support for Believe In Magic and the ball.  If you look back through Harry's tweets and Anne's as well you can see their support for the charity back as far as 2012 and 2013!  Seeing young men like Harry and Louis come from such strong women like Anne and Johanna; then seeing all of them support people who need it makes me believe firmly that we picked great idols in Harry and Louis, and the rest of One Direction.
Meg says herself that she's in poor health; having been in and out of the hospital enduring more than 30 operations and on a lot of medication; but she knows there are people who are in poorer health than she is and that's why she wanted to create Believe in Magic; to give them something to look forward to, to find a way to bring happiness into their lives.  Believe In Magic was created by a young person who deals with pain on a daily basis in hopes of erasing some of that pain for others.  Meg, you are truly a hero for that.
Believe In Magic has done everything from helping sick children meet their favorite celeb, musician, and princess to creating dream settings for kids who desire to step outside of their normal lives and forget about their illness for a night.
So it's no surprise that when Louis Tomlinson, Anne, and Johanna tweeted about the event, One Direction fans took notice and began pledging donations, tweeting awareness, and finding out what we could do to help Believe In Magic ourselves.  Louis sweetened the pot when he donated tickets to a concert/meet and greet passes to be won by someone who takes the time to donate to the cause.
A message from Believe In Magic is posted on the right while a message from Louis about the charity is posted on the left.  A snippet of what the charity has to say about Louis and One Direction is stated as this:
We are so proud to have the amazing One Direction boys as Ambassadors of Believe in Magic, which they have supported for almost as long as the band has been together, and the boys all help us make such a huge difference! A Huge Thank You to them all as well as their wonderful families, with an extra special Thank You to the lovely Louis Tomlinson and his lovely Mum Johannah for their exceptional kindness and the pure magic they both help create by hosting our Cinderella Ball.
So far the pledge amount is well past 150,000.00 and growing, we've been told before that when we come together in support of the boys; the things we accomplish are incredible, this is just one way that's proven truthful. 
Donate to Believe In Magic and enter to meet One Direction
Just because the magical night is over, doesn't mean the donations and awareness have to stop.  There are still 7 days left to donate to the charity and be entered to win the concert experience of a lifetime, and still days beyond that to donate, spread awareness, and give a bit of your time, alongside Louis, to help those who simply need a moment's time away from a debilitating illness.
I've always said that Louis' heart is made entirely of gold, and nights like this prove it.  The smile on his face, all thousand watt lit up, and the humbleness in his heart that was apparent through his actions all night prove that Louis Tomlinson was the perfect man to host this event.
So if this is a charity you'd like to pledge your support to; visit the link below and enter yourself in for a chance to meet the boys as well, helping make kids dreams come true and maybe your own at the same time sounds like a good enough idea, right?
To the media; the non fans, I hope you take the time, after seeing the truly moving way Louis made this magical evening possible for these kids, and find it in your hearts to look at him with the respect he deserves as a person.
Thank you Believe In Magic and thank you Louis Tomlinson for not only making the dreams of little kids come true, but for making us want to be better people too.  Thank you Louis for proving day in and day out that regardless of who the world tries to paint you as; you're still sunshine personified.  It was lovely seeing snaps of you spending time with the little ones, taking the time to make each one of them truly feel special.  You have no idea how much that meant to the kids, their families, and your fans; but it was truly a blessing to see.  Thank you so much for spreading all of your light and love.
I hope all you little princesses and princes had the time of your lives tonight!  You deserve it.
"I think every child deserves to have their first dance or prom.  So thank you for being here with me tonight. 'S an honor.  You're all my princesses tonight." – Prince Charming, aka Louis Tomlinson.
UPDATE: As of just before midnight at the Believe In Magic Ball Louis and Liam alone have raised 5,000,000.00 for the charity.
If that doesn't make you think of them as heroes, I don't know what will.
Wow,what an incredible night! I hope Meg , Jean and my beautiful Mum feel very proud for creating such a fantastic night for everyone !!!

— Louis Tomlinson (@Louis_Tomlinson) August 10, 2015