Machine Gun Kelly has officially paired with Audio Up for a four-part horror-musical podcast titled "Halloween In Hell." And just in time for spooky season, the podcast is set to premiere on October 10, 2020.
This upcoming special project was created and produced by Machine Gun Kelly as well as Audio Up while the original concept is credited to Audio Up's CEO: Jared Gutstadt.
"Halloween, much like other major holidays, deserves its own entertainment tent pole. While a lot of people focus on Christmas, Valentine's Day and New Year's Eve, we really believe that Halloween is an undersurface time of year for folks to enjoy original content. I was always a fan of 'The Rocky Horror Picture Show' and 'Nightmare Before Christmas,' and we believe we're creating an evergreen franchise that will allow us to unlock new stories every year with original music, possibly ending up in the realm of live or visual content. Machine Gun Kelly was an extremely logical and obvious partner for us. His brand pairs well with the season," Gutstadt said.
The podcast will consist of an all-star lineup. Alongside Machine Gun Kelly, fans can also expect to hear original music by artists such as 24kGoldn and iann dior. This unique project is one of the first to blend horror and musical genres for a spooky, yet comical, experience. The series will also include a four-part making-of documentary as bonus-content for fans to enjoy.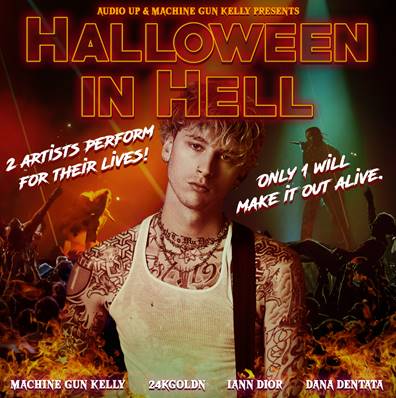 "Halloween In Hell" has an intriguing plot and just the right amount of suspense. Set during Halloween, 24kGoldn and mistress Dana Dentata end up trapped on a hell-like soundstage before finding out that they will be taking part in a competition. They must impress a "jury of the damned" consisting of R. Kelly and Phil Spector in order to rescue themselves from evil…and only one will survive.
Each performer and member of the podcast's cast will play a fictional version of themselves. And to provide music for everyone's taste, artists that represent a variety of genres have taken part in this project.
Listeners will be able to access the podcast on all streaming and podcast platforms on October 10th.
Are you excited for this new podcast by Audio Up? Tweet us using @CelebMix and let us know!