Celebrities can have a massive impact on people's lives. Every fan knows this, and every fan feels grateful for the help that their famous idols provide to them, whether they're aware of it or not. There are many ways to show your gratitude, even in the forms of the simplest support. However, fans often go the extra mile and get gifts for the people that make them happy every day. So when Hungarian fan Ticia (Kia) Rausz found out she was going to meet her idol Niall Horan, she thought of a unique way to say "thank you" for everything he's done for her.
She decided to get a star named after him.
you are my flicker of hope @NiallOfficial ??
05/06/17&31/08/17
22/03/18&07/05/18&24/01/18

— ???? (@flickerkia) December 17, 2017
Even though she did this back in December 2017, Kia expected to give it to him at his London show in March. However, she was lucky enough to get that chance a bit earlier and today she got the pleasure to show Niall his gift when she met him at the OMEGA Golf Dubai event.
i love him to the moon and back? i can't believe i met niall again pic.twitter.com/V9O0UAbIVe

— ???? (@flickerkia) January 24, 2018
We've reached out to Ticia (or as she likes to be called- Kia) to ask her about her story and how she got the idea to purchase an actual piece of the universe for her idol.
Kia tells us that she "grew up with" Niall. She was dealing with a lot of pressure and insecurities in life, and on top of all that her parents had gotten a divorce when she was younger. There were many changes in her life but one thing was constant- Niall's presence. When she needed support or cheering up, all she had to do was listen to his voice or look at a picture of him, and she'd be filled with a sense of contentment.
Her teenage years were especially hard, says Kia. The concept of self-love was foreign to her, as she hated every single thing about herself and her body. She hated the fact that she didn't have any goals in life. However, after some time passed, she figured out her passion for singing and that she could see herself as a singer in the future. With this decision came more and more obstacles, since it's not easy to become a successful singer, and there were added problems with the lack of confidence in herself. So she found great strength and a great example in Niall. He once again inspired her to follow her dreams, and in that new-found confidence she was ready to take on the odds. It wasn't long until she entered a talent show, and that was the first step she took to achieving her dreams.
"Now one of my family member who means a lot to me has cancer and Niall is here for me to make me stong everyday 'cause there's always a 'light in the dark.' So that's why I love him. No matter what, he is here and he makes me happy, he makes me strong. He is my flicker of hope. So I wanted to do something big for him. I wanted him to see how thankful I am."
i named a star after niall and when i gave it to him he was like:
hahaha oh really? which one? (and he was pointing at the sky)

HE IS THE CUTEST PERSON ALIVE pic.twitter.com/8kCvXHs7C4

— ???? (@flickerkia) January 24, 2018
In a note on the official certificate for the "Nialler" star, Kia wrote:
"Dear Niall! I named a star after you because you were always one of them in my life. You lead me when it's dark and your smile brightens up my whole life. I want you to know that you are special for me in every kind of way & I want to thank you for everything that you have already done for me. I know you have everything but I wanted to give you something you will always remember. I look up to the stars every night thinking about you. Maybe we're far away but we're under the same stars… and now we lay under your own star every night. Be happy Niall and smile every day. You deserve the whole world, not only a star but I'm not as rich as it would cost to buy you the whole Universe!"
When asked about Niall's reaction to this surely unique gift, Kia told us that he laughed for a bit and seemed surprised. In an attempt of making a joke, he pointed to the sky and asked her which one was his.
You can check out Niall Horan's "Nialler" star right here!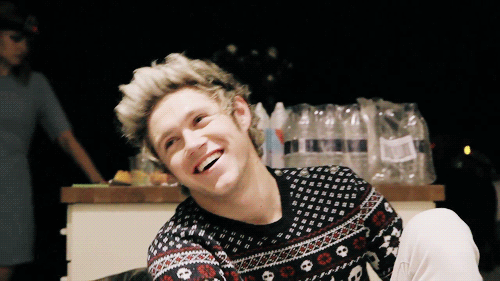 How awesome was Kia's surprise for Niall Horan? If anyone has some spare change lying around, we'd appreciate a CelebMix star too! But if not, maybe go follow us on CelebMix Twitter instead?