As summer is starting to rapidly approach and the beautiful waters are ready for some action, reggae legends Third World are ready to kick off the season with the release of their new music video "Feel Good" on June 4.
Produced by Damian Marley, the video features Busy Signal and is a perfect summer anthem as travel begins to re-open and COVID-19 restrictions begin to loosen.
Fitting to the current social landscape, Feel Good captures the bliss and excitement of living life to the fullest, and enjoying the time we have. The song has harnessed international recognition for its dynamic sound, merging dancehall and reggae into one genre; showcasing the vast range of music lovers that Third World's music resonates with.
This video comes from the reggae artist's 2019 Grammy-nominated album 'More Work to Be Done'.
"The studio was buzzing when we composed the beat for "Feel Good," Richard Daley, co-founder and member of Third World Band told CelebMix. "Damian sought out to create a song that would have a dynamic audience connection and make you dance and sing along and 'Feel Good', and we came up with a throwback to the 80s crossover reggae/ R&B synth vibe.. and of course Busy Signal rocked the modern dancehall style to the track with an amazing flow. It's bad."
For those new to Third World, they are one of the longest-lived Reggae bands of all time, serving as one of Jamaica's most consistently popular crossover acts among international audiences. If you were to hear their music, you can expect a combination of R&B, funk, pop, rock, dancehall, and rap. Over the years, Third World has branded itself as a "reggae-fusion" group, with over 47-years of musical experience. The group has received 9 Grammy nominations and cultivated a catalog of charted smash hits, including "Now That We Found Love," "96 Degrees in the Shade," and "Try Jah Love."
Perhaps the most inspirational quality Third World brings to the industry as a whole is that it holds firm to its members' cultural and ancestral roots, while still pushing forward with cutting-edge music.
CelebMix spoke with Third World ahead of the upcoming music video release.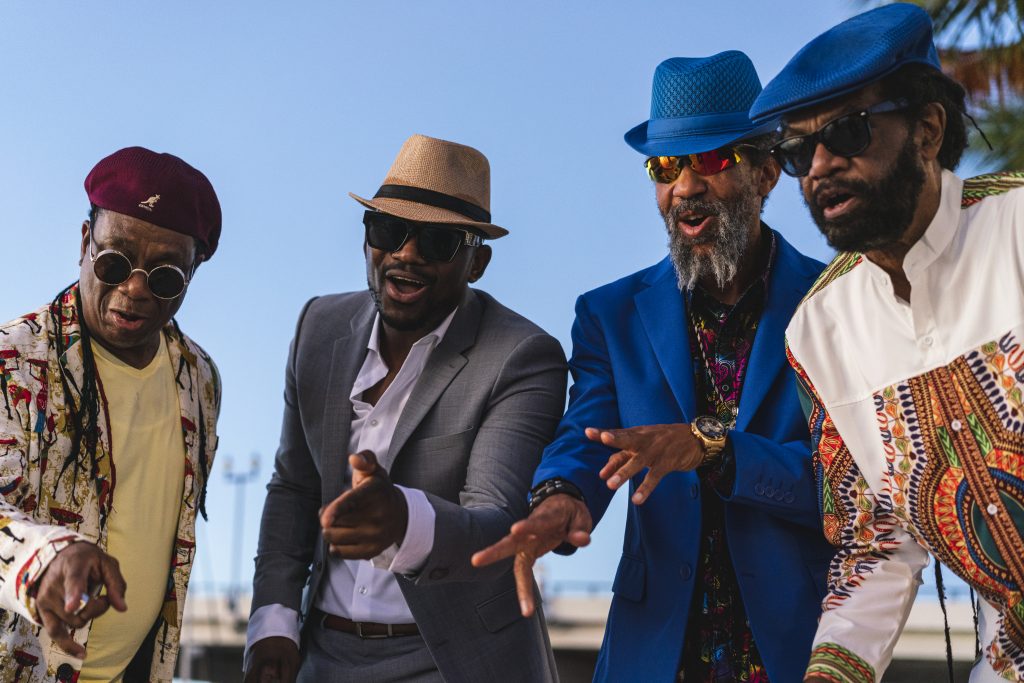 As we are starting to see a return of "synthwave" in various forms, including 80s synth/electronic like Austin-based synth-pop artist and producer, Primo the Alien, whose wild tales of interplanetary tourism, travel, and hyper-sensual scenarios brings listeners back to 1987 – we look to other genres such as R&B who also play into this phenomenon.
"[We] have definitely been part of the analog synthesizer launch in Jamaica back in the late 70's and the equipment was super expensive," Third World told CelebMix.com.
"It seems now that these vintage machines are making a comeback from attics and being utilized by the younger producer generation. However, [we] have always been a band with live music instrumentation, looking back to the 80's during the SynthPop era of bands, like Duran Duran. For example, we had already been combining the elements of disco, Funk, R&B to create a "reggae" fusion. Even so, 'Feel Good' has that vibe, especially with the vocoder sound, old school groove and funky beat.. but still live music instrumentation."
CelebMix: What do you hope listeners will take away from this anthem?
Third World: After a year of isolations and quarantines, we never knew how much we needed the song, "Feel Good" until now! Never did we expect that while we were recording this record at Damian Marley's studio that we would be in a global lock down a year later and now that summer is here in the Northern hemisphere and live music coming back to stages is right around the corner, the world is ready to FEEL GOOD.
For sure this anthem will be added to our live concert set and we can't wait to sing and dance with our listeners.
CelebMix: What can we expect from Third World as we prepare for a hopefully easier 2022?
ThirdWorld: We have been missing our "Worlers" Fan, friends and family, and are so anxious to get back on the stage! Music is that silver thread that unites us universally, and music , especially reggae music, has the power to heal, to tell a story, to uplift people.
In the year leading up to the lock down, we had performed on 6 different continents, and we are hopeful that by 2022, borders will be open and music will play! Third World music has always come from the heart, so remember, "It's alright, go ahead and be yourself, FEEL GOOD, it's alright".
And we anticipate more projects with Ghetto Youth International in 2022. Just know, we love you and are ready to take our audiences on our 48th year journey.
"The song "Feel Good" is exactly what the title says, is about making people feel good and don't let anyone spoil the party, don't let anyone bring you down," said co-founder and member Cat Coore. "It's a super song for the summer, after coming off a most depressing pandemic year, it's time to "Feel Good" and we are ready to get back on stage and jam this single with you."
As the world re-enters society, and summer plans begin to finalize, Third World's Feel Good video inspires viewers to take on a fresh perspective of post-pandemic life, and enjoy every breath we take.