Harry Styles certainly brought love to Philadephia with his Love On Tour on September 17.
The night started off with his opener, Jenny Lewis. She was on stage for about 40 minutes, singing 9 tracks, including Head Underwater, Just One of the Guys and She's Not Me telling the packed out venue that she appreciated how loud they were.
Before Harry appeared on stage, there was a voiceover from him where he asked everyone to keep their masks on and thanked them for coming out to the show.
Love On tour finally kicked off in Philadelphia, with the crowd going wild when Harry arrived on stage at 9:03 P.M. Paying homage to his album Fine Line, in Blue trousers with suspenders and a Pink shirt.
With a 360 stage, giving every person in the venue the perfect view of him, everyone was on their feet as he opened with "Golden".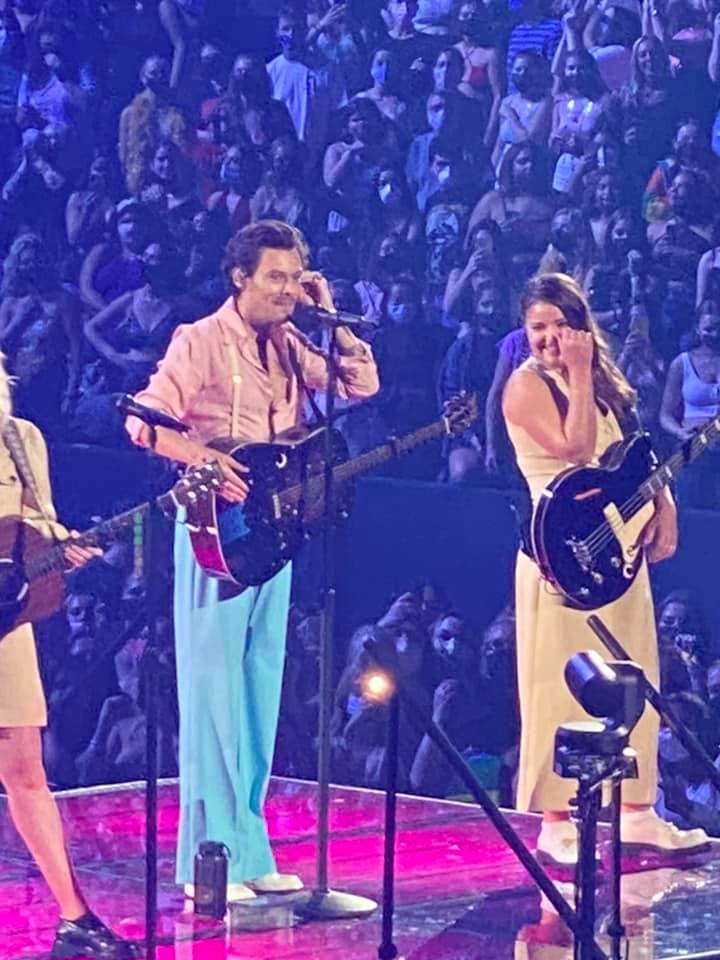 Then came "Carolina", "Adore You" and "Only Angel", Harry talked to the crowd. "I'm not going to lie to you guys tonight. I am in a FANTASTIC mood!", which got the crowd amped up and really showed in his performance.
He stopped to talk to people in the crowd, danced and joked around with his band, and sang his heart out on tracks such as "she", "Sunflower Vol 6", Falling, Treat People with Kindness. He really let fans experience his latest album Fine Line, singing 11 out of the 12 tracks.
Harry also gave a nod to his past, singing tracks from his self titled album "Harry Styles" including "Sign of the Times" and "Kiwi." As well as paying homage to his One Direction era, with the bands first ever single "What Makes You Beautiful".
Harry utilised the entire stage making sure to go to all sides of the stage throughout the night, blowing kisses and waving to fans making them feel as included in the show as he possibly could. At one point during the night, a boa and cowboy hat was thrown up on the stage and he put them on while performing.
One moment that was really special was when he sang Lights Up," "Treat People With Kindness," and "What Makes You Beautiful." He danced around the stage showing his support to fans in the crowd who are part of the LGBTQ+ community- waving flags thrown up on stage, creating an unforgettable moment filled with love.
The setlist consisted of 18 songs, with Harry on stage for an hour and a half . The entire night was magical. He showed that live music is definitely back. HIs gig was a special moment for many attending as it was their first live gig since the global covid pandemic began.
Harry Styles radiates such magnetic energy, you can't help but be happy when you see him live. If you haven't had the chance to see Harry live, try to get tickets, you will not regret it. He makes everyone feel at ease and has you dancing all night.
For all of the Love On Tour dates, head to Harry Styles' website. Let us know if you've been to a show or going to one on @CelebMix!