"Are you ready for the best night of your lives," Maisie Peters screams after strutting out in front of a sold-out Wembley Arena. For the star, Friday night marks a milestone in her rapidly rising career and she's more than ready to be here.

Six months ago, just weeks before the release of sophomore album The Good Witch, Peters dazzled at a sold-out Eventim Apollo. That 5,300 capacity venue has transformed into the 12,500 strong Wembley Arena in rapid time, and it's in no small part down to that phenomenal second record.

It's a flurry of hits from The Good Witch that burst the night into life. 'Coming of Age' is a genius early choice with its powerful nod to a star on the rise and as the streamers shoot across Wembley to the opening strums of 'Body Better', you can see the adrenaline rush across Peters' face.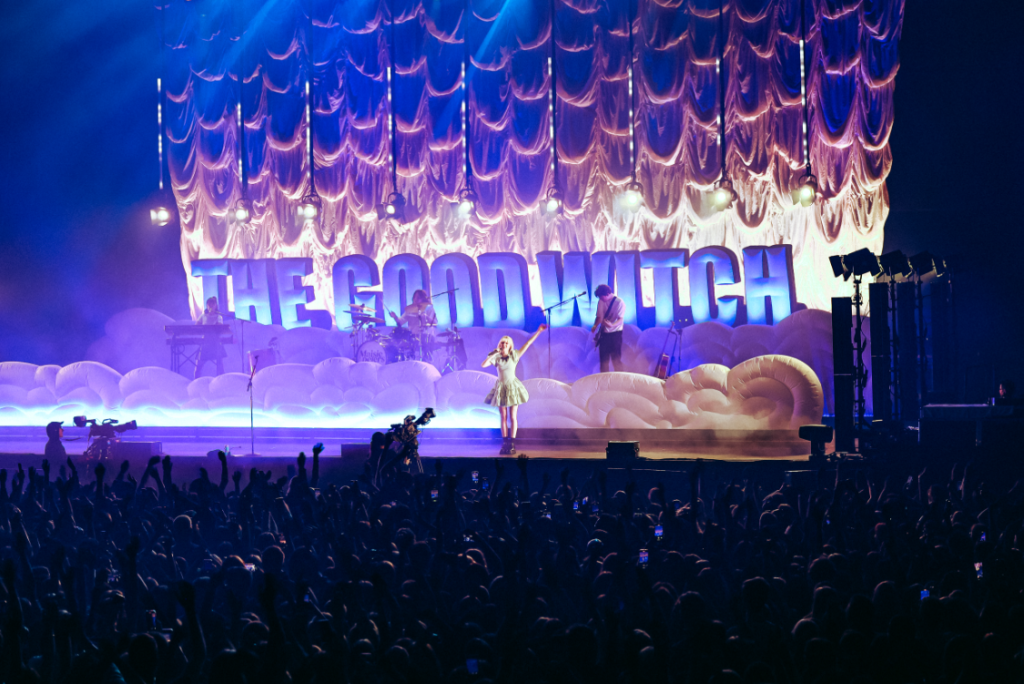 As much as she's ready to seize this moment, the singer takes a second to embrace what's happening in front of her. There's a bewilderment to the classic 'Hello Wembley' cry she lets out and the pop star's eyes turn dewy during 'Wendy' – a magical and appropriate ode to an underdog getting their flowers.

With so much success over the past 12 months, it's easy to forget that Maisie Peters actually debuted in 2017. The six years since then have been spent carefully constructing a trademark endearing pop sound or, as she claims, studying at Clown University to live through the heartbreak that punctuates her records.


The night shifts up a gear as the crowd rallies back the call and response to 'Watch' and when Ed Sheeran arrives on stage for a duet of his track 'Lego House', Wembley almost loses it. The global superstar's arrival is a real 'I was there' moment for the 12,000 Maisie Peters fans present on Friday night. It's a credit to the star that as they leave into the November night, the buzz remains about the singer herself.

Some of the highlights on the tips of fans' tongues include the riotous 'Blonde' and red hot pop flick 'Cate's Brother', which is a monster in the live show. Elsewhere, 'Not Another Rockstar' sees fans turn to one another to scream the tongue-in-cheek lyrics together.

The night ends on 'Lost the Breakup', a tale of finding triumph in heartbreak. It's an appropriate place to finish with intricate lyrics that paint a crystal clear image of a moment from Maisie Peters' life. The star is more than a singer, she's an impeccable storyteller and when it's a talent this big, fans will keep on coming back.
Are you a Maisie Peters fan? Let us know @CelebMix on Twitter.