As the lights slowly began to fade at The Tabernacle – a "hidden treasure" in the heart of Portobello, London last night (October 13th), an air of intrigue and anticipation filled the room as fans and followers of RAYE waited with baited breath to catch their first proper glimpse of the British pop enigma as a free, and fully independent recording artist.
Billed as being an intimate evening of live music and profound conversation, The Story So Far… Tour marks something of a professional reset for the 'The Thrill Is Gone' singer, as she rises from the ashes of her former life to usher in a whole new era of her career.
---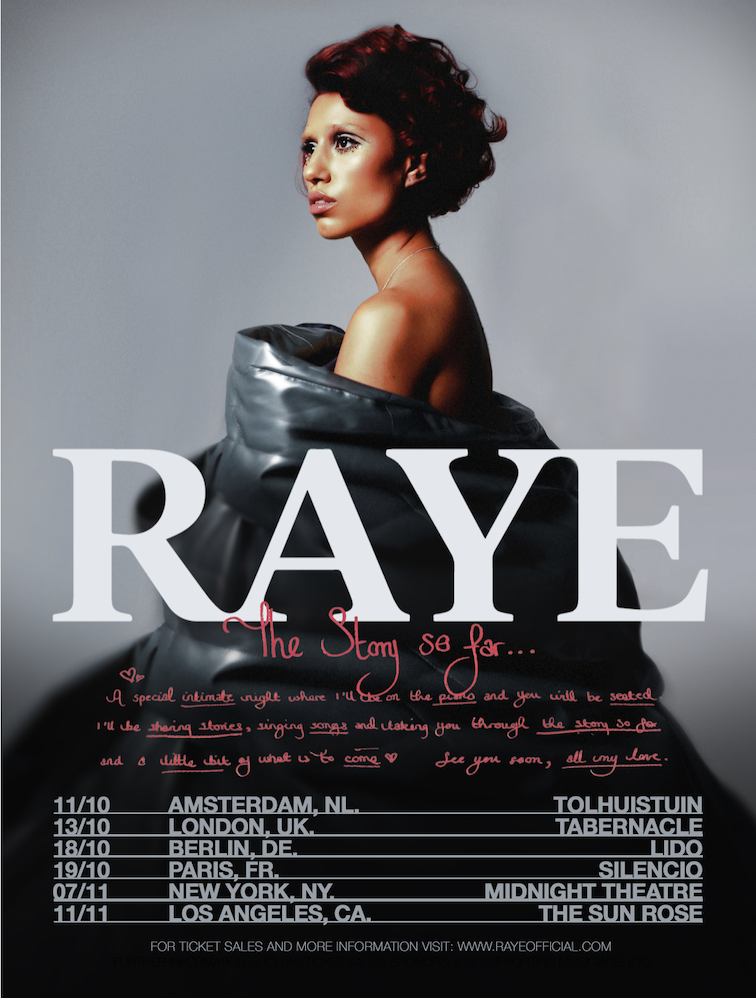 ---
Arriving on stage with little to no fanfare, to the soothing sounds of an acoustic guitar being played by one of her long-term friends and collaborators, the now 24-year-old RAYE gracefully positioned herself at a lone piano, before boldly launching into the shows opening number, 'Hard Out Here' – her first independent release since being freed from the shackles of her previous restrictive and obstructive long-term recording contract. Presented as a stripped back, torched, tragic love song – with inspired infections of jazz and blues infused throughout – the tracks brutally honest and forthright lyrics sound even more stinging in a live setting, with audience members finding themselves witnessing first hand the south London natives frustrations and anger at being kept creatively stifled by label bosses and execs for almost a decade.
Whilst clearly well thought out in its overall tone and presentation, the show followed a rather relaxed / informal format, with RAYE speaking both confidently, and candidly throughout the course of the evening – her self-deprecating sense of humour, and effervescent spirit continuously lightening the mood whenever subject matters became a little too heavy and uncomfortable. Effortlessly poised and seemingly more at peace than ever, the singer efficiently broke down the story of her often tumultuous career moment by moment, sharing a plethora of hard-hitting, never before heard tales interspersed with fresh, new musical interpretations of some of her biggest, and greatest hits.
Though much of her journey up to this point has been littered with bouts of emotional trauma and imposed artistic oppression, RAYE stands before the sold out crowd in London as a liberated women – showcasing both her natural musicality, wit and impeccable comedic timing as she clearly relishes in the freedom of her new found autonomy. Never once painting or positioning herself a victim, an air of strength radiates in the delivery of her stories, anecdotes are told with compassion, and past collaborators and duet partners are shown nothing but the upmost love and respect. However the anguish and disappointment that perhaps still lingers somewhere deep in her soul is evident to hear in her soaring yet delicate, crisp yet raw live vocals – none more so than during emotionally jarring performances of 'Ice Cream' and 'Black Mascara'.
"This has been my story so far London – and now I get to change the narrative!" a defiant RAYE told the crowd during the final moments her set, before leading them in a raucous sing-along of show closer 'Buss It Down' – the collective energy in the room so electric members of the audience stand on their feet to show appreciation for the entertainer, whilst belting out the tracks infectious ad-libs and glorious harmonies, much to the surprise and delight of the 'Escapism' singer who beams with pride at hearing her music and lyrics sung back to her.
As the house lights were gradually raised at the end of the evening, although the mood in the crowd remained overwhelmingly celebratory and euphoric, there could be no denying that the unease of the cautionary tales told, still lingered somewhat in atmosphere… for you can't help but think that so much of the torment, and heartache inflicted upon RAYE by both the industry 'experts' who were entrusted to help steer and guide her career, and the so the called 'friends' who failed to protect her, was completely unnecessary. As a young, impressionable musician, who could deliver both on and off the stage in a way that very few artists can, it seems utterly nonsensical that her gifts and talents were never properly nurtured, valued or respected, and that her light was consistently dimmed by those around her, in order to allow theirs to shine brighter.
Though it's probable these thoughts, or similar, have indeed crossed her mind over the years, Rachel Agatha Keen says she's now determined to move on from unfortunate events of the past, and is ready to help others to do the same, with the material set to feature on her upcoming debut album 'My 21st Century Blues' which is (finally!) set to be released in February of next year.
"Find your patience within, form your own sense of resilience, and don't ever let anybody get the better of you!" an empowered RAYE cried out to fans during one of last nights emotional monologues, a sentiment she can now truly embody in her own life, knowing she's now finally the one in control of own story.
RAYE's debut album 'My 21st Century Blues' is available for pre-order now.
---
Let us know your thoughts on RAYE over on Twitter @CelebMix now!