"United Nation: Three Decades Of Drum and Bass" is an educational yet fascinating glimpse into the history of a renowned music genre. The film takes a closer look at the rise and popularity of drum and bass music – from its foundations in illegal raves, to its subsequent success on the music charts.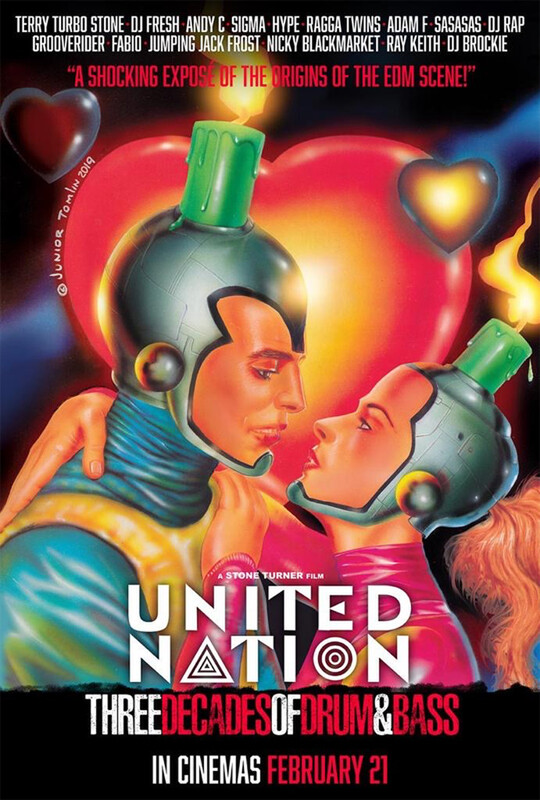 Several well-known EDM musicians such as DJ Fresh, Andy C, Sigma and many more also make appearances throughout the documentary, as they give their thoughts on the music genre and its impact on society.
Drum and bass music got its start through "One Nation" – illegal music events, founded by Terry 'Turbo' Stone – which were held in warehouses across the UK in the 1990s, back when the rave craze was at an all-time high.
The "One Nation" events attracted large crowds, taking the rave culture by storm. The success of the events lead to the release of "One Nation" cassette tapes, CDs and even a magazine. Terry noted the large crowds and word of mouth helped to popularise these events, especially in the early 90s when social media and the internet had not quite taken off yet.
It wasn't just drum and bass music – several DJ's appearing in the documentary also gave thanks to jungle music, a subgenre of dance music popular during that time, which they believe helped to further cement the later success of drum and bass music as a whole.
They also noted that the success of these illegal raves helped to unite people, regardless of their race, who all shared similar views and passions. DJ Fresh also attributed the success of drum and bass and these raves for helping people to escape from reality and the politics of the United Kingdom at the time.
It wasn't all plain sailing for these events though – in 1994, parliament passed the Criminal Justice Act, aiming to cut down on illegal raves, which was met with widespread opposition. Towards the end of the 90s, ravers would turn to drugs such as cocaine, and violence would break out at such events, with DJs and organisers being left with no choice but to wear bulletproof vests at some.
However, and most importantly, the "One Nation" events helped to make drum and bass into the successful genre that it is today – and it's clear to see from the information presented throughout the film.
Turbo later notes that many drum and bass DJ's, or DJ's who have been influenced by the genre, have worked with popular music artists such as Take That, Ms Dynamite and Rita Ota. Most notably, DJ Fresh and Rita Ora had a UK number one single with "Hot Right Now" in 2012.
More importantly, the genre has subsequently been accepted by the mainstream, with Turbo and fellow DJ's highlighting its distinctive Britishness, which has crossed over into other countries and influenced international artists. Now, drum and bass has stood the test of time, as it sits alongside other well known music genres such as hip hop, rock and jazz – and the most important aspect is that drum and bass events are now legal for people to attend and enjoy. And it's all thanks to the success and impact of "One Nation".
The documentary takes the viewer on a journey, from the illegal raves in the early 90s, to the success that the drum and base genre would experience today. We also get an insight into the life of Terry, how he met his wife, Maxine Stone, and interviews from many EDM and drum and bass DJs. If you're a fan of drum and bass music or just dance music in general and want to find out more about this genre's impact and heritage, then this is one documentary that is not to be missed.
"United Nation: Three Decades of Drum and Bass" is available from 21st February in cinemas and on all digital platforms and Sky Box Office.
Will you be going to watch "United Nation: Three Decades of Drum and Bass" when it is released? Let us know over on Twitter @CelebMix!