STOP WHAT YOU'RE DOING – SOMETHING SUPER AWESOME HAS HAPPENED! If you're a Selena Gomez fan then this breaking news is sure to excite you because the 'Good For You' has hit 100 MILLION Instagram followers! Yes, you heard us right, one hundred million. We can't even imagine that many people in our tiny brain!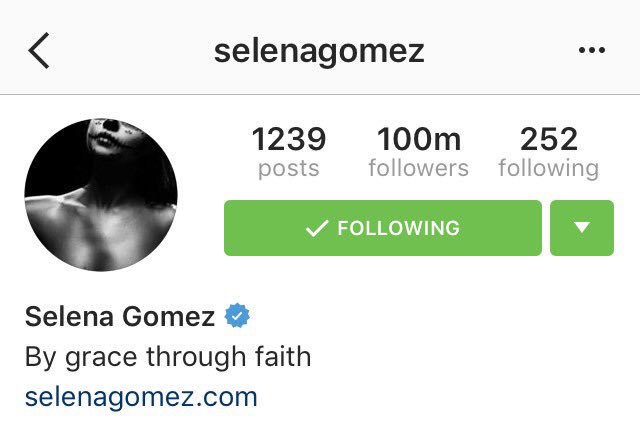 Selly G's Instagram follower count hasn't stopped growing since the moment she created her account in 2013 and she's been the most followed person on the photo sharing social media site for a while. The world just loves Selena Gomez and wants a peek into her life. She's been every household's sweetheart from her Disney days and still remains a worldwide treasure today.
Her career and social followings particularly skyrocketed upon the release of he 2015 album, 'Revival,' which debuted at number 1 and really showcased which path Selena wanted her music to take. It was a time when she really came into her own and established a new set of fans who fell in love with her sultry, sophisticated sound. Plus, her album promotes self confidence and belief, as well as talking about heartbreak, therefore was something most people could relate to.
To us, it's no surprise that Selena has hit such a milestone, especially since she posts so many stunning selfies and adorable stage photos with her fans, all of which get millions of likes. However, that being said, Miss Gomez hasn't actually posted on Insta since 15th August, presumably because she's taking some time off after cancelling her upcoming tour shows due to her Lupus. But, despite not being active for over a month, people still continued to follow her. Now that is the true definition of a Queen right there, friends. Also, it shows the true power of Selenators, her adoring fans, so pat yourselves on the back!
Did you know that 100 million is FOUR TIMES the population of Texas, which is where Selena was born? How crazy is that?
Congratulations to Selena on reaching such an incredible follower count – keep slaying!
It looks like her BFF Taylor Swift could be the next person to reach the milestone as she isn't far off and is the second most followed Instagram user. What do you reckon? Tweet us your thoughts @CelebMix!