It's a common knowledge that the models Cara Delevingne and Kendall Jenner are really good friends. They even have a shipname, which both of them happily use, which is CaKe, as in Cara and Kendall.
As long as their friendship is, the British and American models shared a lot of pictures of themselves on their Instagrams and Snapchats.
We've chosen our seven favourite CaKe photos from Instagram and we've listed them below, so come on, have a look!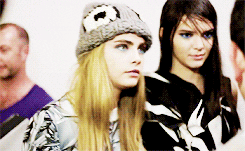 7. The CaKe shirts
Cara and Kendall have their own CaKe shirts, isn't that sweet?
6. The LOVE magazine cover
The models posed for a Love mag's photoshoot together and we have to say, the two of them are a stunning duo!
5. An actual cake
This is what Delevingne prepared for her bestie's birthday! An actual cake with a collage of their faces on it! We should also mention, how cheeky Cara is, I mean, look at the shapes of all the sweets around it!
4. Casually sitting on the ground
They're so cute and their friendship is such an amazing thing. Look at them!
3. The Chanel event
There is no doubt they are such successful models as they are!
2. The CaKe hug
This picture doesn't even need a caption. Maybe we should just mention (again) how cute Kendall and Cara are.
1. The sleepover
This is our favourite CaKe photo! The one time the girls had a sleepover and had such cute pajamas on! And the glasses really suit you, Kendall!
We can't wait to get more CaKe pictures in 2016! What is your favourite CaKe moment? Let us know in comments below or tweet us at @CelebMix!