Dr. Simon Ourian, cosmetic dermatology doctor to the stars, is one of the pioneers of non-invasive jawline contouring. Rumor has it that he actually made the procedure famous—way ahead of everyone, always.
The cosmetic procedure enhances the jawline and chin area by reshaping it to achieve a more balanced and symmetrical face. The procedure eliminates sagging skin at the jaw area, wrinkles, and unsightly jowls that often result from skin aging, loss of collagen, and weight loss. The result? A toned, defined, beautiful jawline that results in a refined appearance that takes years from your face.
The Procedure
Dr. Simon Ourian calls the procedure Jawsome: Nonsurgical Jawline Contouring. After a thorough assessment, he injects a long-lasting dermal filler into specific spots in your jaw and chin areas. The injections are precise and strictly controlled to reshape the lower part of your face to achieve a harmonious appearance.
Dr. Ourian is a proponent of the golden ratio of beauty. He believes that with the advancements offered by technology and science, everyone can achieve this ideal. Part of achieving beauty is creating symmetry that starts with a well-defined jawline and his Jawsome procedure can definitely help.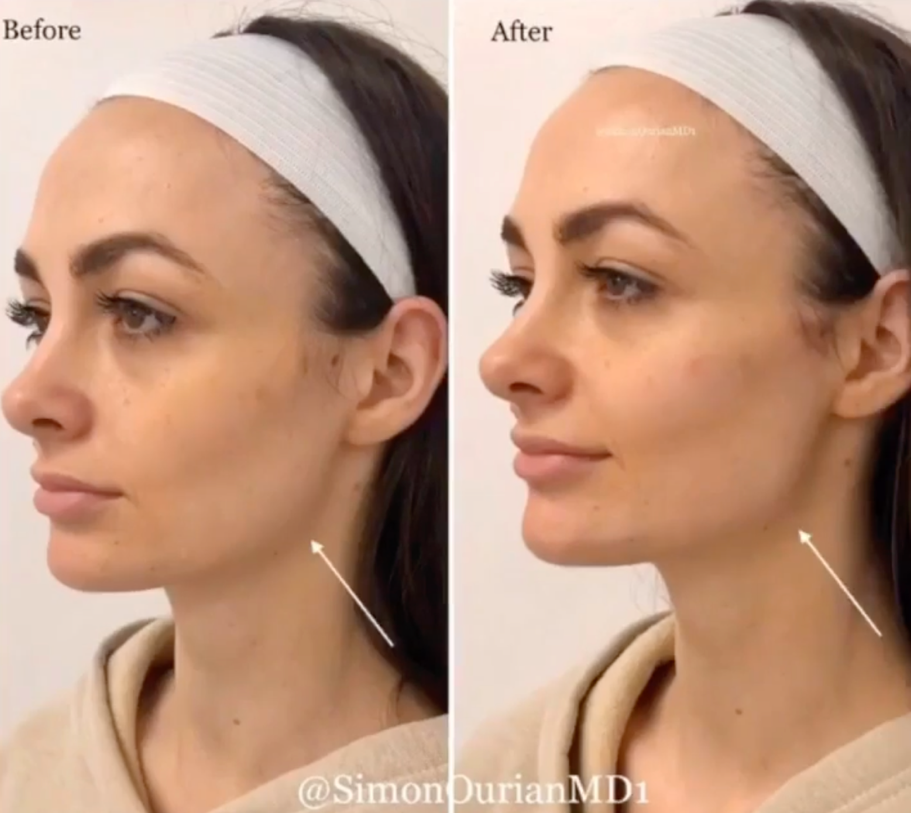 How long does the procedure take?
The Jawsome procedure only lasts around 15-20 minutes. Since topical anesthesia will be used, there is little to no discomfort. Plus, the results are immediate, without the downtime associated with surgical methods. Your face will appear more refined, symmetrical, and youthful. By eliminating sagging, hanging jowls, and uneven jawlines, Jawsome will help shed years off your face and help you achieve the beauty that has always been in you.
Why it could be a Better Alternative to Cosmetic Surgery
Jawsome is a non-invasive procedure, so there are no cuts, stitches, or scarring involved. The ideal results can be achieved right away. It merely makes use of topical anesthesia and the Vibrata to block the pain. The procedure is cost-effective and, depending on the material used, results can be temporary or permanent.
The procedure is available at Dr. Ourian's Beverly Hills clinic, Epione Beverly Hills. Walk-ins are at times welcome but it is strongly suggested that patients schedule in advance due to high demand.