Fresh from the release of his latest single Your Heart's Not In It, fast-rising Irish singer-songwriter Tadhg Daly announces details of his highly-anticipated new EP, Forever Young.
Written and recorded throughout the course of the past year, and made up of five emotive tracks, the extended play looks to tell Daly's own unique tale of overcoming adversity whilst battling personal demons, as he experiments sonically with different sounds to create a more adventurous and textured approach to the alt-pop genre.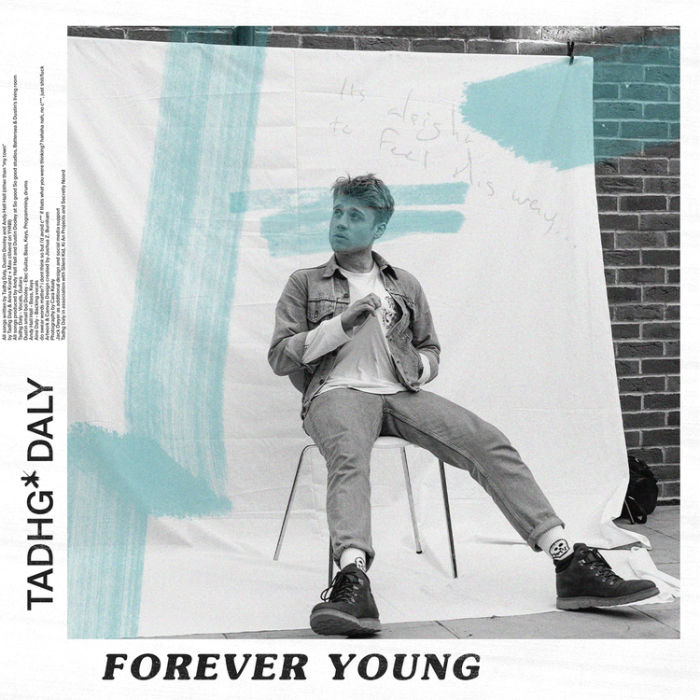 In a press release announcing the projects release, Tadhg says of his latest work: "As an EP, 'Forever Young' is a re-telling of the journey I've been on from being a real shy kid growing up on a small Island, to losing my way completely as a teenager and then trying desperately to turn my life around and create something for myself as an artist in London… each song is incredibly close to my heart and I'm so proud of the end result."
"Writing and recording these songs with some of my best friends was the most cathartic process in some ways and in others an incredibly painful walk through feelings and memories I had pent up for years, though ultimately I feel like so much weight has been lifted from me now that they are finished."
"I wrote and recorded it with my 2 producers and close mates Dustin Dooley and Andy Hall-Hall during lockdown in 2020 and I think how dearly we all care about the songs is what has made them so special for me and allowed them to be heard in the way that I had hoped. Although this is my debut EP and in many ways the first chapter of my music career, it really feels like closing the door on a lot of negativity, trauma and insecurities I've carried with me for years."
---
Forever Young
---
Serving as the second single to be lifted off of Forever Young, the EP's title track presents itself as a beautifully honest, and introspective look at Tadhg's upbringing, as he lyrically embarks upon a journey of self-discovery, by reflecting upon elements of his trouble childhood to confront the life he used to lead.
Bravely facing his past troubles and anxieties, by accepting who he once was, the raw and super soulful track sees Daly speak aloud all of the things he what he would want to say to his younger self now.
Commenting on the single, Daly says: "'Forever Young' is a story of the pain and confusion I felt growing up and trying to find my place in the world. Seen through the eyes of a teenager being bullied in school on the brink of breakdown alone in their bedroom. The main line in the chorus is what I would tell my younger self… 'it's alright to feel this way'".
Forever Young Official Track-listing:
Forever Young
Still Not Made It
Your Heart's Not In It
Come On Over
My Town
Tadhg Daly's new EP Forever Young is set to be released October 29th 2021.
---
Let us know your thoughts on Tadhg Daly over on Twitter @CelebMix now!