20 years (and two days) ago, Britain's biggest ever boyband split. It seemed that that was the end for the four boys, especially after Robbie Williams left the previous July. However, it was nothing but the beginning and in 2005, they came back better than ever before. It was clear that their nine year break was very good to them.
We've compiled a timeline of some of the best, and worst, moments of the last 20 years.
1996
13th February – Take That announce their breakup
2005
14th November – Take That release Never Forget – The Ultimate Collection as a four piece. The album sells more than two million copies in the UK alone.
16th November – Take That: For The Record is released on ITV1 for the first time.
25th November – Official press conference to announce that they were getting back together & going on tour.
2006
9th May – Take That sign a £3 million contract with with Polydor Records.
April-June – The Ultimate Tour.
20th November – Patience is released as the band's first official single since their reunion.
27th November – Beautiful World is released and sells more than a million copies in it's first week.
2007
26th January – Shine is released.
14th February – Patience wins best single at the BRIT Awards.
October – December – Beautiful World Tour.
2008
28th October – Take That present: The Circus Live is announced.
24th November – Greatest Day is released.
1st December – The Circus is released and becomes the fastest selling album of the century.
2009
June-July – The Circus Live Tour – It is the fastest selling British tour ever with all 650,000 tickets being sold in just over 4 hours.
2010
15th July – Robbie announces his reunion with Take That.
26th October – Progress Live is announced. All 1.1 Million tickets sell out in one day. The sheer volume of people wanting tickets crashed all main ticket retailers in the UK and even brought down the phone network for half an hour just after the tickets were released.
7th November – The Flood is released.
15th November – Progress is released, beating their own record by selling 235,000 copies in it's first day. It became the fastest selling album of the century and remains the third fastest selling album of all time in the UK, behind 25 by Adele and Be Here Now by Oasis.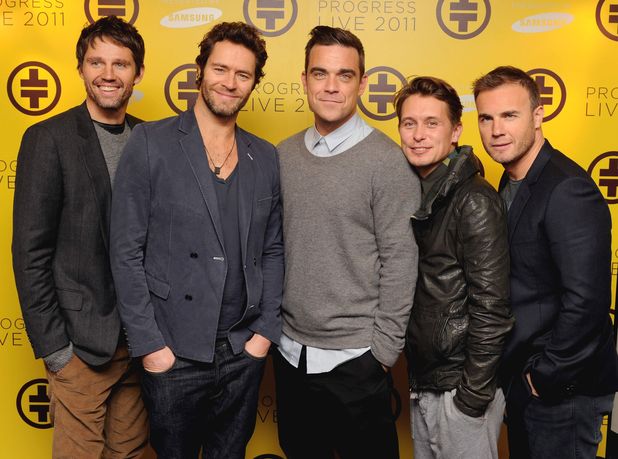 2011
13 June – Progressed is released.
May – July – Progress Live.
4th October – Hiatus announced.
2014
28th April – Robbie announces he has left Take That.
24th September – Jason announces he has left Take That.
23rd November – These Days is released.
28th November – III is released.
2015
April – October – Take That Live 2015.
14th October – Hey Boy is released.
2oth November – III Special edition was released.
2016
2nd February – Gary confirms that the band are set to release their eight studio album at the end of the year and that there will be a greatest hits album in 2017 to celebrate the band's 25th Anniversary. He does confirm that he does not believe Jason will return to the band, however does not rule out the possibility of a 2017 world tour.
So there we have it – phew! What a lot these guys have done!
What's your favourite moment? Have you ever seen Take That live? Tweet us @CelebMix and let us know!