As the year comes to a close, we want to take some time to acknowledge some of the best social media applications from 2016. Each application listed may have its own distinct purpose, but they all share one common attribute, which is they make us feel a little bit closer to our favorite celebrities.
Live.Me
Live.Me is the #1 social platform for broadcasting and watching live stream videos. The application allows fans to connect with their favorite stars, as well as new and upcoming talent. Fans can get instant notifications whenever someone they are following is going live, and they can even share the link with friends so they can watch too! Unlike other apps, the videos on Live.Me don't disappear, which means fans can re-watch them as much as they want! Another feature from Live.Me is that users can earn rewards and cash, and they can send other users digital gifts! So many of our favorite celebrities are already using Live.Me, including Connor Franta, Gregg Sulkin, FouseyTUBE, and more! Get ready to meet new people and discover new artists by downloading Live.Me today!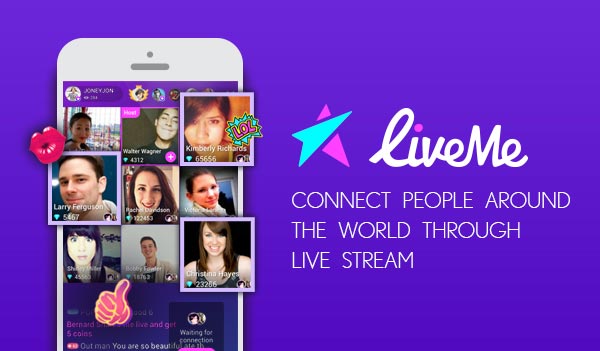 musical.ly
Musical.ly is the #1 music video community application where anyone can create their own music videos. Users have the option to select music from their own device, or choose from millions of tracks within the application to create their videos. People can lip sync to their favorite songs, add special effects, and then share them with their friends! Users can also add their favorite stars on this application, and even become instant stars themselves by ranking high on the leader board!
Snapchat
Snapchat is a unique application that allows users to send pictures and videos to friends that will only be viewable for a short amount of time. Users can send Snaps to specific people, or with all their friends by posting on their "Story." People can also add fun filters to their posts, message their friends, and add their favorite celebrities! Check out our CelebMix Snapchat Bible for a HUGE list of celebrity Snapchat usernames!
Twitter
With over 313 million active users, Twitter is one of the most used and most successful social media applications out there! Fans can tweet, like, and comment on their favorite celebrities' posts, as well as receive instant notifications when they tweet. Users can also see the top trending stories from the day, watch videos, view pictures, and direct message other users. Want to stay updated on the latest celebrity news? Follow our Twitter at @CelebMix!
Vine
Earlier this year, news broke that Vine would be shutting down. Since this list is the best social media apps of 2016, we definitely could not leave Vine out! The application has given so many opportunities for users to rise to stardom. Many have transitioned onto other popular networks, such as YouTube or musical.ly. Vine allows users to post six-second videos to their profiles on an endless loop. It is truly a unique application that served as a creative outlet for so many people. We are sorry to see Vine go.
What is your favorite social media application to follow your favorite celebrities? Make sure you let us know by tweeting us at @CelebMix!