Credit: The Fizz
The Fizz have returned to release their highly anticipated album 'Everything Under The Sun'.
The album, which comprises 10 new tracks, includes a stunning trip back in time to the 80s, but with a fresh and modern twist.
The group, consisting of Cheryl Baker, Mike Nolan, and Jay Aston, won Eurovision with 'Making Your Mind Up' in 1981 as Bucks Fizz. Since 2016, the group has been re-branded as 'The Fizz' and they have never looked back!
'Everything Under The Sun' also includes an unreleased Stock/Waterman (the album is produced by Mike Stock)  song called Everything We Do (We Do It For You).
Originally titled Everything We Do (Is Driven by You), the song was written for a Ford commercial in 1992 which eventually went to Brian May of Queen.
Chatting about the track, Mike Stock said: "Some are asking why we resurrected an old Stock Waterman demo. The brief for the original Ford commercial, for which it was intended, asked us to pay homage to all the Ford owners who over the years had remained faithful to the brand."
"At the time Ford were not launching a new model, but they wanted an advert which kept everyone interested and showed Ford's love and respect for their customers. Of course we didn't get the gig, Brian May did! But in thinking about the Fizz and forty years as a brand, I remembered this track and thought, with a bit of tinkering it could well work as the Fizz, thanking their long-standing supporters."
Cheryl Baker said: "It's the best ever, in my opinion. The track entitled "Everything We Do, We Do It For You" is for you! Spot the nods to old Bucks Fizz songs in Kyla's [Cheryl's daughter] track, "I'm On My Way". Thanks to our fans for being fabulous."
The album also includes a magical Paul McCartney cover, 'This One', but if that's not enough, the body of work was also made using a plethora of 80's technology, which Mike still has in his studio.
Vintage synths and keyboards and also the famous Linn 9000 were used on the new album and on so many of those Stock Aitken & Waterman hits.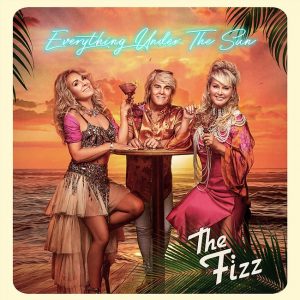 The new album is available now, on standard CD and limited signed CD's. We have even heard that vinyl copies are on the way soon! 
High quality digital downloads are also available exclusively by clicking here.