Little Mix released their latest music video for 'Shout Out To My Ex' to the world at midnight on 20th October and to say it has gone down a storm would be an understatement. Mixers across the globe are loving it and the vid has already clocked up millions of views – YES GIRLS!
The girls look utterly breathtaking as they take over the desert. The video is fierce, fun and flawless so it is safe to say that we have watched it an unhealthy number of times, therefore, we have come across a few things that you may have actually failed to spot.
Check out this list below and see how many of them you noticed in the SOTME video!
1) Jade's book was upside down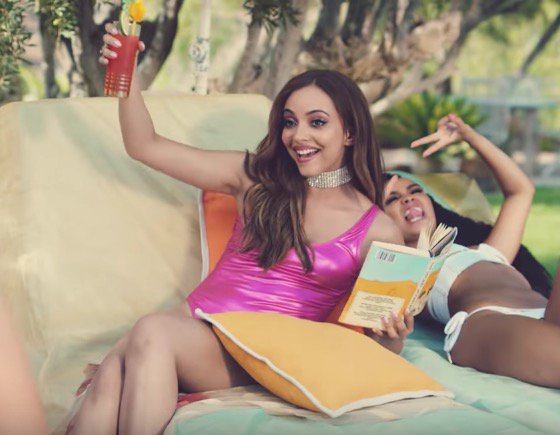 Jade holding a drink whilst reading a book upside down pretty much sums us up, to be honest. It reminds us of that scene in Pretty Little Liars where Aria's was making a phone call with her phone upside down.
2) The video resembles 1D's 'Steal My Girl' music video
Have you noticed how a section of the SOTME video is rather similar to One Direction's 'Steal My Girl?' Take another look at the location and the vehicle and tell us what you think? We're definitely not complaining though because we're obsessed with all things 1D and LM!
3) Leigh Anne's trousers had no bottom in them
Leigh is famous for her love of fashion and her interesting taste in clothing, however, did you notice how her trousers in the opening scene of the video had no bottom? You won't miss it now!
4) Leigh didn't actually start the car
When you heard the car start, did you pick up on the fact that Leigh Anne, who was in the driver's seat, just sat there casually, and didn't actually start the car herself? Ahh the magic of sound effects, eh?
5) The items thrown out of the car disappeared
The girls threw a teddy bear, clothes, photos and letters out of the car to remove any reminders of their ex from their lives – GO ON GIRLS! But, two seconds later, they had vanished from the road and were nowhere to be seen.
6) Jesy was using a hairdryer
We aren't too sure why the girls thought to pack a hairdryer on their trip to the desert but Jesy can be seen using one during her solo…despite the fact that it isn't actually working as it isn't plugged in… although she is at a poolside, which is quite a hazard.
7) The guy who the girls ignored in the desert seems to slightly resemble a former 1D member…
Just us?
8) The girls look like actual goddesses
Okay, so you probably did notice this one. Each Little Mix member radiated beauty all the way through the video and shone like the true beauty queen that they are, which gave us a hell of a lot of heart palpitations, we won't lie.
So, how many did you spot? Be sure to Tweet us and tell us if you're loving the music video as much as we are @CelebMix!