Australian artist Tones And I has released her highly anticipated debut album Welcome To The Madhouse.
The 14-track record was written entirely by the artist with her co-producing every song. It includes the previously released 'Fly Away' and 'Cloudy Day', which has already amassed more than 20 million total streams. The album is an intimately honest record which details the artist's vivid journey from busking in Byron Bay to international stardom to saying goodbye to her best friend.
Speaking about Welcome To The Madhouse, Tones And I said: "This album for me is very up and down and reflects the forever changing emotions in me. There are songs on the album that were written before 'Dance Monkey,' about not knowing if busking was right for me.
"There are songs about my good friend T passing away and not wanting to deal with those emotions. The ups and downs of life in lock down and the mental challenges / struggles. Some songs make me laugh and some make me cry but there is no running theme or vibe to the album – the songs are unique to how I was feeling the day I wrote them."
Welcome To The Madhouse Tracklist
1. 'Welcome To The Madhouse'
2. 'Lonely'
3. 'Won't Sleep'
4. 'Westside Lobby'
5. 'Fly Away'
6. 'Sad Songs'
7. 'Just A Mess'
8. 'Child's Play'
9. 'Not Going Home'
10. 'Dark Waters'
11. 'Cloudy Day'
12. 'You Don't Know My Name'
13. 'Fall Apart'
14. 'Bars (RIP T)'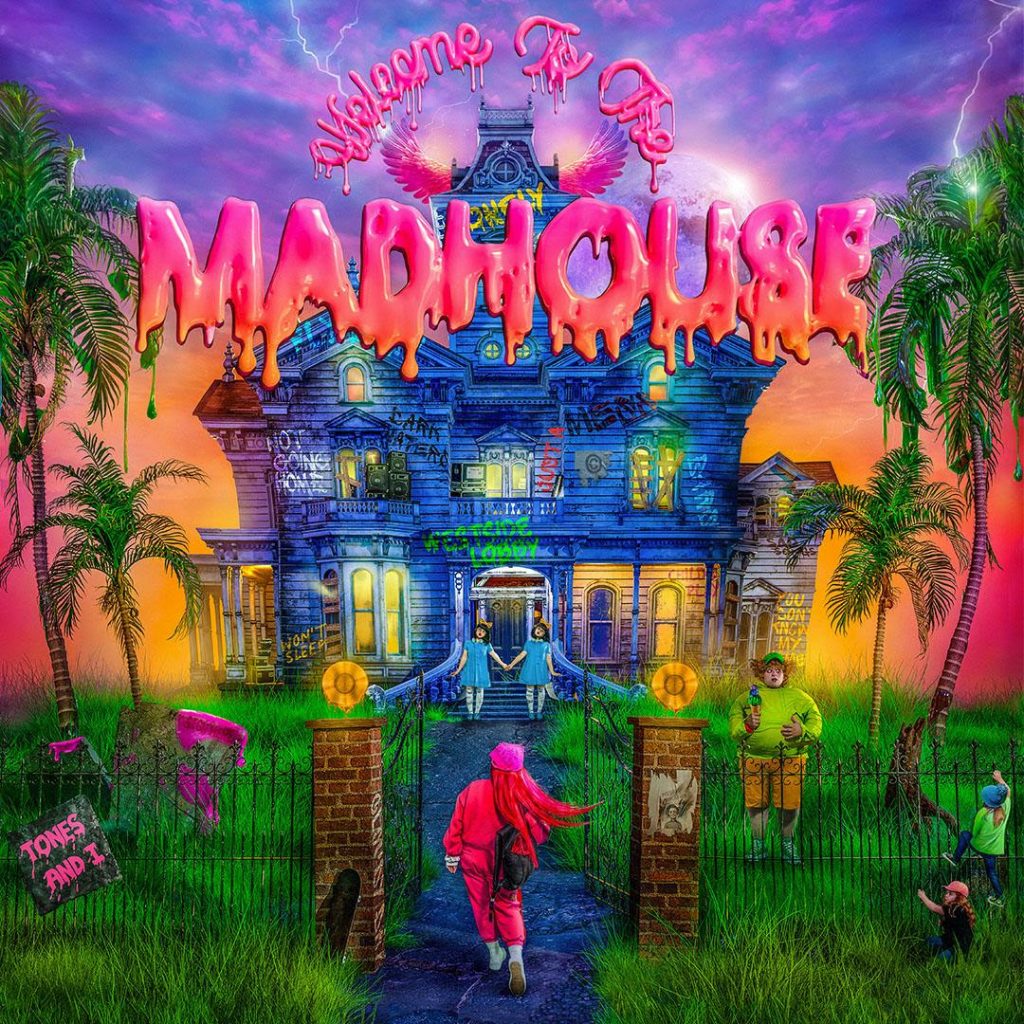 Alongside the album, Tones and I has announced a series of 2022 North American headline tour dates. The run kicks off in Seattle on March 2 and visits several major cities before finishing off in Toronto on March 30. The official presale for tickets goes live on Monday July 19 at 10:00AM local time, while a Spotify presale launches Tuesday July 20 at 10:00AM local time, and venue presales begin Wednesday July 21 at 10:00AM local time.  General on sale goes live Friday July 23 at 10:00AM local time. 
2022 North American Headline Tour
March 2, 2022 – Seattle, WA – Showbox SoDo
March 3, 2022 – Portland, OR – Crystal Ballroom 
March 4, 2022 – Eugene, OR – McDonald Theatre
March 6, 2022 – San Francisco, CA – Fox Theatre
March 9, 2022 – Los Angeles, CA – Wiltern
March 12, 2022 – San Diego, CA – SOMA
March 13, 2022 – Phoenix, AZ – Van Buren
March 15, 2022 – Denver, CO – Ogden Theatre
March 16, 2022 – Kansas City, MO – Midland Theatre
March 18, 2022 – Columbus, OH – Express Live!
March 19, 2022 – Nashville, TN – Brooklyn Bowl
March 20, 2022 – Atlanta, GA – The Eastern
March 22, 2022 – Washington, DC – Fillmore 
March 23, 2022 – New York, NY – Terminal 5
March 26, 2022 – Philadelphia, PA – Franklin Music Hall 
March 27, 2022 – Boston, MA – House of Blues
March 29, 2022 – Montreal, QC – MTELUS
March 30, 2022 – Toronto, ON – HISTORY
Tones and I rose to global fame following the release of her chart topping single 'Dance Monkey', taken from her The Kids Are Coming EP. Among its many achievements, the track was declared the most Shazamed single of all time and earned the title of the longest running number one of all time by a female artist on the UK Singles Chart.
Now, Tones and I is taking her music to the next level with her debut album. With her distinct vocals and clever lyricism, she has certainly come a long way since her busking days and we can't wait to see where her journey leads to.
Welcome To The Madhouse is available to download and stream now.
Let us know your thoughts on Tones and I and her new album on Twitter @CelebMix