Chandler Bing, is a living example of sarcasm. His one liners have made great punch lines for the viewers of FRIENDS. His comments have provided a comic relief in the entire series for over a decade. While probably the lines were written by the scriptwriter, they were perfectly executed by Matthew Perry (Chandler Bing). Throughout the entire season of this series there have been innumerous such instances when Chandler has not failed to impress the audience and make them roll out with laughter; but here are his top ten moments which cannot be forgotten.
10.
Chandler often has comical arguments with his room-mate Joey. but even amidst these ongoing arguments both of them care for each other and value their friendship a lot. With Joey being his room mate he had to survive porcelain dogs, talking parrots, live chick and duck and of course as visiable hear, escaping from the electric drill.
9.
The conversation behind the frame was basically dealing with the thought process of a man. Much to everyone's surprise, Chandler just said 'If he were a guy. . . '!
8.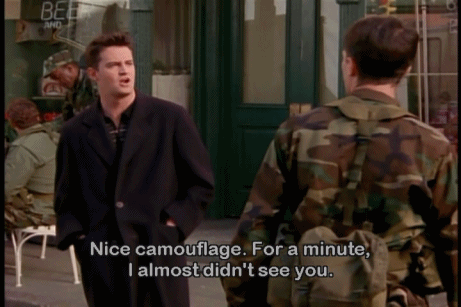 Could Chandler be any more funnier?
7.
This was when Emma, Rachel and Ross's daughter started crawling. Rachel got really excited and dragged everyone to see Emma, who unfortunately decided not to crawl in front of an audience. But, her uncle Chandler did not stop from throwing another one of his one-liners.
6.
On seeing Rachel dressed up a beautiful medieval era damsel, he could not resist bringing in the sheep connection into the conversation.
5.
Ross having undergone a tanning session comes to Monica's flat , however chandler thinks Ross went to the SUN to get tanned.
4.
A very clever reply towards finding the 'someone' who dared to eat Ross's sandwich.
3.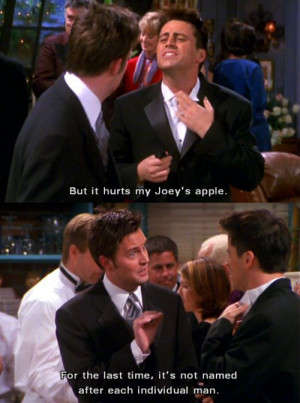 Joey has an amazing idea that his Adam's Apple is called Joey's apple. However, Chandler thinks it is his responsibility to make him understand that the Adam's Apple is not named after every individual man.
2.
Monica was really obese in her childhood and sometimes she tries to hide it. But it is not very easy to hide things from Chandler's sharp eyes.
1.
This line perfectly describes Chandler's thoughts on most situations. He just does'nt care.
Which is your favourite quote? Do let us know at @Celebmix and do not forget to catch the much awaited reunion of the FRIENDS cast on the 21st of February 2016.