Dr Ross Geller , well that is what he likes to call himself ; although his friends stick to just Ross (with complete disregard for his love of dinosaurs ), is a unique character in the series.  In the academic sense , he is one of the most educated and qualified geek; but in social sense he is different. At times, he messes up the situation really well. His love for education, dinosaurs, science and well divorce is special and it is these special attributes of this character which makes him completely relatable in real life. Though he has gone thorugh a lot if ups and downs in the entire series in terms of his personal life, he is an amazing character – a great friend, brother, lover and father (Yes he has two children – Ben and Emma ).
These five quotes gives the audience an exact sense of his character and the relationship Ross Geller shares with his friends.
5.
Monica and Ross are siblings. Like all siblings they share the sweet and sour relationship- sometimes holding each others backs and at other times hitting back at each other. Chandler, on the other hand is Ross's best friend. And when your best friend and your sister becomes a couple – the enjoyment can be clearly seen on his face.
4.
Interestingly, no other divorce lawyer can have as much profit as Ross's lawyer. He married and divorced three times. The stories are well explained in the snippet above. Honestly, he is regarded as the 'divorso' at times amongst his friends.
3.
Ross at times comes up with strangely weird ideas- like playing the bag piper (which he can't play at all ). Another time, he insisted on playing the keyboard in which he successfully failed as well. therefore in short he can be regarded as a musical disaster.
2.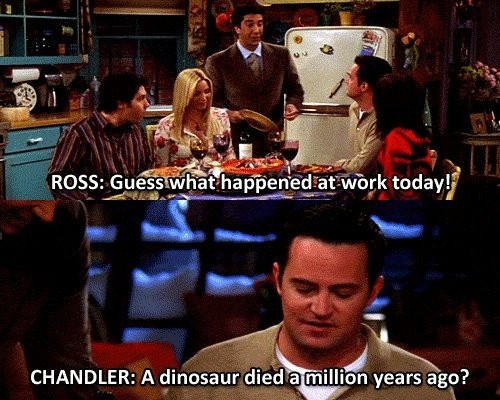 Ross is really passionate about his work and at times tries to share his routine with his friends. Apparently, it seems too obvious that none of his friends are really interested in knowing about fossils and dead dinos!
1.
Ross and Rachel can well be called the star couple of the series. From Ross liking her since high school to their ultimate union at the end of the series and even having a baby girl Emma; this couple has been through a lot of ups and downs. However, this statement does stand true that the audience cannot imagine  FRIENDS without the love story of Ross and Rachel.
Which of the above quotes on Ross Geller  is your favourite? Let us know at @CelebMix. And do not forget to tune into the epic FRIENDS reunion on the 21st of February.