And it's alright
Calling out for somebody to hold tonight
When you're lost, I'll find the way
I'll be your light
You'll never feel like you're alone
I'll make this feel like home
Baby we could be enough…
Is anyone else a little bit…wounded when they realize that Home is actually a real song and that it's written by Louis Tomlinson?  We are, we certainly are.  The song is one of the most talked about One Direction songs of 2015 – and it wasn't even on the album.  This is just one instance where Louis has laid his heart out and shown exactly how important love is – what more do you want in a valentine than that?
Louis is absolutely a prince charming and while we could have gone on forever describing why – we managed to get it down to five reasons.
5. He's never forgotten where he came from
So this may go a bit beyond why he'd be your perfect valentine and tread more into why he's just the perfect guy territory – but it totally works.  Louis is humble.  He's never forgotten where he started, nor the people who were there for him through the journey.  He's been seen bringing friends from Donny on tour, representing his home town, and he even flew a teacher out to see a show too.  Louis has a lot of respect for himself and he knows he wouldn't be where he is now without a strong foundation.  This is such a rare, but important quality to possess.
4. His songwriting show off a soft side of him
Louis is known for being a bit of the One Direction tough guy – not one to openly show much emotion, there are some times when fans compliment him that you see his eyes light up and his smile grow wide, but the real time you see how soft hearted and sweet he is – when you're listening to his lyrics.  Louis is known for writing fun and upbeat lyrics, but also for writing some really emotional songs about growing up, loss, and your deepest love.  He said once that it was a bit vulnerable, but only the best people are – it takes a lot to let your guard down, and for Louis, his is down when he speaks through his music.
3. He's bloody beautiful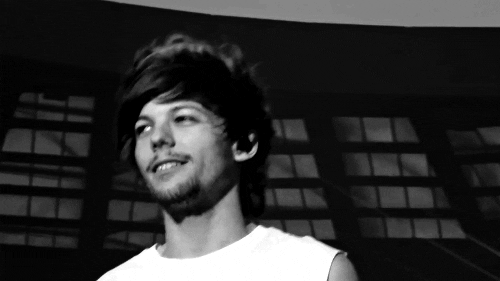 So…forgive us, but come on – Louis is absolutely, 100%, totally gorgeous.  It takes us a second to truly recover from how attractive he is.  He's got an incredible smile, gorgeous eyes, a killer jawline, lovely collarbones…we could go on and on (and on and on and on).  One of the most beautiful things about him is how his sweet spirit and kind heart shine through his being – it's true that a happy person is the most beautiful person and when Louis is happy – well, you could get lost in him.
2. He is a family man
Louis absolutely has a heart for his family.  In interviews where the lads are asked who the biggest "mamas boy" is – they all point to Louis, but it's not just his mum that he's closest to.  If you notice part of One Direction's crew being his sister Lottie – you'll see that he not only cares for his family, he encourages their dreams.  Louis tweets about missing his family when he's away from them, and you can see the joy in his eyes anytime he gets to spend some time off the road and back with the people who have known and loved him before he became the star that he is.  Someone who cares so much about their family, even as they grow up and find their own spot in this world is someone who knows the value of relationships.  Louis looks at Jay like she's his best friend, his right hand woman – and it's clear that she is.  He was the man of the house for a long time, taking care of his sisters and his mum and that's something he never stopped doing – something he'll do forever.
1. He's got the most compassionate heart
Louis' heart is probably the most amazing quality that he has, and he never misses a chance to embrace it – whether we see it or not.  We've seen him give and give without asking for anything in return and doing so like it's second nature – like there's not anything more special in this world than being able to enhance someone else's life. Louis has given not only to charities, but to families and individuals who could use some extra happiness, and even to people he meets in the street – there is no end to Louis' giving spirit.  His compassionate heart also resonates with his fans, with the people that he meets because of One Direction – be it at meet and greets, while he's shopping in town, or the connection he makes with fans while he's on stage.  He's taken to twitter on multiple occasions to defend fans of One Direction – reminding people that he's fearless when he loves someone, and for as much as fans of One Direction love the boys, the boys love them more.  It's one of the most rare but beautiful bonds in the world – it's truly been a journey together for 5 years and getting to experience that with the heart that Louis has is beyond what words could describe.  If you've felt Louis' compassion – you've truly felt love.
It's easy to see why Louis is not only the perfect valentine – but an incredible guy to know at all and fans of One Direction are fortunate to see his true colors and know how sweet his heart is.  Do you agree with Louis being a top pick for your valentine? Tweet us at @CelebMix1D and @CelebMix and let us know!