Stretch marks are the result of skin stretching and increased cortisone in our bodies. It affects a significant number of Americans. Studies suggest that as many as 80% of Americans have stretch marks somewhere on their bodies.
While stretch marks are not dangerous, they are unsightly and cause affect our confidence. This is especially through during the warmer summer months when typically we wear fewer clothes and spend time at the beach.
In this article, we'll take a look at Coolbeam, an Epione-exclusive procedure for stretch mark removal by Dr. Simon Ourian. As a renowned celebrity doctor, Dr. Ourian has worked with clients such as Megan Fox, Kim Kardashian, and Lady Gaga.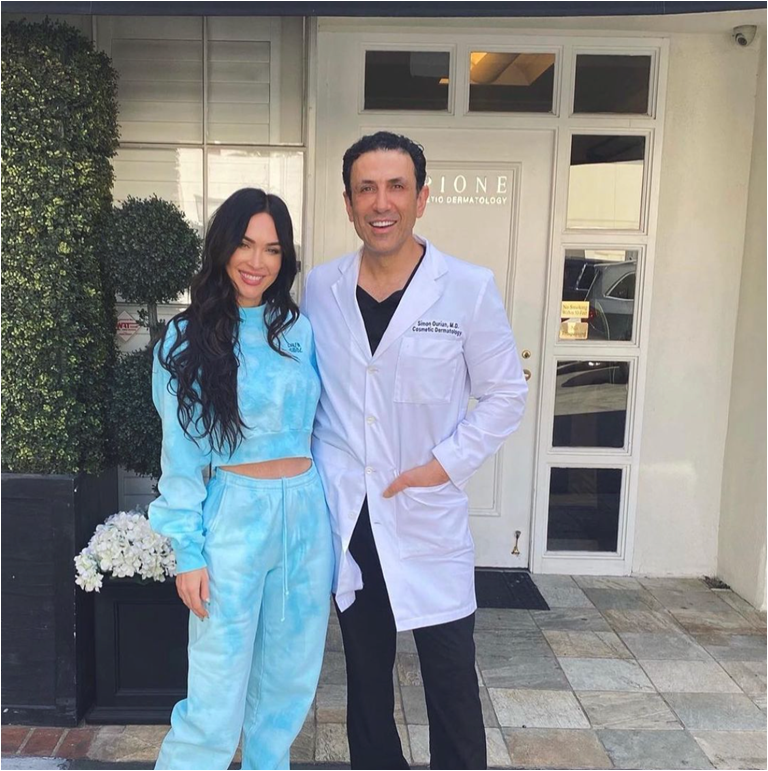 What Exactly Are Stretch Marks?
Stretch marks are caused by skin stretching and increased cortisone (which can make our skin lose its elasticity).
There are a variety of causes of stretch marks. These include being pregnant being overweight, having dramatic weight gain or loss, and using corticosteroid medications. Rapid growth during your teenage years is another possible cause of stretch marks.
Stretch marks can occur almost anywhere on the body. They are most commonly found on the buttocks, stomach, breasts, upper arms, and thighs.
What Is Laser Stretch Mark Removal?
While there is a range of different treatments available, the most effective treatment is laser stretch mark removal.
Coolbeam is a generally safe and non-surgical stretch mark removal treatment that is exclusively available at Epione Beverly Hills. It is seen as the treatment of choice for Hollywood celebrities.
This treatment can improve the appearance and elasticity of the skin. It uses short pulses of tiny laser light to penetrate the sub-dermal layer.
What Are the Benefits?
When carried out by one of our experts at Epione Beverly Hills, laser stretch mark removal is generally safe, effective, and convenient. Many patients only require a single treatment to see results. Others with serious blemishes may require additional number of sessions for the best results.
Following treatment, the body will begin its own natural reparative processes by sweeping away old and damaged tissue. The body will regenerate fresh collagen and elastin, which helps to smooth and lighten stretch marks until they are practically invisible.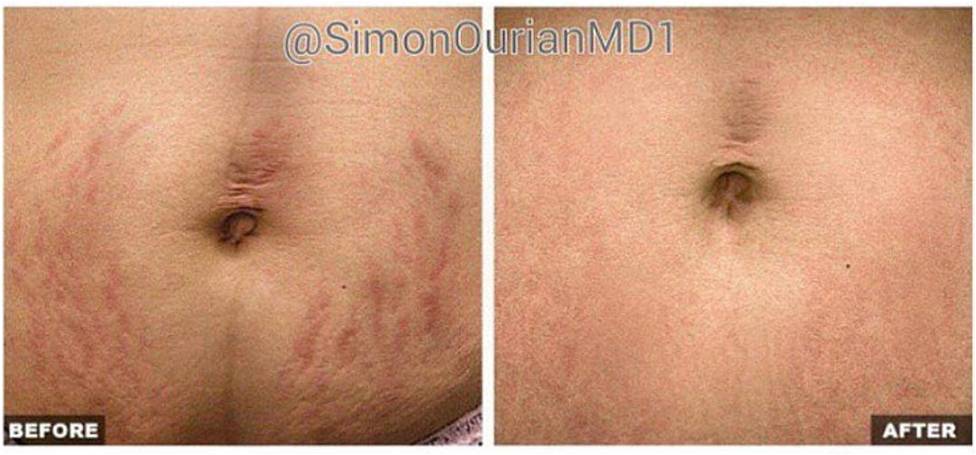 Why Choose Dr. Ourian & Epione?
Dr. Ourian is one of the country's most renowned medical professionals, specializing in cosmetic dermatology. He is trusted by Megan Fox, Kim Kardashian, Lady Gaga, and other celebrities, highlighting his renown within his field.
Dr. Ourian founded Epione Beverly Hills in 1998. For years, Coolbeam has produced incredible results for patients with stretch marks. Learn more about Epione here.
Get the Best Stretch Mark Removal Results
If you are suffering from unsightly stretch marks that affect your self-esteem and confidence, Dr. Ourian and his team at Epione can help. The Coolbeam procedure is designed to smoothen and visibly lighten stretch marks.
Contact Dr. Simon Ourian's team today to learn more about our laser stretch mark removal procedure.