Taylor Swift is a one-of-a-kind Superstar who has a proven track record of selling out stadiums all over the world all on her own…but just because she can do it alone, doesn't mean she always wants to. At many points during every one of her Four sell out world tours, Taylor has invited both music legends and the hottest up-and-comers to treat her fans to a one of kind performance during some of her shows, meaning she has performed with more incredible artists than pretty much any one else around right now.
With the conclusion of her biggest and best world tour so far not so far away, we've decided to take a look back at the ten best musical guests to have joined Taylor on stage at the 1989 tour.
Nelly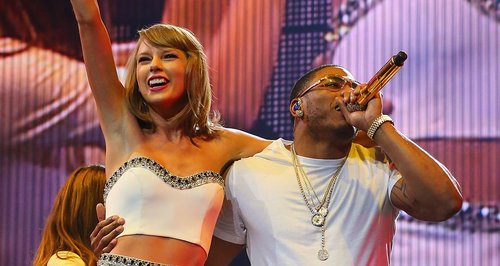 At the 29th of September show in St Louis, Taylor invited Nelly on stage to sing "The Fix", and then alongside HAIM, provided backing vocals and a backing dance to his smash "Hot in Herre", providing one of my personal favourite musical moments of the year, and relighting the fire to my obsession with this song. Nelly is unique in the way that he has joined Taylor on stage 3 times now, at 3 different world tours, firstly to perform Just a Dream on the Speak Now tour, and then becoming the first special guest on The Red Tour, with Hey Porsche. Whenever she brings him out on stage it reminds me just how great he is, and always provides a memorable moment for those in attendance!
Steven Tyler
Performing with the front man of Aerosmith on his most famous song, Don't Wanna Miss a Thing from the Armageddon soundtrack, is likely to be one of those moments you tell your grand children about…literally all the time. "Hey…did I ever tell you about that time I performed with Steven Tyler?" "Yes, Grandma. At least 100 times…and that's just today."
It was an incredible moment and no doubt goose-bump inducing for the crowd at Nashville, who where also treated to duets with Kelsea Ballerini on "Love Me Like You Mean It" and Allison Krauss on "When You Say Nothing At All", that night. Oh, to be at that show!
Wiz Khalifa
When Taylor brought out Wiz Khalifa in her 9th of September show at Houston to sing smash hit See You Again, it provided the one of the tours most surprising collaborations, but one of the more rewarding too. I confess, I've often found myself belting out the chorus of this song and trying my best to keep up with the rap (who hasn't?), but I never quite fell in love with it. The live version with Taylor Swift helped fix that, and even the 15 second snippet she posted of the performance on Instagram was enough to give me goosebumps.
Walk The Moon
This band are quickly becoming one of my favourites, and though they're certainly not one of the biggest guests to have joined Taylor, they looked like they brought the party with them! Instead of doing a few laps of the catwalk like most other guests, Taylor and Walk The Moon let rip in an explosion of excitement that covered the whole stage and had the whole crowd singing and dancing along to a song that you just can't help but dance too. Shut Up and Dance sums up the mood of every Taylor Swift concert, especially the 1989 tour, which consists mostly of dancing as stupidly as you can, despite knowing you look silly, and having the most fun ever. Walk The Moon definitely brought that.
Mary J Blige
It's great to see two artists of two different generations and two different genres cross over like this, to perform two of Mary J's songs, Doubt and Family Affair. Though not one of the obvious choices to pick from Mary J Blige's back catalogue, Doubt was a poignant performance, and lyrically apt for Taylor Swift. Once again, this one proved to be one of the most surprising special guests, but it's one of the ones I can't stop rewatching videos of! Mary J Blige was brought out during the biggest week of the tour, the 5 night run at the Staples Centre in LA, and was one of many highlights from that week.
Lisa Kudrow
One of my very first posts on tumblr back in 2010, within a week of signing up, was a text post saying just how much Taylor Swift reminded me of Phoebe Buffay. I've long said that the actress who brought Phoebe to life needed to duet with Taylor on her signature song Smelly Cat, but I never, ever thought it would happen. This hilarious duet is A testament to Taylor's tendency not to take her too seriously, and her commitment to bringing a show that is, above all, entertaining, even if it doesn't help her credibility! It was a crowd pleaser, a viral moment waiting to happen and just could not be missed off this list. This was yet another performance from the LA run, representing the final of the five nights.
Selena Gomez
Because as if Lisa Kudrow and Taylor Swift singing Smelly Cat wasn't enough, Taylor had an extra treat or two in store for the LA Night 5 crowd on August 26th. After giving a miss to the Red Tour, Taylor's bestie Selena Gomez joined her on stage to sing summer smash Good For You for a crowd that could not stop screaming! She previously performed with Taylor  on the Speak Now tour, singing Who Says as that era's final special guest, but it was a much bigger deal this time round given both singers elevation in fame and recognition. Two of the biggest and best female artists showing their love for each other and doing a duet of one of the biggest and best songs of the year had everyone losing their mind, and was the performance we where all hoping was coming, but for the LA crowd that night, Taylor had one surprise left…
Justin Timberlake
Long time friends (and our favourite people to sit by each other at award shows!) Justin and Taylor finally performed together, singing his song Mirrors for quite possibly the luckiest audience in the world. To make this even better, a recent interviewer of Taylor's was in the car when this call was made, and noted that it was actually Timberlake who phoned Taylor and, after a fifteen minute conversation with the guy she had saved in her phone as "J Timbz", he asked her if he could come join her at her final Staples Centre show to sing together! Sandwiched between the performances by Selena and Lisa Kudrow, this one was the second act of Taylor's LA mission to make the crowd lose their minds. Modern Family star Jesse Tyler ferguson attended his show, and posted an Instagram video of the moment his teenage niece found out Taylor and Timberlake where performing together. She freaked out and started crying, but we understand…if we where there when J Timbz and T Swizzle finally started singing, we would have as well!
Mick Jagger
I mean…Mick Jagger….need I say anymore? It was a big enough deal back when The Rolling Stones invited Taylor on to their stage a few years ago to duet on their song "As Tears Go By". That was a slower, acoustic and beautiful duet, but when Taylor returned the favour and treated the crowd to a special guest in the form of Mick Jagger, it was with the more explosive and exciting  "Satisfaction". This, out of all the duets, is the one I'm most surprised about, even though they'd performed together before. Not long after it a video went viral of a 70 or 80 something year old Grandma, who'd accompanied their Granddaughter to the Taylor Swift concert, freaking out and loosing her mind when Mick came on stage. She screamed, she cried, and she couldn't believe it; the absolute joy on her face when she seen Mick Jagger is heartwarming, and as Taylor said herself, reactions like that are why she does this. It was a killer performance made a little bit better by this old gals reaction!
Alannis Morrisette
This list is in no particular order, but if it was, this would be number one. In the midst of the LA Staple Centre shows, Taylor brought out Alannis Morrisette to sing together and one of the best break up songs of all time, You Oughta Know. It felt like I'd been waiting for this moment my whole life; it was fun, fierce and all round fantastic. I've watched it one hundred different times from one hundred different angles, and don't think I'll ever stop. Two of the greatest female song writers of all time, who share more similarities than their penchant for quick-witted and unapologetic break up songs, sharing a stage, rocking out together and making the crowd go wild. After performances in the past with Stevie Knicks and Carly Simon, singing You Oughta Know with Alannis Morrisette had to be the icing on the cake for Taylor, and it was a performance I just knew was coming someday. I've been predicting it for two tours, now, since way back in 2011, but that in no way changed just how utterly mind-blowing it was when this finally happened.  Everything from the first "I want you to know…" to the very last chord was pure musical magic, and propelled Alannis right up there with the best of the guests.
---
With all these amazing performances and many, many more, is it any surprise we'll be mourning the end of the 1989 tour from the minute it's over at least up until Taylor announces a new one? Though with the superstar teasing an impending break from music, we might be waiting a while!
Let's just hope the guests are as good next time: This lot is certainly hard to follow!
Who was your favourite guest performer on tour? Let us know in the comments or tweet us @CelebMix