Some of Harry Styles' best known attributes are his tattoos, and while he has so many it's hard to keep up, we found our favorites out of his 62 artsy tattoos!  It was hard to narrow it down to just ten, honestly, we love them all!
10. Green Bay Packers Logo
Harry is probably the biggest Green Bay Packers fan in existence. He proudly owns tons of Green Bay merch including a custom made jersey with his last name on it and a Packers toaster that toasts the team logo on his bread. Harry sends lots of love to his favorite football team in Wisconsin!
9. Late Late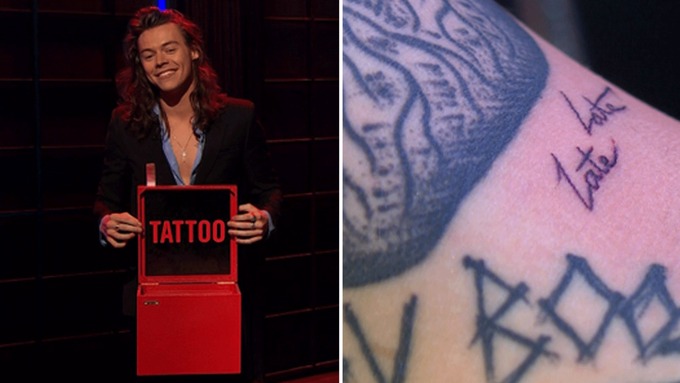 Remember when Harry and the boys visited The Late Late Show with James Corden and played a little game of Tattoo Roulette? Harry saved Niall from getting his first tattoo by getting the show's logo onto the sleeve of his almost full left arm.
8. Holy Bible
A beautiful symbolic tattoo to represent his faith and religious values, even if it covered one of our old favorites!
7. 1957 and 1967
To this day, Harry hasn't fully explained the meaning behind these tats but our guess is the representation of his parents' birth years! His mum Anne, born in 1967 and his dad Des, born in 1957. There is no denying that Harry's parents mean the world to him.
6. Butterfly
2 words to describe Harry and this tattoo, beautiful and artsy.
5. 2 Sparrows
Although they covered up the "Love" Banner tattoo Harry had inked to his chest before, maybe the sparrows are a more detailed version of how he thinks of love.
4. I Can't Change
Another one of our old time favorites that ended up being covered. *sigh*
3. Things I Can and Things I Can't
Although they've both been covered up as well, they're still two of our (and almost every fan's) favorites. Harry never specified the meaning of these tattoos but our guess is, that since Harry is deep rooted in his faith, they elude to the well-known serenity prayer. "God, grant me the serenity to accept the things I cannot change, the courage to change the things I can, and the wisdom to know the difference."
2. g and A
We assume the "g" tatted on his right shoulder and the "A" tatted on his left stand for his sister Gemma and his mum Anne. Harry clearly keeps his sister and mum close to his heart.
1. Gemma
Written in the Hebrew language, Harry got Gemma's name tatted onto his left shoulder. You can see how much a family man Harry really is!
What are some of Harry's best tattoos in your opinion? Tell us by commenting below or tweeting us at @CelebMix1D.