To say that these last twelve months have been tough would be a huge understatement. Between celebrity break-ups, deaths, political disagreements, and devastating conflict all around the world, we think it's fair to say that 2016 has been one of the most difficult years yet. But before we take our dated calendars down or rip them up in rage and throw them away, let's remember some of the better things that happened in 2016.
Below we have put together a list of the sixteen best moments to happen in pop culture in 2016. They are the moments that made us smile, laugh, and feel every other positive emotion out there and we hope that as you are reading through the list, you remember the joy you felt when you experienced these moments happening for the first time.
#1: Leonardo DiCaprio finally won his first Oscar
And about time too! On 28th February, Leonardo DiCaprio won his first Oscar at the 2016 Academy Awards and the whole world rejoiced. Literally, everyone celebrated for him. We couldn't believe that after being nominated in the same category five times previously, he had finally won that gold statue and been recognised for his incredible talents. Upon receiving his award, Leonardo gave a touching speech about how we should use our power to make positive changes in the world to help the future generations. His speech was moving and it made a lot of sense, but all we were thinking about while he was talking was how much he deserved his Oscar and how good he looked in his tuxedo.
#2: The Olympics hit Rio
The whole world watched on in suspense when the Summer Olympics hit Rio in August 2016. It was a bit hairy at the beginning with the multi-sport event getting off to a rough start, and at one point we weren't even sure that the games would be going ahead at all. When they finally kicked off, we were treated to some of the best television we had seen in years. From nasty breaks (and no, we are not going to post a link to a video montage of all of those horrifying bone breaks) to great wins, we were all glued to our televisions for the duration of the games. After the epic closing ceremony, we weren't really sure what to do with ourselves but somehow we had to find a way to cope because the Tokyo games don't start until 2020. Now if only we could find a way to make time speed up…
#3: Speaking of the Olympics, we all fell in love with the "Final Five" girls in 2016
You didn't need to watch the Olympics to know all about the U.S Women's Gymnastics team, or the "Final Five" girls as they have been dubbed ever since. Our jaws are still aching from when we had them on the floor as we watched Laurie Hernandez, Gabby Douglas, Aly Raisman, Madison Kocian, and Simone Biles slay the competition on behalf of their country. There seemed to be no end to their talents and abilities, and they each smashed every single challenge they were given with practically no effort at all. After their performance, we are convinced that they are superhuman and would like to request for them to be cloned immediately. We need more athletes like them in the world, but more importantly we need more of their Girl Power in the world!
#4: Remember when Zac Efron fell in love with the "Final Five" girls too?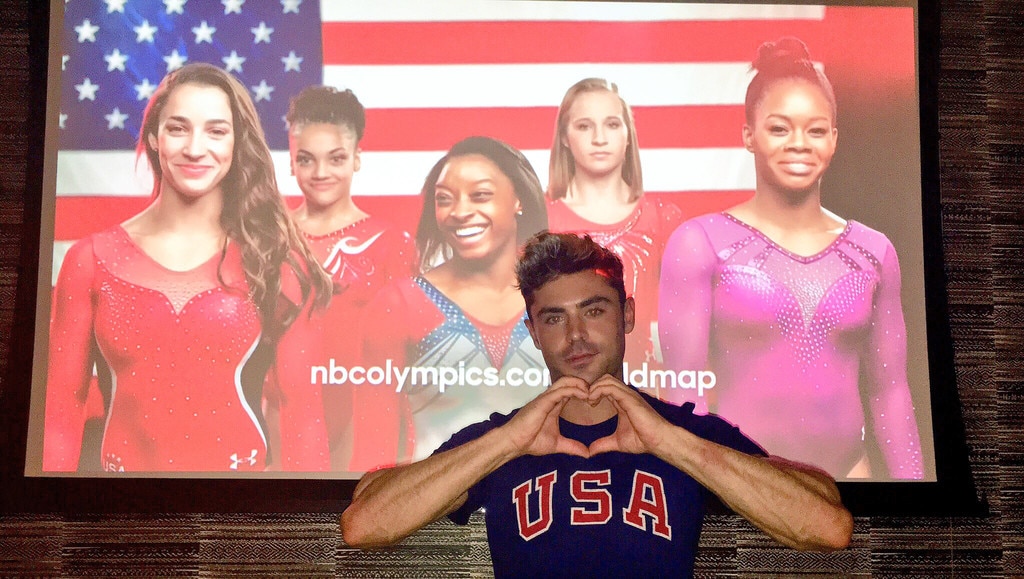 Our list of the sixteen best moments to happen in pop culture in 2016 wouldn't be complete without us mentioning the adorable love story that blossomed right in front of our eyes between Hollywood heart-throb Zac Efron and the "Final Five" girls… Or more specifically, Simone Biles. In the past, the young gymnast has made no secret of her love for the actor and when her team began slaying the Olympics, Zac made no attempt to hide his admiration for the girls either. When we heard that Zac had flown down to Rio a few days into the games, our ice-cold hearts began to thaw but then when we found out that he was planning on surprising Simone after one of her performances, our icy hearts melted completely. Goals!
#5: Pokemon Go! bought us back to our childhood
When Nintendo released Pokemon Go! back in July, we were abruptly bought back to our childhood where everything was Pikachu and nothing else mattered. One day we were sitting behind our desk at work, deciding what to make for dinner and whether we should go out with our co-workers for late night drinks. The next day, we were calling in sick to work, skipping meals, and only communicating with our friends to ask if they were further ahead in the game than we were. All everyone wanted to do was wander around the streets searching for gyms and Squirtles, and we wondered if normal life would ever resume. The craze, which now seems to have disappeared as quickly as it arrived, undeniably raised some serious issues though. Someone once found a body in an alley way when they were out trying to catch 'em all, but whether you were into the craze or not there can be no denying that the rise of it was one of the most memorable moments of 2016.
#6: Speaking of our childhood, Fuller House bought us back to the 90's in 2016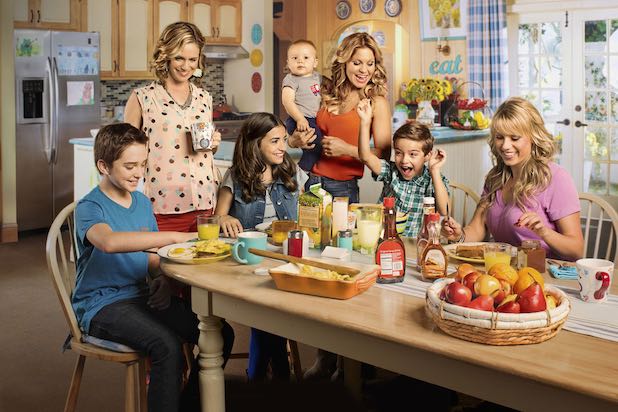 When the classic family sit-com Full House ended in 1995, everyone was devastated and we prayed for a sequel of some sort for years afterwards. We hoped and we wished and we dreamed with all of our might until one day, Netflix rode in like a knight in shining armour and made all of our dreams come true. They released a reboot of the old series called, "Fuller House," in early February and as if by magic, the universe made sense again. Like in the original series, the reboot took place in the same house in California and it centered around our favourite veterinarian D.J. Tanner-Fuller and her three sons. Although we spent the entire first season wondering if we would ever see Michelle again, we instantly fell in love with the reboot and it seems that we're not the only ones since it was just renewed for a third season.
#7: This Is Us. Need we say more?
Everyone seemed to go crazy for the latest American comedy-drama series, "This Is Us," in 2016 and it was hard to move two feet without hearing someone gossiping about it to their friend in the middle of the street. Now before you roll your eyes and think that this is just another mediocre television series which draws you in with an incredible pilot episode but then drops off and ultimately leads nowhere, think again. The show is quite simply a masterpiece and if you haven't had a chance to watch it yet then we seriously suggest that you do. The show focuses on different characters and their individual stories which are all connected to each other in some way. Every single episode will leave you in tears. Good tears, bad tears, and oh so many more tears! It is one of the best shows in a long time, which is why it just had to make this list.
#8: Lady Gaga. That is all.
While most of us have been having a pretty rubbish 2016, Lady Gaga has been going from strength to strength and we couldn't be more thrilled for her. This year has truly been the year of Lady Gaga and she has had so many iconic moments and career highlights over the last twelve months that it would be a real crime not to include her in this list. Some of her recent highlights include singing the U.S. National Anthem at the Super Bowl 50, getting honoured at the Grammy Museum, starring in American Horror Story: Roanoke, dropping her fifth studio album, "Joanne," and releasing two singles from it called, "Perfect Illusion," and, "Million Reasons". Basically Lady Gaga is pop culture and without a single meat dress in sight!
#9: We were all thirsty for some Lemonade
If you haven't heard Beyonce's name mentioned a record number of times in 2016 then you must have been living under a rock because to say that she has been made headlines practically every other week would be a massive understatement. From releasing the music video for, "Formation," which is the ultimate protest song, to performing it at the Super Bowl's half-time show, to dropping Lemonade and letting us know that Becky had good hair… The list goes on. We think it's fair to say that 2016 wouldn't have been the same without Beyonce and her digs at Jay-Z. After all, she is the epitome of pop culture.
#10: Ghostbusters debuted with an all-female cast
In 2014, Sony revealed that they were planning on expanding the Ghostbusters franchise with a new reboot and movie lovers all around the world rejoiced at the news. Fast forward to 2016 and the latest addition to the classic series was released, but with a modern and empowering twist which we are all over. The twist was that the four lead roles in the movie were to be filled by female actresses, and that is why this makes it on to our list of the sixteen best moments to happen in pop culture in 2016. The decision to only have female leads in the movie has been met with a lot of controversy but whichever side of the argument you are on, there is no denying that this movie and the buzz around it has helped to shape 2016 into what it was.
#11: Some of our favourite childhood movies were remade
…And they were made even more amazing than they were before! From Disney's live-action remake of the much-loved The Jungle Book, to Alice Through The Looking Glass, to the follow-up to Finding Nemo which was appropriately named Finding Dory, and then to our personal favourite The BFG. If there is one thing we know about 2016, it's that it was one of the best years for movie releases and taking us back to our childhood where things were simpler.
#12: Hamilton broke out 
Although Hamilton first debuted on the Broadway stage in late 2015, 2016 was the year that it really took off. In record time, it was able to prove itself as one of the best musicals to ever exist on the big stage with its success spreading much further than just the Big Apple. As well as performing it at the White House and winning eleven Tony Awards, the show's cast somehow found the time to release a special mixtape for their fans featuring other artists such as Kelly Clarkson, Usher, and Alicia Keys. The Hamilton Mixtape debuted at number one on the Billboard 200 which makes it one of the best selling compilation albums since 2012. This year definitely wouldn't have been the same without Hamilton making its stamp on not only the Broadway stage, but also on pop culture in general.
#13: The race for the best Superhero movie of 2016 was on
Was it Batman v. Superman? Or Deadpool? Maybe Suicide Squad? Or Captain America? And what about Doctor Strange? We can't choose between them! It felt like 2016 was a marathon and each of these Superhero movies were in it to win it which is why their often hilarious yet still quite brutal race made it on to our list of the sixteen best moments to happen in pop culture in 2016.
#14: The year of the Mannequin Challenge
With every year that rolls around, there are more insane challenges out to take over our Instagram and Twitter feeds. Sometimes these challenges are for a good cause and other times they are just for a bit of fun. But whether you are the person trying out these challenges or the person standing behind the camera, you can't deny that they are really cool. 2016's nod to the trend was called the Mannequin Challenge which involved a group of people standing frozen in action while a video was taken, often with some smooth music playing in the background. Everyone from Hilary Clinton to the Hairspray Live! cast has attempted this challenge which is why it deserves this spot on our list.
#15: 2016 was the year of the most adorable celebrity 'ships
There have been some truly devastating break-ups in the land of celebrity this year (Brad and Angelina, we're looking at you!) but for every couple that broke up, there were two new couples who reminded us that true love still exists. While Zayn and Gigi made us feel all kinds of things with their adorable Instagram pictures, Miley and Liam proved that two times is a charm, Kevin and Danielle showed us that you can still be super in love even after years of marriage, Mila and Ashton gave us oh so many feelings, and finally Liam and Cheryl made us all giddy with their ever-growing love for each other. There is just so much love in the world, guys!
#16: All of the turtles in Planet Earth ll were saved
If you haven't watched Planet Earth ll yet then where have you been and what have you been doing with your life? The return of David Attenborough's legendary documentary was hands down one of the greatest things to happen in 2016, but one of the later episodes in particular struck a chord with viewers all around the world. In the episode, some baby turtles were spotted heading towards the dangerous mainland instead of to the safety of the sea because they got confused by the city lights ahead. The episode was so traumatic that it forced the BBC to release a statement about the well-being of the turtles and if you haven't heard already, you will be pleased to know that they were returned to the sea by the BBC crew themselves. Now everyone take a sigh of relief in 3, 2, 1…
What has been your favourite moment of the last year? Let us know on Twitter, @CelebMix.