Ashton Irwin, the drummer for the Australian band 5 Seconds of Summer, turns 26 years old today! What better way to celebrate someone's birthday than celebrating what we love about them? Here are 26 (of the many) reasons why we love Ashton Irwin.
1. His adorable smile and those dimples! His smile can make any bad day disappear.
2. He is known to draw butterflies over fans' self-harm scars to make them feel beautiful.
3. Ashton puts a magnifying glass on mental health. He's opened up about his struggles before and wants to normalize conversations about mental health. His openness about mental health has made him an inspiration among fans.
4. His laugh and positive attitude shine through, making him a ball of sunshine.
5. Ashton stands up for what he believes is right and encourages his fans to do the same.
6. Ashton's honesty, quirkiness and genuine nature makes it easy to love him.
7. He's one of the hardest workers out there.
8. He is personable, relatable, and can talk to anyone about anything.
9. He blessed the world with his vocals in the song "500 Years of Winter- Pizza Song" about band-mate Michael Clifford's love of pizza.
10. He's loyal to his friends and will support them no matter what.
11. He's so talented! Ashton can not only play the drums, but multiple other instruments including the saxophone!
12. Ashton tends to completely lose himself when he's drumming at shows. That's passion.
13. Speaking of passion, he's incredibly passionate about what he does and what he believes in.
14. His bandana/fedora hat phase, which was truly iconic.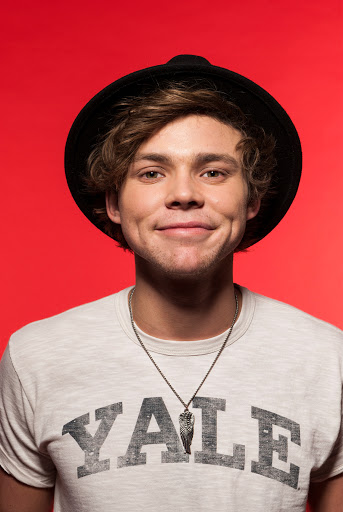 15. He is super funny and sassy!
16. While standing up for what he believes in, Ashton is always trying to educate himself on important topics and events going on in the world.
17. He had a lemon tree, which inspired a short scene in the "Wildflower" music video.
18. Ashton always gives people a chance when he meets them, and does his best to not judge them before he gets to know them.
19. Having a bad day? Ashton can make you smile at any point in time.
20. For many of the reasons listed above, fans find Ashton Irwin to be a great role model.
21. He helped direct the music video for the song "Valentine" off of their third album "Youngblood".
22. He has some awesome dance moves that he shows off when he dances from behind his drum kit.
23. Ashton taught fans that change is possible. He taught them that you can make the future what you want and recover from your past.
24. A very cute reason why we love him is that he once thought tadpoles were baby turtles.
25. When Ashton dyed his hair red, fans went crazy for the new hairdo.
26. Last but not least, he genuinely cares for his fans and tries to connect with them as much as possible.
Happy birthday Ashton Irwin!
Thank you to everyone who sent in their reasons why they love Ashton on Twitter! Share the birthday love and more reasons as to why you love Ashton Irwin with us @CelebMix