After three years in the safe hands of America's favourite funny gals Amy Poehler and Tina Fey, the hosting duties of this years Golden Globes have found their way back in to the British Comedian and creator of sitcom The Office Ricky Gervais!
This will be Gervais's fourth time as host of the Globes, and though he might have caused controversy amongst the Hollywood elite in the audience with his jokes at their expense, he turned out to be a fan favourite, and his return was much requested!
Where Gervais goes, controversy is sure to follow, and something tells us that like every other year the headlines of the next morning will be dominated by rumours of the stars and celebrities his jokes have angered.
"Who did I really offend?" asked Gervais on UK Chat show The Graham Norton Show, when asked about the controversy he caused. "I was there, I think you offended quite a few people…" Laughed actress Carey Mulligan. We're sure she's right – in the midst of Award season, when the actors and actresses are treated like royals, Gervais makes sure to bring them back to earth with his sharp tongue and quick wit!
In celebration of Gervais's return to the hosting podium, we've compiled a list of his funniest jokes, and the occasional break down of why we love them so much….
---
"I like a drink as much as the next man…Unless the next man is Mel Gibson."
"Looking at all the wonderful faces here today reminds me of the great work that's been done this year……..by cosmetic surgeons!"
"The Golden Globes are to the Oscars what Kim Kardashian is to Kate Middleton. A bit louder, a bit trashier, a bit drunker, and more easily bought. Allegedly. Nothing's been proved."
No one – and I mean no one – was immune to Gervais's scathing tongue during his tenure as host…not even the people paying his checks! The Oscars are the most important Cinematic Awards, period, and that is clear at the ceremony; it's a classy affair that oozes importance and class. It is demure and debonair, all ball gowns and black ties, the mature older sister to the Golden Globes wild, rebellious teenager. At the Globes you're seated at tables and filled with alcohol, leading to a night that's more raucous and more tongue in cheek than the Oscars. The best thing to ever happen to the Globes was Gervais's refusal to pretend it's something other than it is; it's not as important as the Oscars, and it might not be as classy…but it's one hell of a night out! His joke about Kim Kardashian leads straight on to one that became a bit of a running joke for him; his unabashed criticisms of The Golden Globes reputation for accepting bribes. If Hollywood has anything to hide, any controversy they wouldn't want talking about on TV in front of millions of people, then Gervais would bring it all out in to the open!
"It's going to be a night of partying and heavy drinking. Or, as Charlie Sheen calls it; Breakfast"
(Introducing Melissa McCarthy) – "She made her mark in comedy this summer, by defecating in to a sink. Amazingly, that's still less demeaning than what most of you have done to make it in show business!"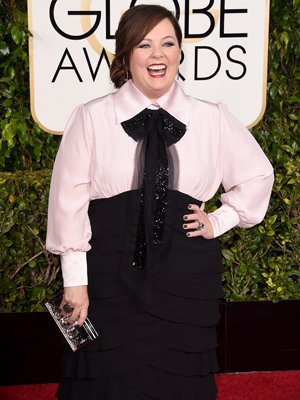 "This next category is a bit of a downer. It's for writing. We all know writers get too much credit in Hollywood, when actors mention them. I don't mean to keep going on about actors, but they're the most important ones, OK? It's not the words you say, it's how good you look when you're saying them."
Once more, Gervais pulls no punches – the most important actors and actresses in Hollywood might be sitting before them, but he's not scared to mock them! Where the Oscar's is a celebration of Cinema as an art form, The Globes has been more inclined to welcome the extra attention that comes with the celebrity element of it, namely the actors and actresses. Gervais's tongue in cheek, sarcastic joke about the perceived importance (and self importance) of Actors and actresses got many laughs … even from the actors and actresses themselves!
(On the film Bridesmaids) "Farting, burping, cursing, performing wild sex acts…even pooping in the sink! I heard for research they spent the weekend with Dame Helen Mirren. You don't hear about it, she has good PR."
"Last year, our next presenter won both the Golden Globe and the Oscar for her work in Black Swan. This year, she took some time out to have a baby. Consequently, she's been nominated for nothing. Really pathetic. But she learned that valuable lesson you all already knew — never put family first. Please welcome the very foolish Natalie Portman."
"It was a big year for 3D movies. Toy Story, Despicable Me, Tron. It seemed like everything this year was three-dimensional. Except the characters in The Tourist."
His 2011 turn as host of the show saw him make this classic…made all the more awkward by the fact that the films stars (And thus, the jokes punchline!) where sitting in the audience; Angelina Jolie and Johnny Depp! Their peers and colleagues seated around them or beside them failed to stifle their laughter, and the camera cutting to Johnny Depp right after it resulted in many saying he seemed genuinely upset by the joke. Not to worry, though, as Depp later appeared beside Gervais on the Graham Norton Show, and said he found it funny too. Gervais might laugh at everyone else, but that doesn't stop him laughing at himself too, and in his Emmy Award winning show Life's Too Short he invited Johnny Depp on to get his own back, scripting an awkward meeting with the pair in which Johnny delivered a handful of sharp-tongued jokes at Gervais's expense in revenge for the joke above. They were just as funny as Gervais's own…well they should be, since it was Gervais who wrote it!
We're sure the morning after this years Golden Globes we'll have a whole host of new jokes to add to this list (maybe even enough to make a brand new one!), but until then, this should get you in to the spirit of Gervais's return to the Golden Globes podium, and we can't wait to see what it brings!
Did we miss your favourite off this list? Tweet us @CelebMix, or leave a comment below!