Joy Ruckus Club have announced exciting details for the upcoming K-Pop virtual concert, K-Pop SuperFest, in association with Sessions.
The special event will be streamed online from the Yes24 Live Hall in Seoul, South Korea on 19 June, and is set to feature a whole host of Korean musicians.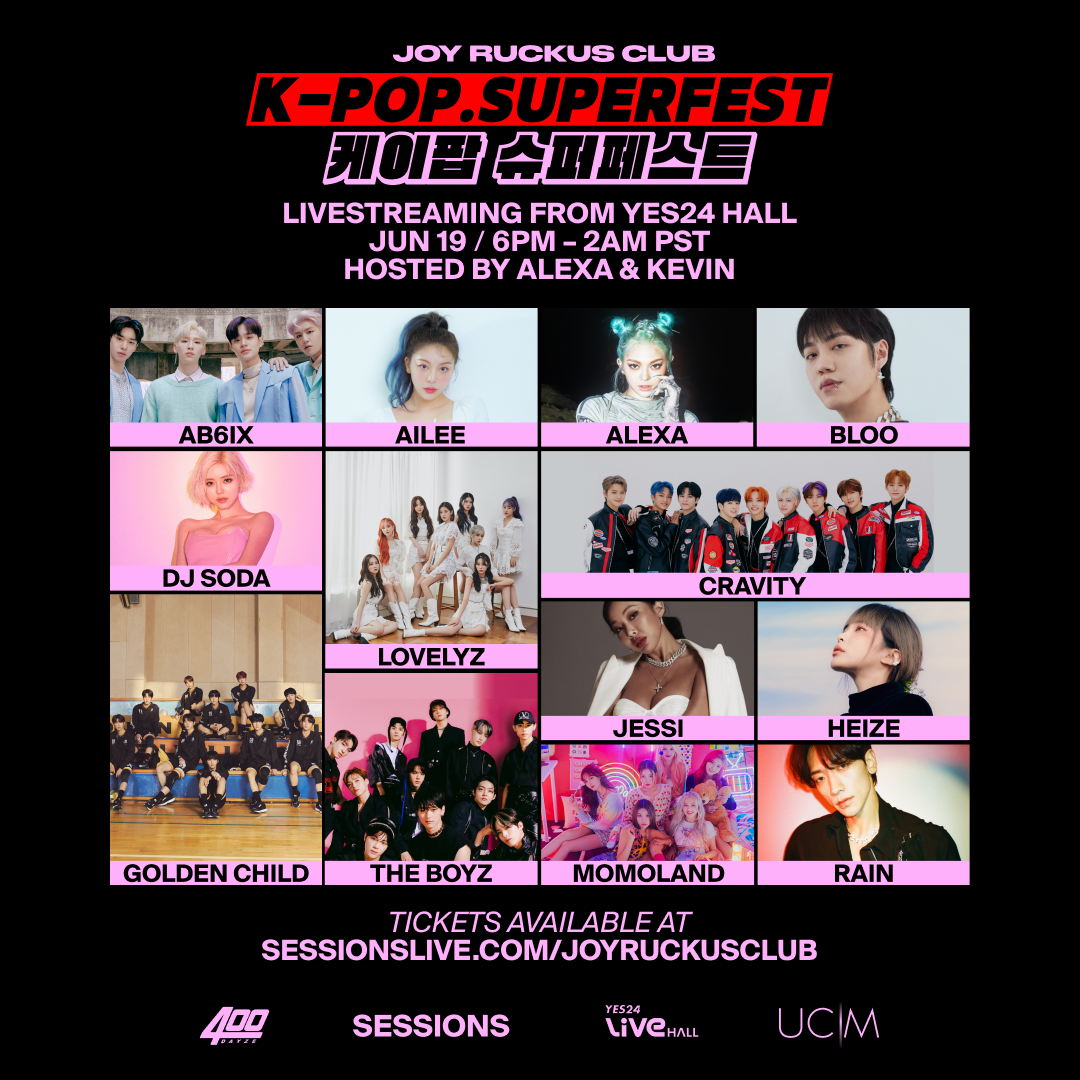 Hosted by AleXa and Kevin, some of the performers include boy groups AB6IX, The Boyz and Golden Child, as well as girl groups Lovelyz and Momoland.
Ailee, Bloo, DJ Soda and Rain will also be some of the soloists set to take to the stage at the concert.
The aim of the event is to enable K-Pop fans from across the world to connect with each other and engage with their favourite artists from the comfort of their own homes.  
Tickets are now on sale for the show, costing $20 USD. You can purchase them from the official Sessions website.
Merchandise, NFT (non-fungible token) videos and meet and greet opportunities will also be available in the festival and artist's stores.
In a statement, Sessions co-founder Tim Westergren said: "Sessions' growth is rapidly accelerating across Asia. The K-Pop SuperFest represents another milestone as we bring even larger events to fans across 194 countries and 18 languages.
"Sessions' unique combination of gamification and marketing is driving attendance and revenue for artists at an unprecedented level, and our partnership with Kublai and Jo Ruckus Club continues to deepen."
Joy Ruckus Club is one of the largest Asian music festivals in the world, and has helped to organise many virtual concerts and events.
On 13 June, the company will also host the "I Hate Being Hated" online show, which is set to feature speeches from influencers and Asian American community organisations, as well as performances from musicians including Tim Chantarangsu and Maliibu Miitch.
The event will help to raise proceeds for the Stand With Asian Americans organisation.
The K-Pop SuperFest takes place on 19 June at 6pm PST (Pacific Standard Time), and will be streamed online by Sessions.
Will you be attending the K-Pop SuperFest? Which acts are you looking forward to seeing? Let us know over on Twitter @CelebMix!