"Run Around," the new single from Alanna Royale, provides a foretaste of her upcoming album, Trouble Is. Drenched in retro-flavors harking back to the '90s, the song blends wistful elements of pop and neo-soul into a beguiling anthem.
Produced by Kelly Finnigan of Monophonics, both "Run Around" and Trouble Is reflect a cusp of transition for Royale, who had just discarded an entire album because it didn't resonate with her and said goodbye to some long-time bandmates. Royale was ready to venture in another direction.
She explains, "After giving myself permission to make the kind of record that felt good to me, I was finally able to show all of my parts rather than trying to fit into some kind of preconceived notion of what an artist is supposed to be."
Songwriting now became about exploring what was happening at the moment and also respecting the fact that some things were too raw to reveal.
Once she found her emotional comfort level, Royale threw herself into probing her emotions, sifting through the myriad thoughts and revelations from a fresh perspective. "Things that were previously jumbled up, I was now able to write about because they were figured out up here," she says tapping her head.
The biggest triumph for Royale is that Trouble Is avoids the dreaded genre trap. As someone who has always followed artists that bravely morph from one record to the next, she also aspires for that same level of investment from her audience. She'll keep boldly turning the wheel and have faith that they will follow along.
CelebMix spoke with Alanna Royale to discover more about the genesis of "Run Around," her mindset as she recorded Trouble Is, and how she got started in music.
Do you remember the moment your new single, "Run Around" started to take shape?

I do, and it was one of those happy accident studio moments you hear about where all the elements laid themselves out in front of us and it was our job to take the bait and follow the idea down. We were discussing writing some new material to take the place of some tracks we had already been working on when my guitarist Jared pulled out his phone and started going through voice notes. There was one that I had never heard before of me singing off in the distance with a piano just banging out this very simple tapping. Instantly my producer was like 'What is that??! It turned out that while we were doing some tweaking to the piano sounds, I was just wandering the studio singing to myself and it was the hook of 'Run Around.' Kelly and I were basically writing a song together in two separate rooms unbeknownst to either of us but Jared was smart enough to catch it. After that, it just felt like it wrote itself.
It's off your highly anticipated upcoming album, Trouble Is, which is not only raw but intensely personal. Can you walk us through your mindset and feelings as you recorded the album?

This record took everything I had from start to finish. We started tracking towards the end of 2019, scrapped some stuff, started fresh in early 2020 and then we all know what eventually happened. In that time, I was navigating the effects of EMDR therapy, my mother's cancer, the pandemic, and social and political unrest – I mean you name it, right? I was processing so much mentally in real time that looking back, making this record really is a giant mirror. This record really is a mental time capsule. I was exhausted and traumatized processing my own feelings and the grief of the world around me while also searching for something that would give all this pain some meaning.
Kelly Finnigan of Monophonics produced with you and his signature vintage sound is wonderfully layered throughout. How did you come to work with him?

I am the type of person to just ask, and I tell other artists all the time that if you want something the best place to start is to just ask for it. You'll be shocked when you find out how far that only can get you. After opening for Monophonics I just asked Kelly if he produced other artists. At the time they were touring their record Sound of Sinning (which remains one of my absolute favorite records) and I wanted whatever I was hearing to find its way into my sound. It was a simple question, and it changed the trajectory of my career as well as my ability as a musician overall.
There is a visceral array of emotions on the record. Did Finnigan push you to dig deep into yourself as the album took shape? Was the writing process cathartic or terrifying – or both?

Oh, I can bring the emotion! That part I got on lock. What Kelly was able to help me do was release the hang-ups of how my record 'should' sound. It was such a brief moment in all of our years working together but it changed how I saw myself as an artist and allowed me to continue just writing the songs I wanted to despite genre boundaries or expectations that I was ultimately putting on myself. He helped me find that freedom and get off my own back. That's why this record is such a rollercoaster ride of sounds. I really let go.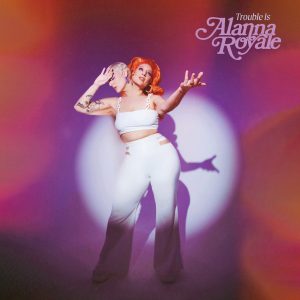 How did you originally get started in music? I've heard that you grew up performing in bands up in the Northeast.

Literally always wanted to be in a band, be on stage, in a musical, etc. You name it. I've always wanted to just be entertaining and try new ways to do that. Once I realized I could sing, that was it. I grew up obsessed with Michael Jackson and Frank Sinatra – iconic entertainers. Not just singers or writers – people who could put you in a trance. That's what I wanted to do. Once I found anyone who would play with me, I started writing as much as I could. Punk, ska, reggae, R&B, pop. From there I hit the road and I've been doing it ever since.
You've been tagged as a pop/soul singer-songwriter. As your sound continues evolving, how would you describe your music?

A huge turning point for me over the past few years was realizing that nearly all of my favorite artists are known for not only their genre-less work, constantly pioneering new sounds and space but that that was what I loved about them. MJ, Missy, Beck, Bjork, Damon Albarn, Tribe, and Madonna. The evolution IS where their genius is flexed, and I think that I am fine being known as a singer-songwriter and leaving the categorizing to fans and critics. I want fans to connect with me as an artist and ride with me through my career, wherever it takes me.
Are you thrilled with how the new music has turned out? Is it even better than you hoped for?

I am incredibly happy with how the music on this record has turned out and yes, it really is better than what I hoped for because I really went with my gut every step of the way. Even when I was not at all sure how things would be received, I did it. I did everything for me. That's how I know this is a dope record because it's a representation of what is going on up in my head and I had every chance to work with the most incredible musicians, arrangers, and writers to bring it all together. Honestly, I cannot wait for the next record!
Having achieved a lot throughout your career already, what is your definition of success? Has it changed at all?

It changes every day! Some days I only care to have enough to pay my bills, some days I want an award, and other days I just want people from my background and experiences to hear my voice and find a safe world for us all to exist together. This industry is changing every day so my goals do shift here and there but ultimately, if I am able to get on stage and communicate with people through music, what more could I ever ask for?
As your fans wait for Trouble Is to be released, what can we expect over the next few months? More singles? Music videos? Live performances?

All of it! I've had so long to work through my ideas for these songs that once it was time to get to work it was like a dam bursting open. Definitely more singles, videos, lots of tour dates, and some more passion projects that I cannot wait to share with everyone. Follow me and come along for the ride!
Follow Alanna Royale Instagram | Twitter | Facebook | Spotify