When pop megastars Steps returned to the music scene back in 2017 with the release of their first album of new and original material in over 15 years, few could have predicted its extraordinary impact and runaway chart success! Crammed full of high tempo, all encompassing, out-and-out pop bangers the album packed punch, injecting a much needed sense of vitality and exuberance back into the industry; whilst catapulting the much loved 90's supergroup back into the hearts and minds of a generation of young adults who had grown up idolising them as teenagers.
Three years on from their triumphant Tears On The Dancefloor era, Claire, Lee, Faye, H and Lisa are back once again, serving up a more diverse sounding collection of songs, ranging in mood, tempo and style – with its lyrical themes and creative visual concept of celebrating iconic moments of the past, whilst also relishing in the hopes of a bigger and brighter future.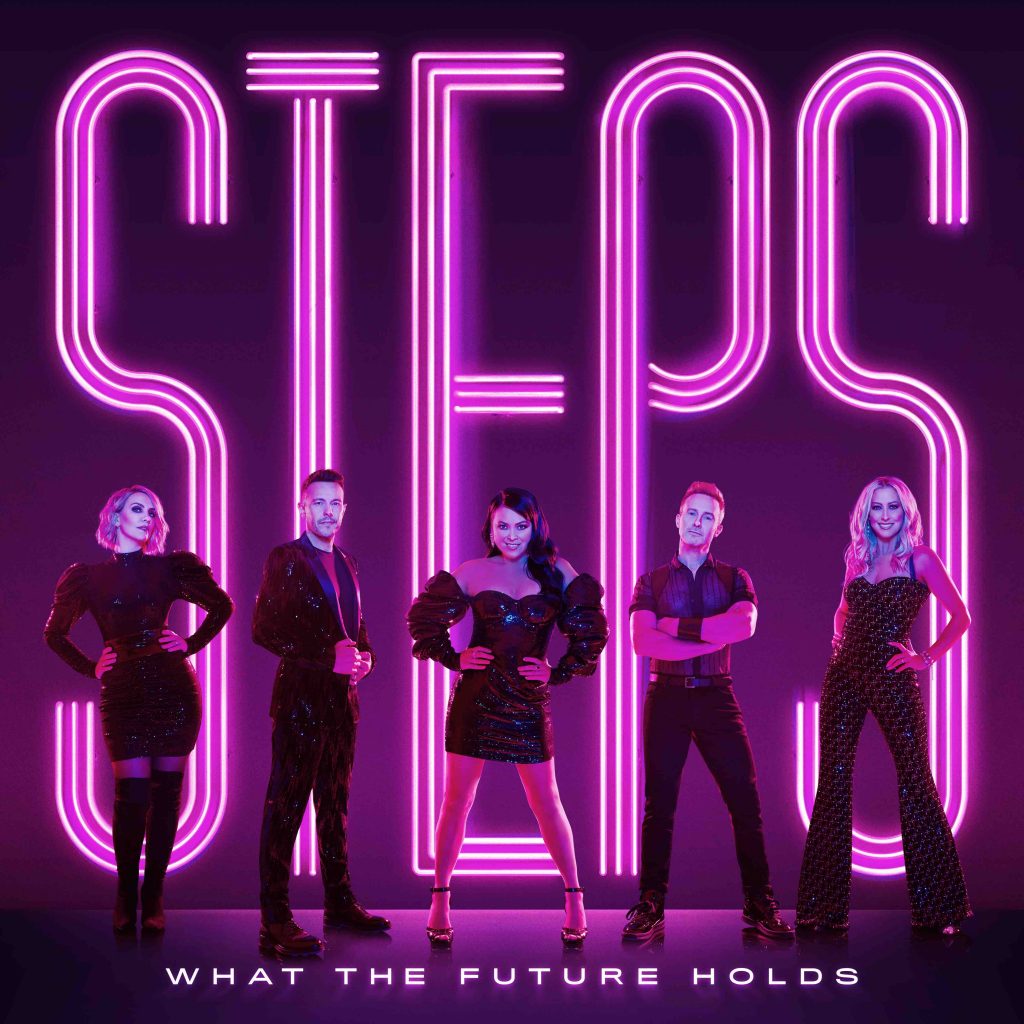 ---
Steps – What The Future Holds (Music Video)
---
Without doubt Steps explore new and familiar ground on What The Future Holds, it's potent mix of timeless melodies and futuristic sonic sounds, creating a cohesive body of work that both thrills and excites in equal measure – the band successfully managing to experiment musically, whilst honouring their quintessential pop roots with the true essence and spirit of Steps intrinsically woven into each of the albums 13 tracks.
Relishing in their creative freedom, the group adapt and embody each musical guise with ease, refusing to be boxed in or stick to one set formula, by marrying dramatic synths and pulsating rhythms with glorious orchestral strings and layered harmonies to produce some of the most artistic and experimental music of their career so far.
However it's during the albums softer, more tender moments where we see the band truly shine – their voices blending beautifully in unison on tracks including Under My Skin, Clouds and Hold My Heart with each member of the group delivering accomplished and inspired vocal performances throughout.
Steps – Hold My Heart
Standing shoulder to shoulder with every other pop record released this year, Steps deliver BIG on their 6th studio album, producing an outstanding collection of contemporary pop songs, each timeless in sound and authentic feeling – breaking down boundaries and changing perceptions by bravely daring to go where very few thought they could… congratulations Steps, you've done it again!
What The Future Holds is out now.
---
Let us know your thoughts on Steps brand new album 'What The Future Holds' over on Twitter @CelebMix now!