Saturday night saw the second Semi-Final of Melodifestivalen 2020 begin. The song contest is the Swedish national selection show for the Eurovision Song Contest 2020 and has been running for 60 years now, and when the winner is announced they will become the 60th winner of Melodifestivalen. Semi-Final 2 took place on 8 February 2020 and saw Anna Bergendahl and Dotter go straight through to the Final.
Taking place at the Scandinavium in Gothenburg, the show was presented by David Sundin, Linnea Henriksson, and Lina Hedlund. Seven acts competed in front of the Swedish public, two was sent through to the Final, whereas two more were sent to the Second Chance round. A total of 499,173 kronor was donated to the Radiohälpen charity.
Anna Bergendahl and Dotter, with their songs "Kingdom Come" and "Bulletproof" respectively, were voted to go into the Final from the public at home. As for the second chance round, we'll be seeing Paul Rey and Méndez feat. Alvaro Estrella with their songs "Talking In My Sleep" and "Vamos amigos" respectively.
Melodifestivalen 2020 Semi-Final 2 Finalists
Anna Bergendahl – Kingdom Come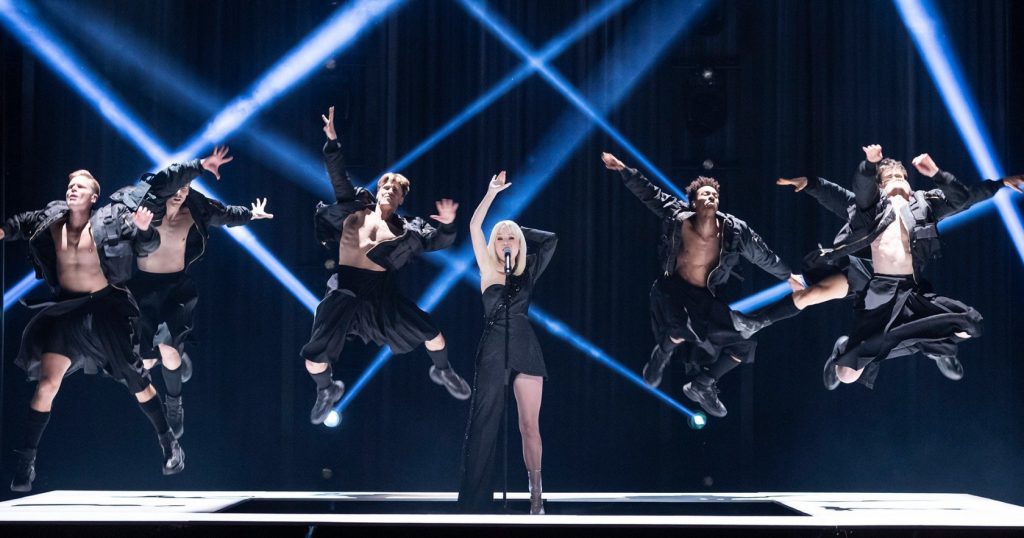 This is the third time that Anna Bergendahl has been at Melodifestivalen. She's best known for her 2010 debut with her song "This Is My Life" which saw her go out and win the entire show and the right to represent Sweden at the Eurovision Song Contest; unfortunately, she became known as the only Swedish representative not to make it to the Grand Final, coming in at 11th place during her Semi-Final. Last year, she returned with "Ashes To Ashes" which saw her fight it out in the duels at Andra Chansen and making it to the Final where she came 10th. She said at the time that she had returned to redeem herself and actually make it to the Grand Final of Eurovision, but first, she'll need to win Melodifestivalen – and gosh has she got a chance with this amazing uptempo track, titled "Kingdom Come". She also has a brilliant stage production that intrigues the audience into her song. We found it quite the grower of a song, and we reckon it would've faired better if it had to have gone through Andra Chansen just so that we could hear it more and let it grow on us.
Dotter – Bulletproof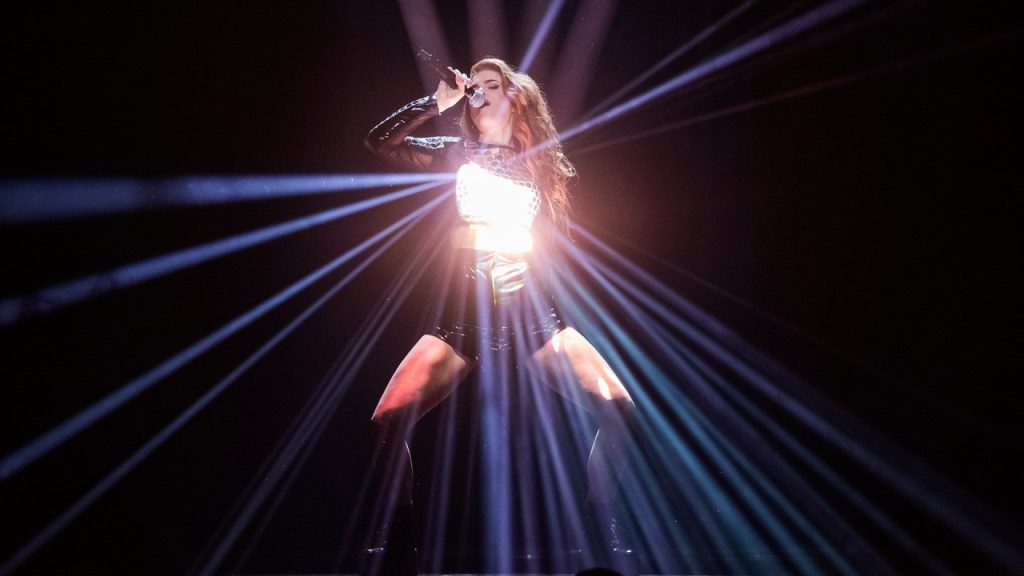 The same can be said of Dotter's "Bulletproof", we found this a grower of a track. It sure will be interesting to see how both songs get on during the Final. This was Dotter's second time at Melodifestivalen, after competing in 2018 with the song "Cry" which placed sixth in her Semi-Final and so didn't make it through, she also returned last year but as an interval act performing as alongside Måns Zelmerlöw with the awesome song "Walk With Me" during Andra Chansen (which has recently been re-released as a collaboration between Måns Zelmerlöw and Dami Im, where they performed the song on Eurovision – Australia Decides). We have to admit that she completely nailed this performance, and was definitely a spotlight of the night, the intricate staging design was interesting to watch, although we feel the song's chorus was just missing the power that the verses build-up – once again, it is a grower of a song, so it may have faired better if it went through Andra Chansen.
The videos of these two performances will not be released until after Melodifestivalen ends so that all finalists are given a fair chance – that also goes for the single releases on download and streaming services.
Melodifestivalen 2020 Semi-Final 2 Andra Chansen (Second Chance) Qualifiers
Paul Rey – Talking In My Sleep
There's always one song that is guaranteed to hit you in the heart, and Paul Rey is the one who had that song this week, with "Talking In My Sleep". Such a powerful and emotional track that gave us goosebumps when we heard him sing it on that Melodifestivalen stage! Simple and stripped back, he didn't need anything except his own stage presence, and that really worked. Considering the amazing acts in the Andra Chansen round, we just know that it's going to be one tough competition to make it through to the Final!
Méndez Feat. Alvaro Estrella – Vamos Amigos
Bringing a bit of a Latino vibe to Sweden, Méndes and Alvaro Estrella went full-out on the Melodifestivalen stage with their song "Vamos Amigos" and we were loving it, and so was everyone else tuning in as the duo made it to Andra Chansen. It was quite an interesting staging giving us a bar-like set with some stairs and Méndez sure used it all as he rapped, whilst Alvaro Estrella brought the sweet R&B vocals that melted the entire stage! We can't wait to see them again. Previously, Méndez made his name known for coming second at Melodifestivalen 2002 with the song "Adrenaline", whereas Alvaro Estrella competed in 2014 with the song "Bedroom", failing to make it through to the Final, coming in at sixth during his Semi-Final. Can they go all the way this time?
Melodifestivalen Semi-Final 2 Eliminated Acts
Fifth Place: Klara Hammarström – Nobody
As debut Melodifestivalen performances go, Klara Hammerström kicked the night off perfectly with her awesome song "Nobody". Fierce, sassy, and sexy, this was our favourite of the night and we were all in shock that she didn't – at least – make it through to the Second Chance round. We reckon it was quite the close call since she got a total of 951,815 votes which is almost 400,000 more votes than the previous week's fifth place. We hope to see Klara Hammarström return to Melfest in the future, she'll surely make the Final in another year.
Sixth Place: Linda Bengtzing – Alla mina sorger
Another grower of a song, Linda Bengtzing gave "Alla mina sorger" her all and the verses led into a chorus that didn't quite hit the mark we were hoping. This is not the first time she's been on the Melodifestivalen stage, she's previously competed in 2005, 2006, 2008, 2011, 2014, 2016, and now 2020. She made it to the final in 2005 with the song "Alla flickor" placing ninth, she did even better in 2006 with "Jag ljuger så bra" coming seventh, she climbed higher in 2008 with the song "Hur svårt kan det va?" placing fifth, 2011 saw her come seventh in the Final with the song "E det fel på mig?"; but it's the recent years that hasn't faired too well for her as she hasn't made it to the final since 2011, she came fifth in her Semi-Final in 2014 with the song "Ta mig", and seventh in her Semi-Final in 2016 with the song "Killer Girl", and now she's come sixth in her Semi-Final gaining 717,043 votes – well surely it's about time she made the Final again in the future… Will she return once again? We all love a trier and she can make it to Eurovision if she keeps trying – it's worked for previous acts in the past, and this song and performance alone showed potential.
Seventh Place: Jan Johansen – Miraklernas tid
This really wasn't a surprise at all, but we give kudos to Jan Johansen for the performance, he had very little time to prepare as he stepped in to replace Thorsten Flinck who was disqualified due to criminal charges of unlawful threat and vandalism. The song wasn't changed though, so Jan Johansen ended up singing a song that was made for someone else – that is certainly not an easy task, but he performed in his stride and gave it all he could, it just didn't quite hit the right chord with the viewers at home. Regardless, it was great to see Jan Johansen on the stage, he previously competed in 1995, where he won the show and represented Sweden at Eurovision with the song "Se på mig". He later competed in Melodifestivalen three more times; in 2001 he came fourth with the song "Ingenmansland", in 2002 he came seventh with the song "Sista andetaget", and in 2003 he came so close placing second with the song "Let Your Spirit Fly" which was a duet with Pernilla Wahlgren. 17 years later we got him back on that stage, granted he was a replacement, but maybe this has inspired him to make a full comeback next year. Especially since he managed to get 501,335 votes.
We also had an opening performance from the hosts Linnea Henriksson, Lina Hedlund, and David Sundin which started off as a sketch about criticising tweets that was received about the hosts and how three was too many and it should be a duo, but no one wanted to bow out so they decided that "All goda ting är tre" ("All Good Things Are Three" in English) which turned into an upbeat, unforgettable track of the same name. Then Linnea Henriksson returned for an incredible ballad, titled "Kom nårmre" ("Get Closer" in English).
The opening act can be seen here, and the interval act can be seen here. You so need to watch these!
The second Semi-Final was certainly not as amazing as the first one, and we were disappointed one of our favourites went home, but we literally cannot wait for the next Semi-Final.
The third Semi-Final will take place on 15 February 2020, at the Coop Norrbotten Arena in Luleå, Sweden. We will watch Mariette, Albin Johnsén, Drängarna, Amanda Aasa, Anis don Demina, Faith Kakembo, and Mohombi compete for their place in the Final.
Semi-Final 2 is available to catch up on the SVT official website, it is only available for three days after it has been shown, but then it is made available again – along with the rest of the Semi-Finals – after the Final has been shown.
What did you make of Anna Bergendahl and Dotter winning the second Semi-Final of Melodifestivalen 2020? Let us know on Twitter @CelebMix.