Last night saw Melodifestivalen 2020 kick-off. The song contest is the Swedish national selection show for the Eurovision Song Contest 2020 and has been running for 60 years now, and when the winner is announced they will become the 60th winner of Melodifestivalen. Semi-Final 1 took place on 1 February 2020 and saw Robin Bengtsson and The Mamas go straight through to the Final.
Taking place at the Saab Arena in Linköping, the show was presented by David Sundin, Linnea Henriksson, and Lina Hedlund. Seven acts competed in front of the Swedish public, two was sent through to the Final, whereas two more were sent to the Second Chance round. A total of 454,452 kronor was donated to the Radiohälpen charity.
Robin Bengtsson and The Mamas, with their songs "Take A Chance" and "Move" respectively, were voted to go into the Final from the public at home. As for the second chance round, we'll be seeing Malou Prytz and Felix Sandman with their songs "Ballerina" and "Boys With Emotions" respectively.
Melodifestivalen 2020 Semi-Final 1 Finalists
Robin Bengtsson – Take A Chance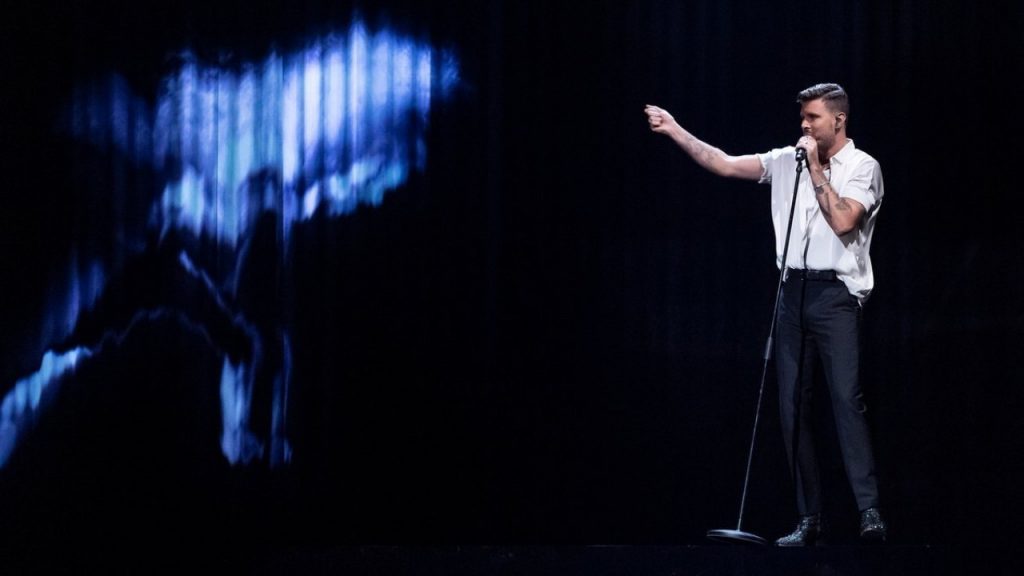 Is it really a surprise that Robin Bengtsson made the Final of Melodifestivalen 2020? We all know him from winning Melfest in 2017 and going on to represent Sweden at the Eurovision Song Contest 2017 with the song "I Can't Go On" with those awesome travelators, where he came fifth overall, can he do it all over again this year and go on to win Eurovision? We'll have to wait and see. He gave this song and performance his all, last night, with next to no tricks or dancing, instead, he showcased his awesome voice and the emotions behind the song, whilst a screen displayed heightened visuals to accompany the song's lyrics. We're so glad this got through.
The Mamas – Move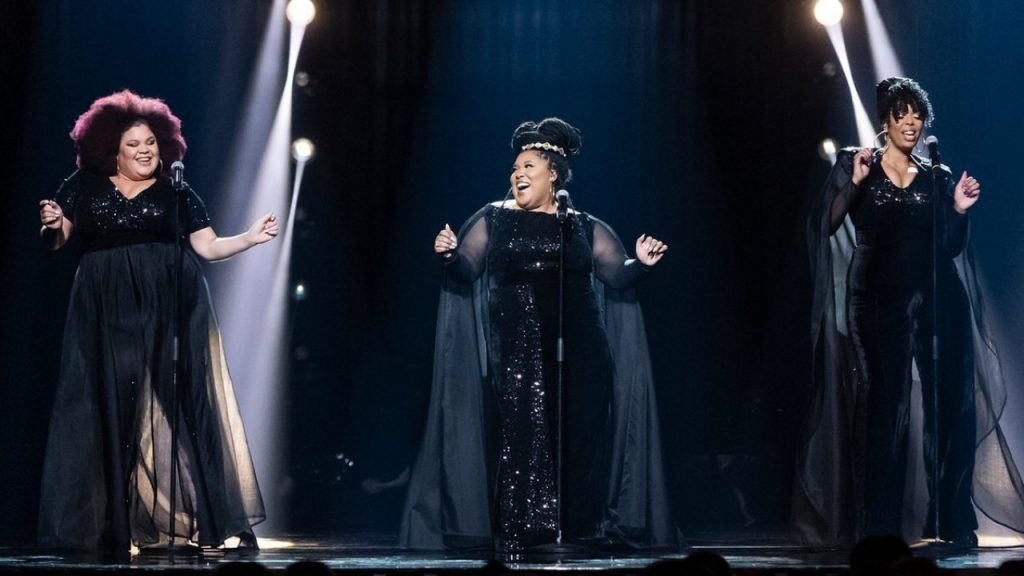 The Mamas are also back, we saw them last year as they were the backing singers to John Lundvik on the song "Too Late For Love" which went on to win and represent Sweden at the Eurovision Song Contest 2019, where he came fifth in the Grand Final. Now stepping out of the shadows, this three-piece harmonious and soulful group are proving they're more than capable of carrying a song all the way to Eurovision. Their song "Move" is beyond catchy and easily showcases their voices. This was well-deserved and we're excited to see them perform again in the Final of Melodifestivalen.
The videos of these two performances will not be released until after Melodifestivalen ends so that all finalists are given a fair chance – that also goes for the single releases on download and streaming services.
Melodifestivalen 2020 Semi-Final 1 Andra Chansen (Second Chance) Qualifiers
Malou Prytz – Ballerina
We saw Malou Prytz last year and she sailed through the competition with the addicting track "I Do Me", we also chose her debut EP Enter as one of our top EPs of 2019, so we knew her entry into Melodifestivalen 2020 was going to be good, but we didn't expect it to be this amazing! Not only does it give her a chance to show off her awesome vocals, but she also had a look-a-like dancer on-stage giving us energy and ballerina-contemporary dance moves that we are living for. This has got to make it through to the Final!
Felix Sandman – Boys With Emotions
The one and only song to fully hit us in the heart with emotion was this performance and song, we swear there were tears in our eyes after this one. Felix Sandman is best known for being a part of the four/three-piece Swedish boy band FO&O which was previously known as The Fooo and The Fooo Conspiracy. He competed in Melodifestivalen 2018 with the song "Every Single Day" that went to Andra Chansen, won the duel and came second in the Final losing out to Benjamin Ingrosso's "Dance You Off", could he do the exact same this year but take it one step further and win? We honestly believe this emotional song is more than capable of doing so. Felix Sandman accompanied the song with an engaging dance sequence with four backing dancers.
Melodifestivalen Semi-Final 1 Eliminated Acts
Fifth Place: Sonja Aldén – Sluta aldrig gå
Sonja Aldén is a legend at Melodifestivalen, having previously competed three times, in 2006, 2007, and 2012. In 2006 and 2012 she failed to reach the Final with her songs "Etymon" and "I din himmel" respectively, but in 2007 she managed to make it to the Andra Chansen round with the song "För att du finns" which beat off the others in the round and, alongside Sanna Nielsen's incredible track "Vågar du, vågar jag", made it to the Final, placing sixth overall. This time, she's not so lucky, once again failing to make it through. She's a ballad performer making this song "Sluta aldrig gå" (which means "Never Stop Going" in English), perfect for her, but it just wasn't enough. She managed to get a total of 661,376 votes.
Sixth Place: OVÖ – Inga problem
We love Melodifestivalen purely because it welcomes all different types and genres of music, and this act and song prove just that as OVÖ are a hip-hop duo giving us rap and a catchy chorus, it just wasn't enough to get the Swedish public to vote for them. The song "Inga problem" translates to "No Problem" in English. They managed to get 633,485 votes whilst they lit up the stage with some choreography and some LED lights.
Seventh Place: Suzi P – Moves
She may have only gained 582,520 votes, but Suzi P gained some extra fans during her debut on the Melodifestivalen stage. At just 17 she was clearly nervous and the performance got a little lost amongst the high-calibre performances from this Semi-Final, however, the song was addicting and her voice was on-point throughout. We hope to see her return to the Melodifestivalen stage next year or the year after and show her energy and stage presence that she has inside.
These weren't the only musical numbers we got during the first Semi-Final, the three hosts took to the stage, where they opened the show with the song "Melloland" inviting us into the world of Melodifestivalen. They later gave another epic performance during the interval with "Mellominnen" which saw each of the presenters tell us about their dreams of presenting Melodifestivalen with Linnea Henriksson singing the song "Look At Me" with Jan Johansson, Lina Hedlund got to sing "Okey, Okey!" with Lili & Susie, and David Sundin finishes the segment singing "Sean den förste Banan" with Sean Banan, and then all three songs came together for an ultimate mash-up – such a powerful unforgettable performance!
The opening act can be seen here, and the interval act can be seen here. They are both a total must-watch!
What a brilliant Semi-Final 1 and we certainly cannot wait for the next one. Melodifestivalen is truly one of the best national selection shows for Eurovision and is a staple in Swedish music history.
The second Semi-Final will take place on 8 February 2020, at the Scandinavium arena in Gothenburg, Sweden. We will watch Klara Hammarström, an act that has yet to be announced after Thorsten Flink got disqualified today due to a criminal charge, Dotter, Méndez feat. Alvaro Estrella, Linda Bengtzing, Paul Rey, and Anna Bergendahl battle it out. We can't wait to watch.
Semi-Final 1 is available to catch up on the SVT official website, it is only available for three days after it has been shown, but then it is made available again – along with the rest of the Semi-Finals – after the Final has been shown.
What did you make of Melodifestivalen 2020 Semi-Final 1? Did Robin Bengtsson and The Mamas deserve to make it through to the Final? Let us know on Twitter @CelebMix.