Arctic Monkeys' drummer Matt Helders appears to have given a potential release date of the new album.
It's been four (very looong) years, but right now Arctic Monkeys' highly-anticipated return to the music world feels closer than ever.
A couple of days ago, the band's fan named Will Franco shared a photo of himself with Helders after he met the drummer at Royal Blood's gig in L.A.
When asked in the comment section if he questioned Helders about the new album, Will replied:
" I did. He told me hopefully by the end of the year "
See the conversations yourself: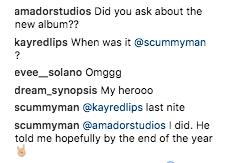 Arctic Monkeys' previous album "AM" was released in 2013. However, at Christmas, various members of the band were spotted around their native Sheffield and even admitted to a BBC reporter that they were in the middle of writing new material.
Are you excited for The Arctic Monkeys' new album? Let us know @CelebMix!