For a generation of pop fans growing up in the late 90's and early 00's, British supergroup Steps were the epicentre of the pop universe; with their timeless sound, colourful costumes and easy-to-follow, synchronised dance routines defining a cultural moment in time.
With countless records sold, a plethora of awards won and a record breaking run of chart hits including One For Sorrow, Tragedy, Love's Got A Hold On My Heart, Stomp and It's The Way You Make Me Feel, the band unwittingly blazed a trail, where others would knowingly follow.
Despite taking a break to pursue individual projects in 2001, the group's incredibly honest fly-on-the-wall documentary telling the captivating story of their rise to fame, catapulted the famous 5 back into the public's conscious in 2011. And following their epic return to the charts in 2017 with their phenomenally successful album Tears On The Dancefloor, Steps have gone on to well and truly prove their naysayers wrong, becoming one of the most beloved and revered pop acts of the last 25 years.
But that was then, and this is now…
Here & Now
Packed with 13 super-slick, utterly infectious, top-tier pop bops, Steps are officially back once again to 'save planet pop' with the release of their highly anticipated 6th studio album What The Future Holds.
With its themes and creative visual concept of celebrating iconic moments of the past, whilst also relishing in the hopes of a bigger and brighter future, and intentionally more musically diverse in sound and tempo than previous offering Tears On The Dancefloor, the record without doubt pays homage to Steps eclectic style of old, its variety and mix of mid-tempos, haunting ballads and out and out pop bangers, reminiscent of the groups earlier albums Step One, Steptacular and Buzz.
---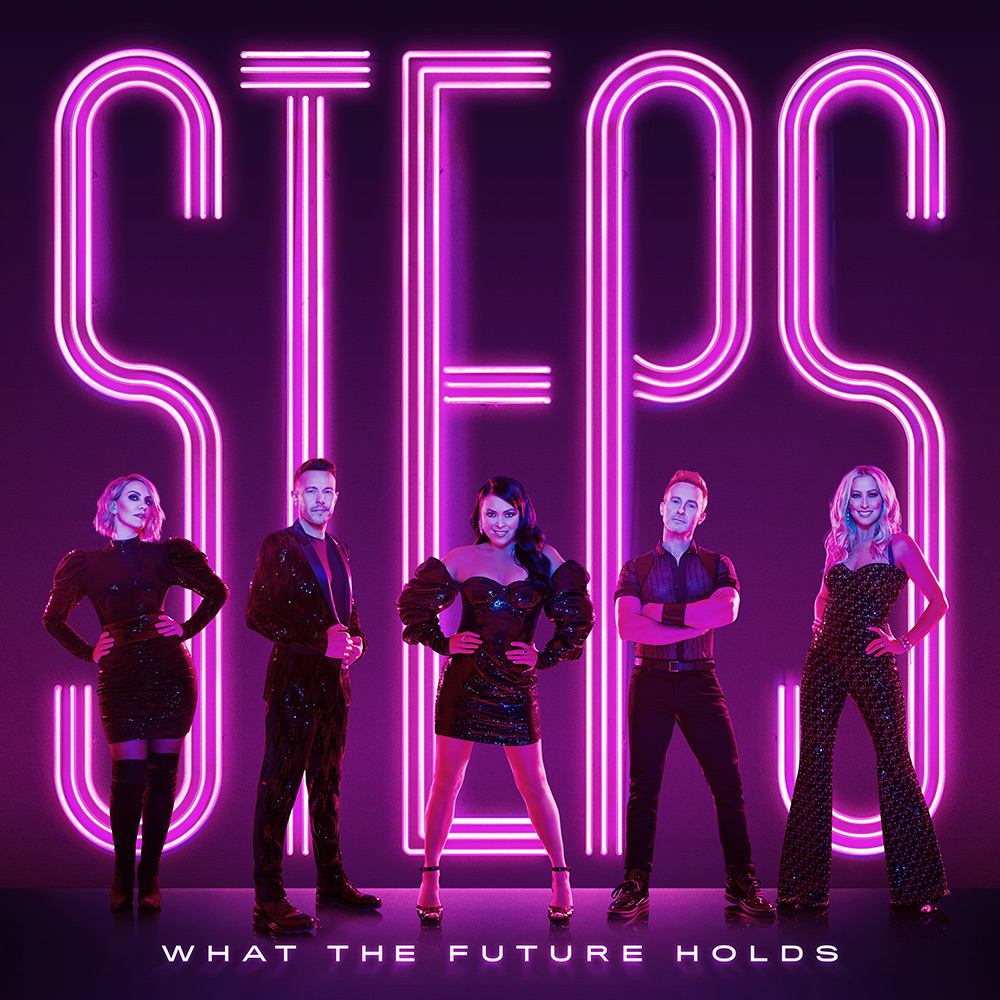 ---
As the album's official launch creeps ever closer, we wonder what the collective mood and feeling is like amongst the five members of the group right now.
"I think on the whole we're all just really excited to be honest with you." Lee says. "Claire's probably the one who gets the most nervous whenever we release something new, but those nerves aside, we're happy, and we feel excited to be back doing this all over again!"
"I do get nervous." Claire admits with a knowing smile. "For me, I think there's always going to be that feeling of apprehension right before we put out new music, especially because we're so heavily involved in the whole process of making our albums now. Back in the day when we were with PWL, we'd go into the studio for two weeks, record all of the tracks and then the machine around us would do all of the work. And that's just not the way we do things anymore."
Dubbed the 'hit factory' of the 1980's, PWL was home to legendary production team Stock Aitken Waterman; a trio of English songwriters and record producers, consisting of Mike Stock, Matt Aitken and Pete Waterman, who became famous for their run of hit singles in the late 80's and early 90's with the likes of Kylie Minogue, Jason Donovan, Rick Astley and Bananarama.
It was Waterman who first spotted Steps potential as a legitimate pop act with staying power, following the remarkable success of their debut single 5, 6, 7, 8 in 1997, signing them to his Eastern Block Unity Label in a partnership with Jive Records, and serving as a writer and producer on some of the bands biggest hits.
"Don't get me wrong, it was amazing for us to be working with the team at PWL at the start of our career." Claire concedes. "But we're older now, we know more about how all of this industry works – we have a lot more to do with the selection of songs and the type of material we record, so for that reason things do feel more personal to us now… which is probably why I sill get so nervous (laughs)."
---
"For me, I think there's always going to be that feeling of apprehension right before we put out new music, especially because we're so heavily involved in the whole process of making our albums now."

Claire on feeling nervous ahead of the band's latest release.
---
For the band to be releasing an album on this scale, 23 years into their career is a pretty incredible achievement; and one not to be overlooked or dismissed considering the fact that aside from Take That, no other 90's pop act has managed to pull off such an impressive comeback as Steps!
It's clearly really important to each member of the band that they maintain their momentum and continue to grow Steps' legacy. And with such positive feedback from both fans and music critics alike with regards to their new material, things are once again looking pretty good for the five-some…
---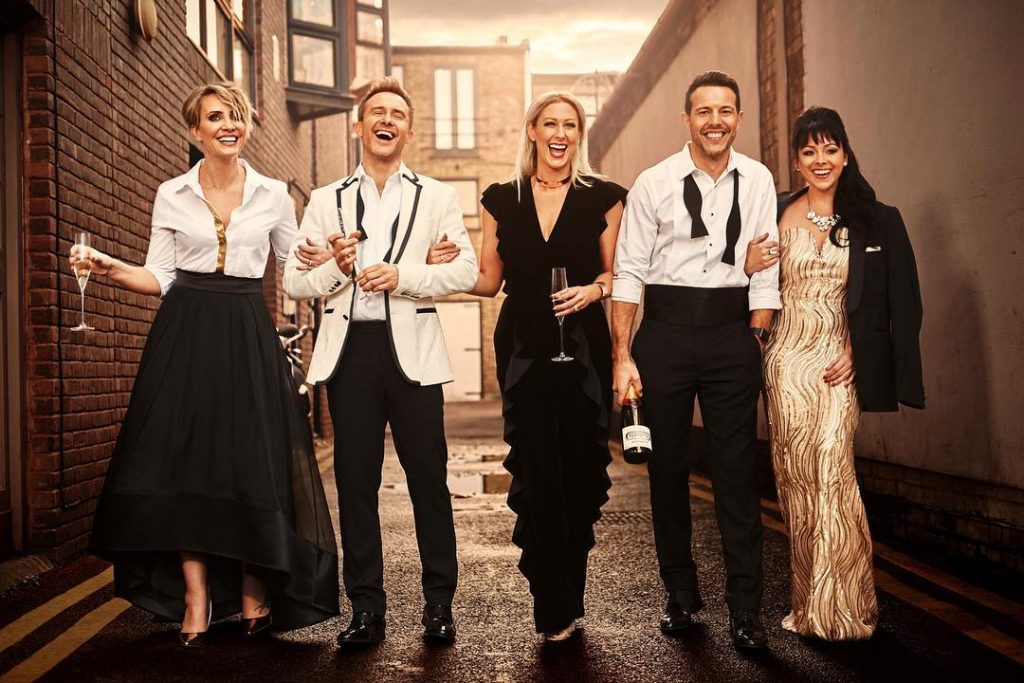 ---
It was without doubt a bold move on Claire, Faye, Lee, Lisa and H's part to make the decision to put new music out to celebrate their 20th anniversary in 2017, 17 years after the release of their last album of original material Buzz in 2000.
And whilst Steps have never been a band for the critics, nor have they ever cared to be, it was the prospect and potential of disappointing their loyal army of fans that proved most daunting when first heading back into the studio.
"At that point in time it was really important to us to make an album that captured the true essence of Steps, but that was musically progressive and current." Faye says of that period in the bands career. "We were quietly confident with what we'd created, and we knew that we liked it, but until people hear it… you just never know!"
Released to universal praise and acclaim from fans both old and new, and receiving rave reviews from critics, the album proved to be an incredible success for the group, spawning 4 hit singles, achieving Gold status and hitting No. 2 on the Official UK Album Chart. Steps were back, and no longer could anybody deny their rightful place in British pop music history.
---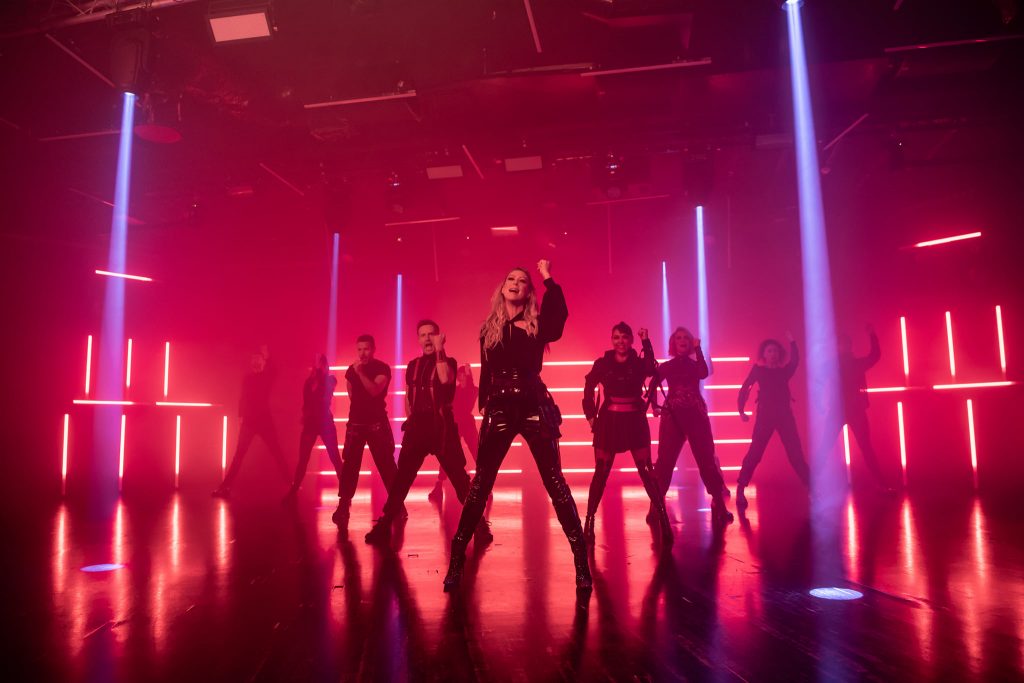 ---
Sticking to their guns and listening to their instincts clearly paid off last time around. So, did the group follow that same brief when recording new material for this album we ask Lisa…
"Yes, I'd say so. There are so many different factors to take into account when it comes to making a new Steps album though; it's a big creative process that we're all heavily involved in, so it's hard to ever really follow one set format." the now mother of two explains. "There's a lot of brainstorming that goes on behind the scenes between us five, our management and now our record company, we listen to lots of different styles of music to make sure we get the best possible selection of songs that we think our fans will enjoy. We always want to stay true to our roots, and make sure we have songs that sit well individually, as well as a collective."
"I would say the title track What The Future Holds was the catalyst to really get the album going." Lee adds. "We first heard it just as we were coming off of the Party On The Dancefloor Tour back in 2017, and we all instantly loved it, and I suppose the rest of the album took shape from there."
Written by Sia, the dark, brooding and atmospheric track, catapulted Steps back to the top of iTunes chart, hitting No. 1 within hours of its release back in September, thrilling the band and signalling the awakening of a brand new era for the group.
---
Steps – What The Future Holds (Official Music Video)
---
Detailing further just how the band took inspiration from the track, and how it helped form the entire arch of the album H explains: "We took the lyrics from that song 'one foot in the past, and one foot in the future' quite literally in the sense that people can listen to this album and a lot of the songs they'll hear will sit really well alongside our back catalogue. So Something In Your Eyes for example, for me that song is up there with After The Love Has Gone, One For Sorrow and Loves Got A Hold On My Heart, so it really transports you back to… how shall we say it vintage Steps? Original Steps?"
"Classic Steps!" Lisa chips in.
"Classic Steps! Okay perfect, thank you Lisa! (laughs)." H continues. "Those songs will take you back to that classic Steps sound. But with a song like What The Future Holds, that track and the tracks similar to it, are a real nod towards where we'd maybe like to go musically in the future."
"I think people will be surprised, but I think they will also feel like they've come home again… it's just classic Steps."
---
The colours shine and sparkle… like 'glitter & gold'
As a band famous for their colour co-ordinated outfits and equally as striking stage costumes, Steps have always played up to the theatrics and drama of the pop industry, unashamedly going all out to create some of the most iconic artwork and images in British pop culture. Coming up with new looks and creative visuals, and making sure they get that balance right must be tricky?
"It can be, but the great thing about Steps is, that we get to wear things that we wouldn't normally wear in real life, so we make sure we go full out and really camp it up!" Faye laughs. "We wholeheartedly embrace all of our past looks, and we love it when we do gigs and see people in the audience dressed in replica outfits of costumes from our previous music videos and tours – it's amazing to us when fans do that, and to be honest, we always keep that in the back of our minds when creating new visuals for new projects."
---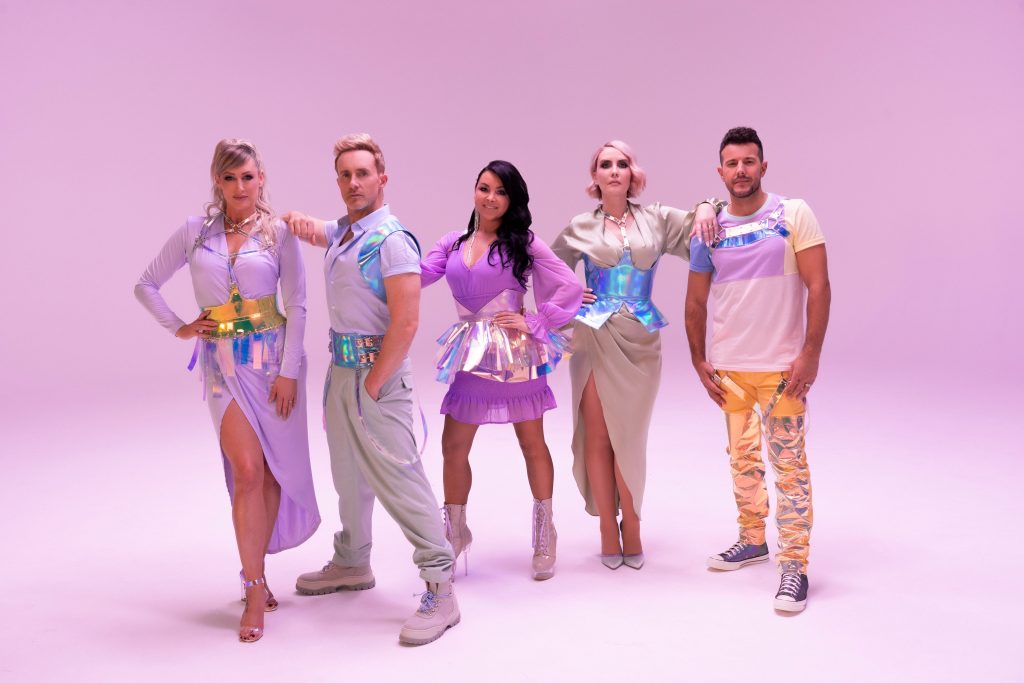 ---
For the new campaign we see the band once again fully embracing the albums theme of 'past meets future', sporting super fresh and modern looking designs, but all accessorised with references and embellishments that give a knowing nod to their 90's pop personas.
"We wanted the overall look and feel for this campaign to be really, really slick." Faye says of the looks created for What The Future Holds. "We work really closely with an amazing stylist Frank Strachan who's part of our creative team, and he lets us go as far as want, or hold back as much as we want, which is great and it's wonderful to have the freedom and balance to do both."
"We'd really like to take everyone on a journey this time around, so we're fully embracing all of the different sides and styles to our personalities. So if you look at the video for What The Future Holds, it's all very sleek and dark, compared to the video for Something In Your Eyes which is all pastel rainbows (laughs). But it's massively important for us to be totally and 100% unapologetic with regards to what Steps is, because our fanbase just relish in it! And the great thing about having social media now is that we get to see that feedback first hand, with all of the messages and comments we get, people just delight in how extreme we go… it's worked brilliantly this time!"
---
Step Back In Time.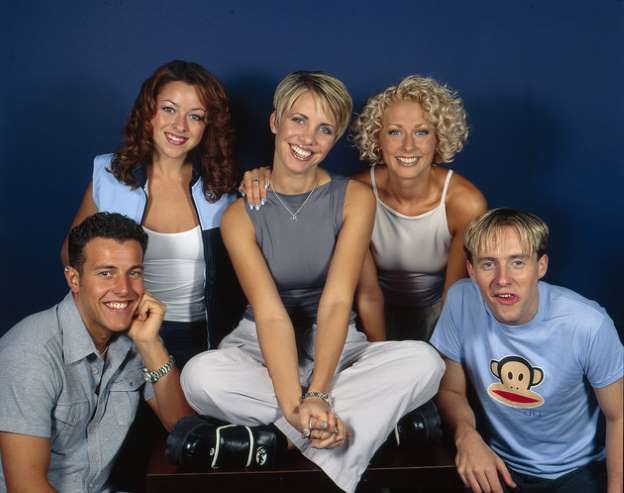 As leading pioneers of the pop resurgence back in the late 90s, it became almost the norm for Steps to regularly grace the cover and feature within the pages of Smash Hits magazine during the teen publications heyday!
For this part of our interview, we decided to fully embrace Steps ethos of celebrating the past whilst looking to the future, by putting a modern day twist on Smash Hits hugely popular 'Biscuit Tin' interview series, creating our own virtual tin of biscuits filled with questions inspired by all of the song titles featured on the What The Future Holds…
'Come And Dance With Me' – Lee, what one song, released this year has had you up and dancing around your kitchen?
Well, I'm not really one to dance around my kitchen (laughs). But obviously I am into my fitness and one artist I've been playing a lot whilst working out is Dua Lipa; I've enjoyed listening to her album this year.
'Clouds' – Faye, what has been the best international trip you've ever taken together as a band?
Ooh, I think probably the most exciting trip we've ever been on was when we went over to Singapore right at the beginning of our career, to do our first ever performance for ZOMBA (the record company) at this super glamorous hotel. Britney Spears was there, she performed '…Baby One More Time' in her little cork shoes and we did '5, 6, 7, 8' and it was just… it was just so. exciting! Afterwards we all celebrated together around the pool and had this big party; it was magic!
'Father's Eyes' – Lisa, what's the best piece of advice your Father or Father figure has ever given you?
I'm really close to my Father, he's my mentor, he very much inspires me and he has made the person I am today. I'd say the best piece of advice he's ever given me was to never let anybody dim your light, and to always shine bright.
'To The One' – H, is there one song that another pop band from your era released that you wish could have been yours?
(Laughs) I'm a bit torn as to how to answer this, because I just love GREAT pop music, and at that time (in the 90's) we were seen as a big of a joke in the music industry because every other pop act was releasing such incredibly cool records like All Saints 'Never Ever', and even though I always embraced exactly who we were as a music, there was a part of me wanted to be cool like them (laughs). But one song I did always like was Natalie Imbruglia's 'Torn' – I think we could have done a cracking job of record.
'What The Future Holds' – Claire, what one thing do you want to do as a band that you've never done before?
Do you know what… I really don't know! We have achieved so much, so every single day of this new era of Steps is just a bit of a bonus and a gift. It's been so nice to be able to comeback and have a sort of second crack of the whip, if you like, so anything that happens from here on out is just… well, it's amazing for us!
---
"It's massively important for us to be totally and 100% unapologetic with regards to what Steps is, because our fanbase just relish in it!"

Faye on the importance of always staying true to the essence of Steps
---
'Get on up & dance!'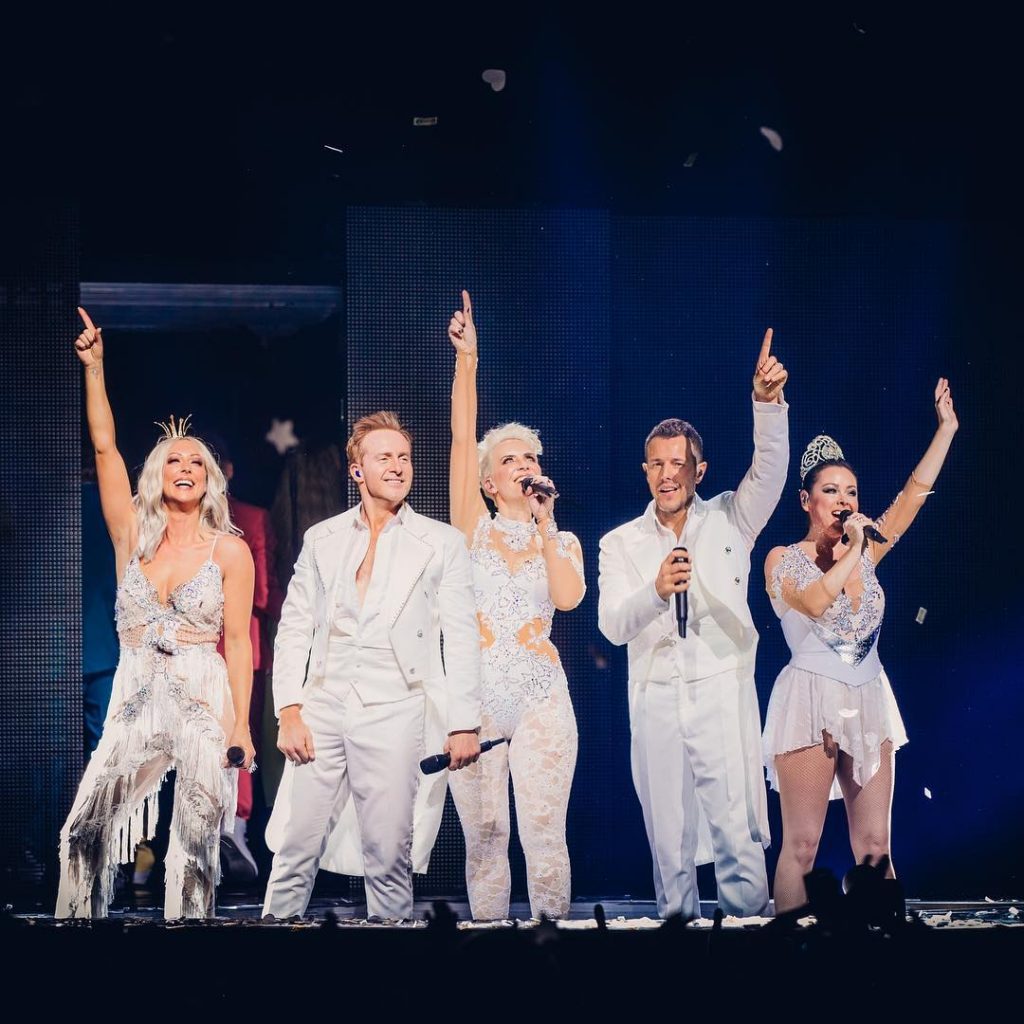 As a live act, Steps truly broke the mould for what it meant to be a commercial pop group looking to take their music on the road. As part of their Next Step Tour In 1999 the band sold out a record breaking 33 UK arenas, playing to over 310, 000 people. The following year the group played a further 65 UK arena shows for what was to become, at the time, the biggest UK pop tour ever! To acknowledge their record breaking achievements Steps were presented with a special BRIT Award for being the Best Selling Live Act of the year at the annual industry event in 2000.
With the Steps: What The Future Holds Tour scheduled for the latter part of next year, we imagine the group dying to get back on stage and bring their new music to life!
"Oh my goodness, we are so excited to get back out there and tour again!" Faye almost squeals with excitement! "Our tours and our live shows are our baby, it's what we love doing best and that's why we do what we do! There's no denying this has been a tough year for everybody, so to have something to look forward to next year is just amazing! And I don't just say that on our behalf (laughs) I mean for the fans too."
---
Steps – Stomp (Live From The SSE Arena, Wembley)
---
How are plans coming along for the upcoming shows we wonder? "Well…" Faye says tentatively, her genuine excitement again, contagious. "We've already worked out how the stage is going to look which is very exciting, and now we're just throwing around ideas, creativity for how we want the show to be as a whole, so we're talking about the costumes, the various scenes and all of those little extra fun things will fill our shows with! So bring it on, it can't come soon enough.. I must add for anybody worried, it will be safe, the whole event will of course be safe!"
"I think we've set the bar pretty high for ourselves when it comes to touring." Lisa adds. "We always like each new show we do to be bigger than better than the one previous and I think we've been able to achieve that. This will be our 7th arena tour so the pressures on to make it the biggest and the best one yet!"
"As Faye said, after the year we've all had, this tour it's just going to be one big party!" Claire laughs.
---
How we used to be…
Hearing the band speak with such pride and joy as they reflect upon all of their wonderful memories of times spent together, whilst also watching them playfully and affectionally interact with one another, it's clear to see what a really wonderful place they are in as a collective.
"Steps was always ours, it was always our baby because at the end of the day, the 5 of us; we are Steps! Nobody knows our band and our audience better than us, so yeah it does feel like we're in a really nice place now – and really thinking about it, we have been for a long time." Claire says thoughtfully. "It's good to be a bit older, and to have a real understanding of not just the creative side of what we do, but the business side also – which is perhaps something we didn't take too much notice of the first time around, and you probably don't when you're in your early 20's and on that wave of success because you're always so busy, you simply don't have time to I guess."
"But now we do have more time to be able to understand it all which is important because at the end of the day, it is our job and this, Steps, is our business if you like, so if we don't understand what's going on then we've got no excuses really for if things were to ever really go wrong (laughs)."
---
"We're happy, and we feel excited to be back doing this all over again!"

Lee on the bands current collective state of mind
---
'All we need is me & you'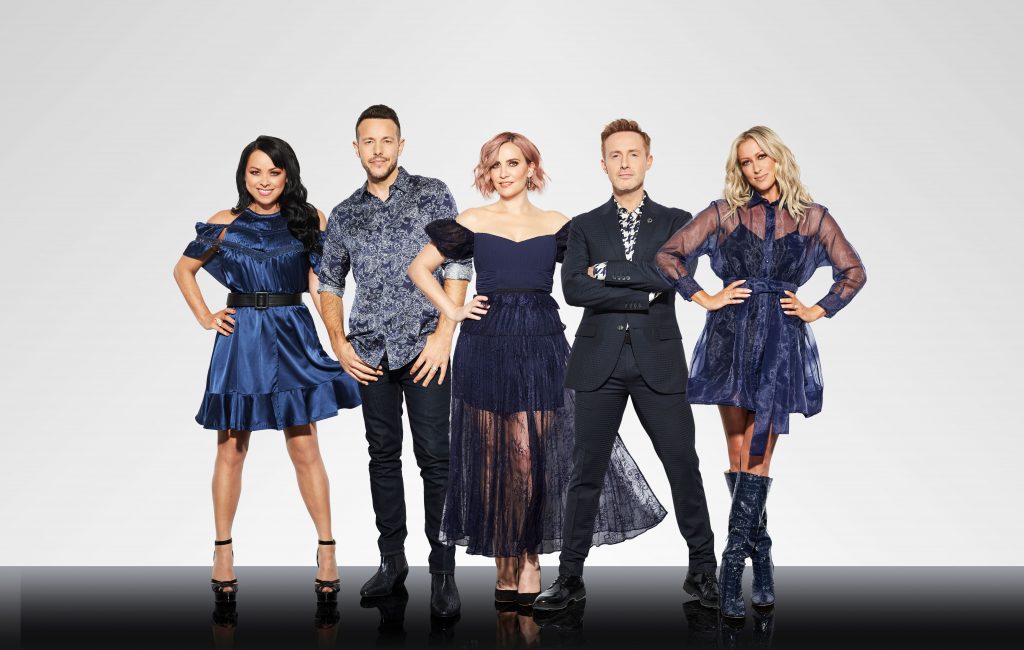 In hindsight, a band like Steps was always surely destined for success. Their classic pop tunes, heartfelt lyrics, flamboyant music videos and incredible live tours so endearing they become the soundtrack and fabric to our lives, we adopt their music into our world and it becomes ours.
But in the make-believe world of planet pop, it's always important to remember that 'popstars' are people just like you and I, and that the journey that Claire, Faye, Lisa, Lee and H have been on for the last two decades is in fact their real lives.
Looking back at their incredible 23 year history together, as both bandmates, friends now family, we wonder, what has it meant to each of them to be a member of Steps…
"Wow…" Claire says taking a deep breath. "I think for all of us, in one way or another, being in Steps has shaped our entire lives, and for many different reasons. For myself and Lisa, we both met our husbands through being in Steps, we've got our families because of being in Steps. For me personally, it's meant everything to be in this band. If I wasn't in Steps, I think my life would have been very, very different."
"For me… listen, I was in the closet when I was younger and also throughout some of my in time in Steps as well." H reveals. "So for us, as a band, to be out there flying the flag for all of those people who are struggling and feel isolated, I just feel so proud of that, because I used to feel that way so I feel incredibly honoured that we can provide that safe place for all of our fans and our community."
"I think we've been the underdog for many, many years – I feel that we've always had to fight to be heard and as H said, there's a lot of people out there that are having to do the same." Lisa acknowledges. "I like to think that we have been strong and shown to our fans that resilience and hard work pays off, and that's a good message to put out there – I love that about our band."
"Things have gone full circle for us. Thinking about all of the things we went through when we were younger, and the fact that we're still still together in our 40's (grimaces/laughs) and we're still doing it, is just incredible." Claire says as our interview time draws to an close. "The 5 of us together… it was just meant to be."
What The Future Holds is out November 27th, pre-order here.
---
Let us know your thoughts on Steps over on Twitter @CelebMix now!