BREAK Films and Scanner-Rhodes Productions announce the forthcoming release of the new British independent film Break – a heartwarming, thriller starring Sam Gittins, David Yip, BAFTA Winner Adam Deacon and the late, great Hollywood screen icon Rutger Hauer, in his final screen role.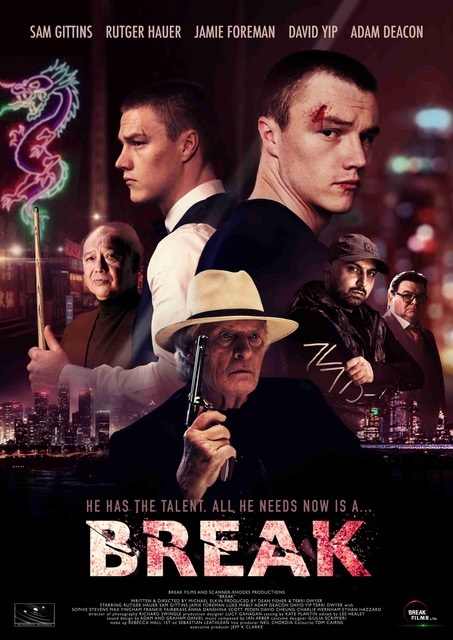 To Have A Future, Make Your 'Break'
Written and directed by Michael Elkin, and produced by Dan Fisher alongside actress/producer Terri Dwyer, the film – shot on location in Beijing, London and at Sheffield's world famous Crucible Theatre – tells the rags-to-riches story of the troubled, but innately talented Spencer Pryde (Sam Gittins), an inner-city kid, wasting his life on petty crime and violence.
However when presented with an opportunity to turn his life around, following a chance encounter with Chinese stranger and former 'eight ball' pool champion, Vince Qiang (David Yip) and tough guy club owner Ray (Rutger Hauer) – will Sam be able to break away from the negative influences around him and use his talents to make a change for the better?
Watch the official Break film trailer below:
'Break' From The Past
"Break was ten years in the making" Michael Elkin explains. "It was a struggle, but I am proud to say we got there in the end."
"I am a working class guy from a South London estate but I have always believed that everyone has a talent for something, and if the film's positive message can inspire even a small percentage of kids to turn away from knife crime and use their god-given talents, I will be a happy man."
Break's UK theatrical release is set to coincide with Sheffield's 2020 World Snooker Championship (April 18th – May 4th). There will also be a private gala screening held in Sheffield on Monday April, 20th, ahead of the films nationwide release.  
CelebMix will be coming to you LIVE from the red carpet at the WORLD PREMIERE of Break, on April 22nd, direct from the Prince Charles Cinema, Leicester Square in London – be sure to keep an eye on our socials for interviews with the films cast, as well as all of the celebrities in attendance on the night!
---
Let us know your thoughts so far on British film Break over on Twitter @CelebMix now!