ROLE MODEL took the stage at Terminal 5 in New York for a special performance on his "tourRX" tour.
The Manhattan venue, known for its large general admission floor, was packed on all three levels. Fans of the "neverletyougo" singer lined up hours before the show began for a clear view of the stage and, of course, to get as close to ROLE MODEL as possible.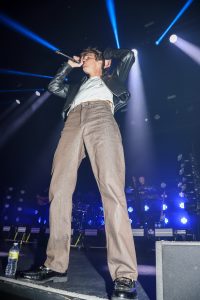 Once the lights went down, the show began with a voice recording of ROLE MODEL asking attendees to be kind and respect each another during the concert. The beginning of "if jesus saves, she's my type" began shortly after and high-pitched screams nearly overpowered the venue's speakers immediately. Fans held up signs and sang the track's lyrics at the top of their lungs as the singer worked the stage like a dance floor.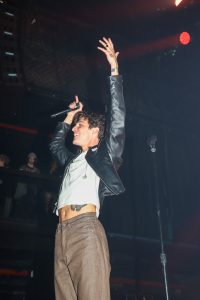 The energy exuded from ROLE MODEL took his fans excitement to a whole new level. They eagerly captured the singer performing on stage through phone videos while still attempting to creatively grab his attention. Each song flowed effortlessly into the next with the setlist including both throwbacks and the majority of the tracks off of his recently released album, Rx.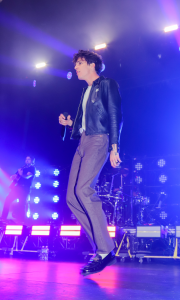 ROLE MODEL even took the time to interact with fans both close to the stage and at the very back of the venue. He read signs, accepted gifts, and even joked with attendees about other artists they probably listened to based on their vibe. It was a one-of-a-kind experience for concertgoers,  especially for those who experienced ROLE MODEL's on-stage persona for the very first time.
Two of ROLE MODEL's most popular tracks, "blind" and "forever&more," closed out the singer's performance. The singer sang "forever&more" while standing on top of the venue's barricade and holding the hands of some of his biggest fans. Before exiting the stage, he thanked attendees for coming and reminded fans that he loves New York one last time. If ROLE MODEL is coming to a city near you, remember to "save a seat." You are not going to want to miss this one.
For ROLE MODEL tour information, click here.