The two mega music powerhouses and global superstars, Ed Sheeran and Taylor Swift, reunited and delivered a spectacular, unforgettable performance as they unveiled a spellbinding rendition of "The Joker And The Queen" via Atlantic Records.
Ed Sheeran originally released the song on his latest studio album "=" (Equal), and now, he has unveiled a brand new reimagined version featuring Taylor Swift. The song accompanies a gorgeous, nostalgic music video that brings back memories of their 2012 collaboration, "Everything Has Changed." But if you ask us, nothing has changed. Even after ten years, their friendship is just as pure as ever, and this song celebrates and beautifully captures its essence weaved together with their impeccable talents. It is also their fourth official collaboration to date, after "Everything Has Changed" (2012), "End Game" (2017), and "Run (Taylor's Version)" (2021).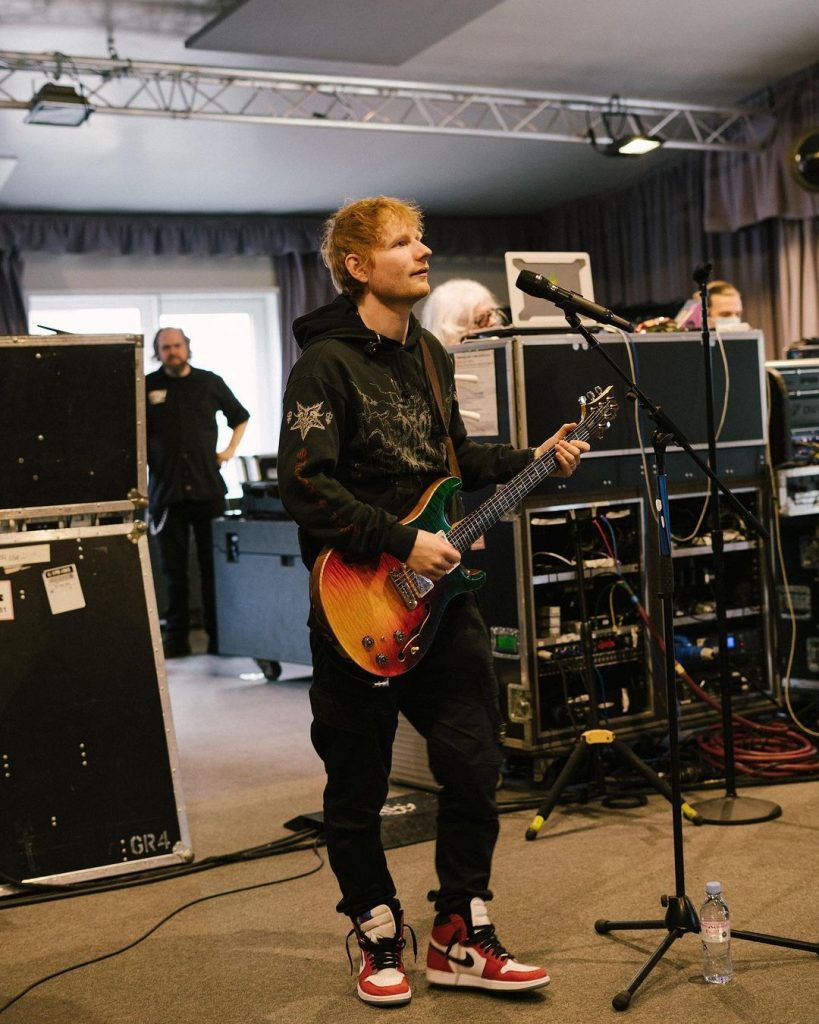 Taylor and Ed have been making waves with their remarkable talent and sweeping the music industry. Ed Sheeran is an era-defining artist, and when you paired him with global phenomenon Taylor Swift, they brewed together their unrivaled artistry and unparalleled talent, creating this latest masterpiece. There you have it, the recipe for creating a game-changing musical phenomenon.
The two pop mega-musicians have a long list of accolades under their belts ranging from unprecedented sales of albums, tours, and live performances, billions of song streams, industry's highest honors, impressive milestones, and loyal global followings, as well as consistent excellence in songwriting and a wide range of musical styles. Ed once said, and we agree with him, that these two massive artists went from being two "underdogs" to triumphing as the best solo artists in the world. The two of them enrich our lives in so many ways, and we are so thankful to have them!
A smooth ballad in classic Ed and Taylor fashion, "The Joker And The Queen" shimmers with hushed, tender vocals, ethereal piano chords, and lush strings, all adorned with poignant lyrics penned down by two of the greatest, prolific songwriters of the modern era, along with Johnny McDaid, Fred Gibson, and Sam Roman. As been told, when Ed was writing the original version of "The Joker and the Queen," he instantly thought of featuring Taylor as the guest vocalist later on and later invited her to record the vocals.
"And I know you could fall for a thousand kings
And hearts that would give you a diamond ring
When I fold, you see the best in me
The joker and the queen"
The song has become one of our new favorites, and we have been jamming to it nonstop since its release. It is no secret that we are huge Taylor Swift and Ed Sheeran fans, and we will never deny our admiration for them. Both Taylor Swift and Ed Sheeran sang flawlessly, their vocals blending harmoniously, creating a majestic, unforgettable sound. Even though they grew up and their voices have gradually changed over time, it is astounding to see their beautiful, close friendship going strong as ever for over a decade now, much like our enduring fascination with them.
The official music video directed by Emil Nava is glistening nostalgic heaven and follows the storyline of the "Everything Has Changed" music video. One of the most intriguing aspects of this music video is that it features the original cast as Ava and Jack chronicling their coming-of-age story – of the now 18-year-olds heading to university and embarking on new life adventures.
Watch the music video below:

Listen to 'The Joker And The Queen' (feat. Taylor Swift) here! It is available now across all DSPs worldwide!
Have you had the chance to listen to this stellar collaboration for 'The Joker And The Queen' yet? Have you been jamming out to the song while daydreaming about Taylor Swift and Ed Sheeran performing it live? Tweet us your thoughts at @CelebMix!
Read more about Ed Sheeran's terrific performance on BRITs here, where he collaborated with Bring Me The Horizon and put the stage on fire!
Browse our website for the latest pop culture news here!