Global superstar Ed Sheeran is less than a month away from finishing his mathematical-themed album Equation with "–" (Subtract) and keeping up with his musical streak, he released the album's poignant opener titled, 'Boat,' today (April 21).
The sophomore single 'Boat' features on Sheeran's forthcoming album, Subtract, and follows the release of the lead single, 'Eyes Closed,' the singer's 14th chart-topping single in the UK. That track arrived with another cinematic music video following the artist as he wanders from bar to diner, accompanied by a big blue monster symbolising his grief.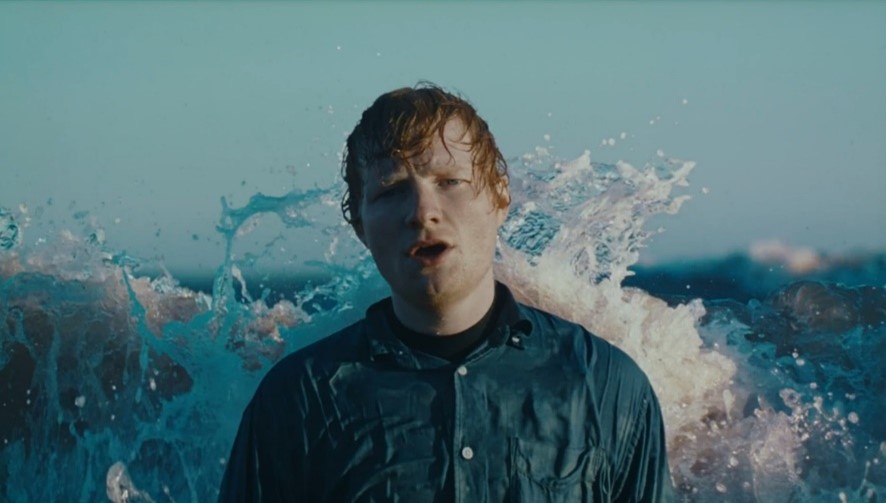 Composed by the English seaside in the depths of extreme winter, 'Boat' serves as a metaphor for depression — as described by the quintessential artist — and combats the struggles of feeling at a low point in life and not knowing how to break the cycle.
"'Boat' is the first song I wrote and finished for Subtract, it's where it all began, and a good way to kick off the album," Sheeran wrote on Instagram, announcing the single earlier this week along with a snippet of the music video.
The single serves as a wonderful introduction to his intimate, heartfelt record that the pop sensation is ready to unveil to the world. It adorns slow-beat acoustic guitar melodies that strum your heartstrings, on a thoughtful and melancholic backdrop to the sombre lyrics. Lyrically, it leaves us with a flicker of hope amidst the battles with depression and despair, reminding us that even in the darkest of times, there is still good around us, leaving the listeners on an optimistic note!
The poignant number accompanies a captivating music video — directed by Mia Barnes — offering a great deal of metaphorical value. It cements the song's message with its turbulent seaside landscapes and extremely wintery elements, as the video sees the 32-year-old hitting the UK shore as he enters the ocean, and submerges in the sea with hostile waves engulfing and swallowing him, mirroring the singer's battle with depression and despair.
As the finale approaches, Ed Sheeran croons the chorus in his velvety vocals, "Maybe I won't, but the waves won't break my boat," as dozens of broken items flew over his head and thrown into the water, but with Sheeran using a boat as a metaphor for attempting to keep the water at bay and keep him steady. "They say that all scars heal, but I know maybe I won't," Sheeran sings. "The waves won't break my boat."
Tune in now!
Ed's soul-baring, new album Subtract – which he has described as the "trapdoor into my soul."- is arriving on May 5 via Atlantic Records. Written against a backdrop of grief and hope, the artist wrote and recorded the fourteen-track record (with 18 tracks in the deluxe edition) with Aaron Dessner (of The National) in February last year after a string of hard-hitting events and personal struggles that hugely affected his life.
In a social media post announcing the album, Sheeran explained that Subtract reflects a period of turmoil. "I was spiralling through fear, depression and anxiety. I felt like I was drowning, head below the surface, looking up not but being able to break through for air."
"I had been working on Subtract for a decade, trying to sculpt the perfect acoustic album, writing and recording hundreds of songs with a clear vision of what I thought it should be. At the start of 2022, a series of events changed my life, my mental health, and ultimately the way I viewed music and art," Sheeran told fans on Instagram, citing the loss of his close friend Jamal Edwards, and his pregnant wife's diagnosis with a tumour.
Two days before the album arrives, the four-part documentary Ed Sheeran: The Sum of It All will begin streaming on Disney+ starting May 3, featuring never-before-seen personal archive clips, new interviews with Sheeran and his family, intimate performances, and more.
Watch the trailer of the upcoming four-part documentary series "Ed Sheeran: The Sum Of It All" — Streaming on May 3, only on Disney+!
Tracklist: "Subtract"
The 18-track-long tracklist (deluxe edition) is as follows:
Boat
Salt Water
Eyes Closed
Life Goes On
Dusty
End Of Youth
Colourblind
Curtain
Borderline
Spark
Vega
Sycamore
No Strings
The Hills Of Aberfeldy
Wildflowers
Stoned
Toughest
Moving
Stream, purchase and listen to 'Boat' by Ed Sheeran here!
Pre-save/pre-order "-" (Subtract) here — releasing May 5, 2023.
CONNECT WITH ED SHEERAN HERE:
WEBSITE | INSTAGRAM | FACEBOOK | TWITTER | YOUTUBE
Share your thoughts with us on Twitter at @CelebMix!
Featured Image Source: Atlantic Records Group/ Warner Music Group | Photo Credit: Annie Leibovitz