BRIT Award winning recording artist debuts powerful new track
Emeli Sandé has today (October 2nd) released her brand new song, Prayed Up – an uplifting and powerful ballad dedicated to all key workers on the front line who have assisted in taking care of all of us during the COVID-19 global pandemic.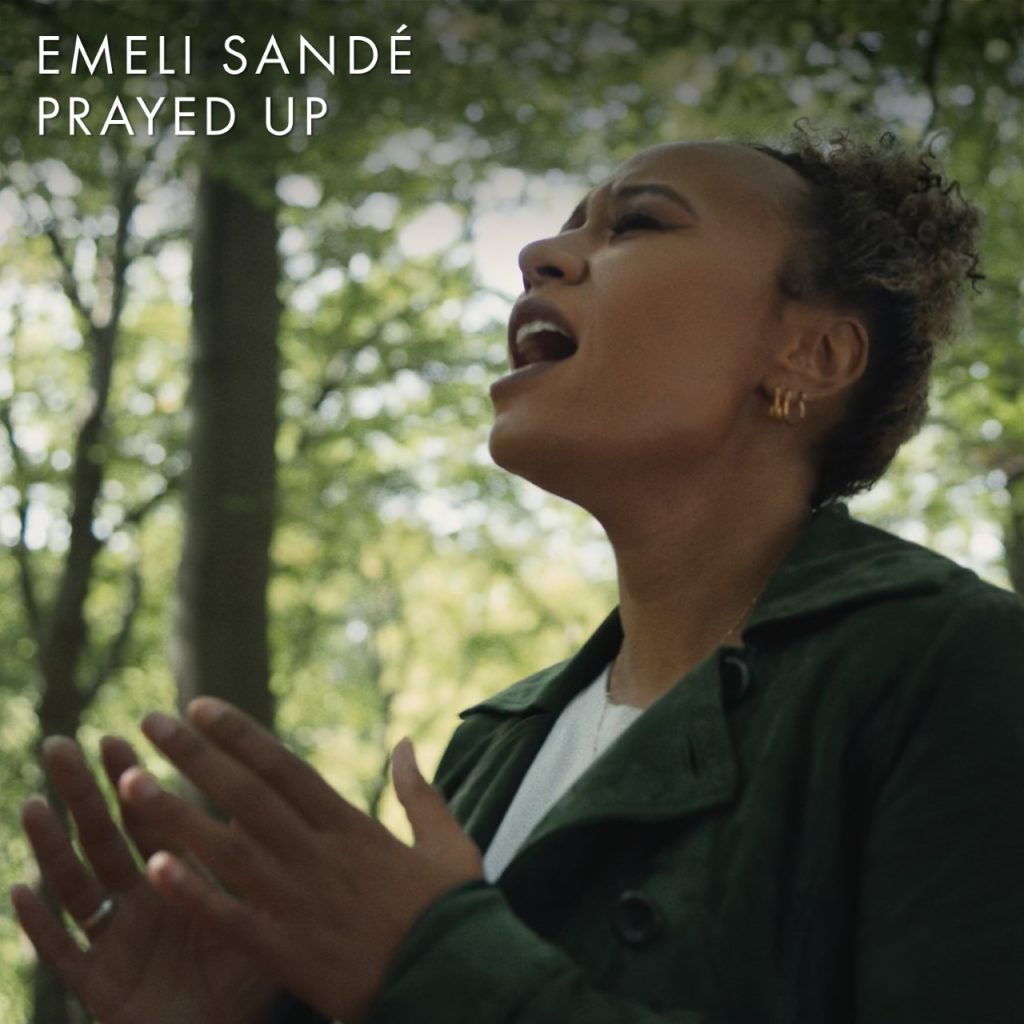 Written by Emeli herself, and available to stream and download now in four different versions from Sandé's official website in return for donations, all proceeds from the release will be split between NHS Charities Together and Amnesty International UK.
Prayed Up Tracklist:
Prayed Up – 'Earth' (produced by Rodney Jerkins)
Prayed Up – 'Water' (produced by Emeli Sandé) 
Prayed Up – 'Fire' (produced by Naughty Boy and Blazin' Beats)
Prayed Up – 'Air' (produced by Gavin Powell)
"In times like these we got to love and try and trust each other…"
With its heartfelt lyrics, soaring melodies and solid musical production, Prayed Up is the kind of song the world needs to hear right now – its universal message of hope relatable to all people as we navigate our way through such dark and troubling times.
"This song is to offer solidarity, spirituality and strength to everyone trying to cope with these precarious times." Emeli says of the meaning and inspiration behind the track. "The heroic work from our key workers has been deeply humbling and inspiring and this song is a way to express my gratitude to them as well as my awareness that lockdown has been harder for some people than for others." 
"A mirror has been held up to the current state of our society; I hope we use this as a momentum for change. My wish is that this song can offer support, comfort and encouragement to anyone who is feeling overwhelmed or in need of some hope." 
Upon completing the track, several top producers – including Rodney Jerkins (Spice Girls, Whitney Houston, Destiny's Child), Naughty Boy (Beyoncé, Sam Smith, Tinie Tempah) and Gavin Powell – were inspired by what they heard and as a result offered their time to work on it, which led to Sandé's decision to release four different versions: "I wrote 'Prayed Up' initially as simply a short musical message in an attempt to connect with and encourage my fans to keep going in such a challenging time."
"It seemed as if the whole world had changed overnight. Through this song I wanted to gain clarity of my thoughts and feelings. I also wanted to put my voice out there to offer solidarity to those who were feeling the same. With the help of some amazing producers I'm happy to be releasing four different versions of the song. Each brought a different perspective to the lyric, so I've titled them for the four elements; Earth, Water, Fire and Air."
Watch the official music video for Prayed Up below:
Kate Allen, Director of Amnesty International UK, says of Prayed Up and Emeli's continued efforts to raise awareness of the charity: "We are really grateful to Emeli Sandé for donating some of the proceeds from this powerful song to Amnesty International UK. We thank her for using her voice to make an important stand for human rights."
NHS Charities Together CEO, Ellie Orton, adds: "It's amazing that Emeli has chosen NHS Charities Together to be one of the beneficiaries of her new single. It's win,win – buy her track and you'll get great music, whilst also helping NHS staff, volunteers and patients deal with the Covid crisis and all the other challenges faced by our health service."
Prayed Up by Emeli Sandé is available to download and stream now.
---
Let us know your thoughts on Emeli Sandé's new song 'Prayed Up' over on Twitter @CelebMix now!