As the four members of Blue arrived at The O2 Arena in London yesterday morning (November 30th) to announce to the world they were officially reuniting, for a tour to celebrate their 20th anniversary, a tangible sense of excitement filled the legendary concert venue, as memories of the bands extraordinary career came flooding back at the mere sight of seeing Duncan James, Anthony Costa, Simon Webbe and Lee Ryan all together once again.
---
Blue: 20th Anniversary Heart & Soul Tour 2022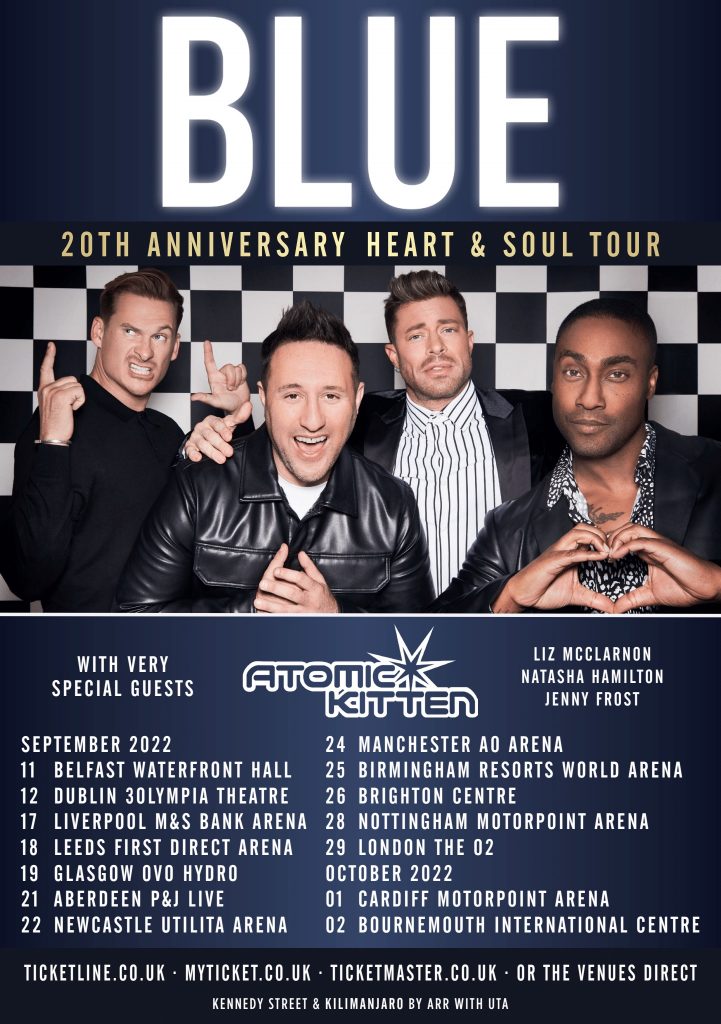 ---
"Doing this tour is like the best dream come true ever!" Anthony tells us, his face lighting up at the prospect of once again hitting the road with his friends and fellow bandmates, as we begin our exclusive interview with the group. "It's something we've been in talks about doing for a long time now, so we honestly can't wait to get back on the road and play in arenas again… I mean I don't think we've done a headline tour on a scale like this since 2004, which is crazy!"
"We're very, very lucky to be where we are today." Simon adds. "We understand our position in the industry now more so than ever before, and we really can't wait to see our fans." Taking a brief pause to reflect, the Manchester native continues: "To be totally real with you though, I don't think any of us can really quite believe it's been 20 years since we first started out! (Laughs) But… it has (been 20 years), and the stars have aligned for us to go out there and celebrate all that we've achieved!"
Having reached such a poignant and important milestone in their already impressive career (to date the quartet have sold a staggering 16 million albums worldwide), now seems like the perfect time for each of the boys to let the familiar waves of nostalgia wash over them, and reflect upon the journey they've taken together as a collective over the course of the last two decades.
"Apart from all of the personal memories we have, the times when it's just been the four of us hanging out behind the scenes having a laugh, for me it's thinking about some of the artists we got to collaborate with that really blows my mind." Duncan says as our conversation starts to take us on a retrospective trip down memory lane. "I'm actually doing panto in Canterbury at the moment, and there's a scene in the show where I sing 'Sorry Seems To Be The Hardest Word' which we obviously did a cover of back in the day, and every time I performed it, I just have this 'wow' moment to myself, because I just still can't quite believe that we did a duet with Elton John! I mean he's a legend isn't he?"
---
Sorry Seems To Be The Hardest Word (Official Music Video)
---
"I knew that this was gonna be our time…"
There's no denying that celebrating 20 years in music is an incredible achievement for any artist. But for the four members of Blue, who lived and breathed those glorious years and life experiences first hand, we wonder if they are able to still identify with the young men they were back then, or if the often unforgiving hands of time have clouded their memories of what life was really like as fledgling popstars at the turn of the new millennium.
"I think if anyone reflects back to who they were 20 years ago, and then compares that version of themselves to who they are now, they'd be sure to recognise at least some aspects of their personality and character." 38-year-old Lee muses. "For me, to analyse the person I once was, well… that's just the natural evolution of ones self. As human beings, that's what we're here to do, we're here to live, learn and change." With a cheeky grin, Ryan adds: "I'd love to talk to my younger self that's for sure… I'd probably give him a slap to be honest with you (laughs). We were so young back, we had no idea what life had in store for us!"
---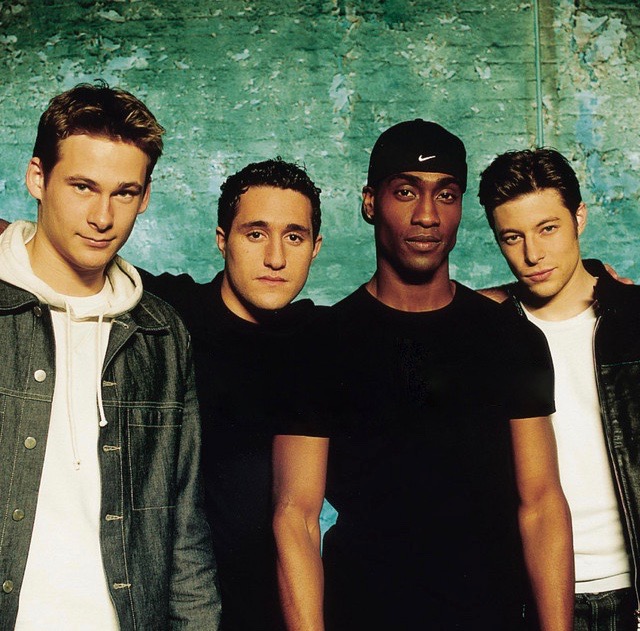 ---
Having first burst onto the scene back in the spring of 2001, following the release of their debut single All Rise, the boys from Blue enjoyed four phenomenally successful years together – achieving 4 U.K. No.1 albums, releasing 15 Top 10 singles and embarking on 3 headline tours before going on hiatus in 2005 to pursue individual solo projects. It would be 6 years before the boys would reunite, this time as representatives of the United Kingdom in the Eurovision Song Contest 2011, before going on to tour extensively and release two further studio albums.
The undeniable beauty of Blue's instant and broad appeal back in 2001 however, was the fresh sense of energy the group brought the British pop scene. At a time when the music released by some of the acts sitting pretty at the top of the charts in the post Spice Girls era, had become somewhat formulaic and a tad dated, along came four young lads with edge, style and soul…
"What I don't think a lot of people know, is that we all had a history together, before we became the band that went onto become Blue." Webbe explains of the groups origins. "Lee and Anthony originally met on the TV show This Morning, myself, Duncan and Lee had all previously met at an audition, and then somewhere along the way Anthony and Duncan eventually met – so there were friendships and relationships, and a chemistry there between us before we were then put together by the record label."
"All four of us wanted to be in a boyband, which is something that's actually quite unique and probably one of the reasons why we're one of very few pop groups out there, that haven't ever changed members or line-ups! We shared the same vision and our goal from the outset was to produce great songs, with great melodies that told stories that fans could relate to. That's really all we've ever wanted to accomplish together as a band, and no-one was going to stop us from doing what we wanted to do."
---
Blue – I Can (Official Music Video)
---
"This life is full of possibility…"
In what feels like something of a serendipitous moment, the announcement for the Heart & Soul Tour comes 20 years to the week that Blue released their debut album, All Rise – a career milestone of which seems to evoke genuine emotion amongst the band.
"It's crazy to think that 20 years ago this week we were putting out our first album!" Anthony says almost aghast. "It was such a new and exciting time for us, we really believed in the music we'd made, and just hoped that our fans would too."
"We look back on those early years with really fond memories." Lee adds. "We honestly had such a great time making that record together, and I think you can it that in the material we recorded."
---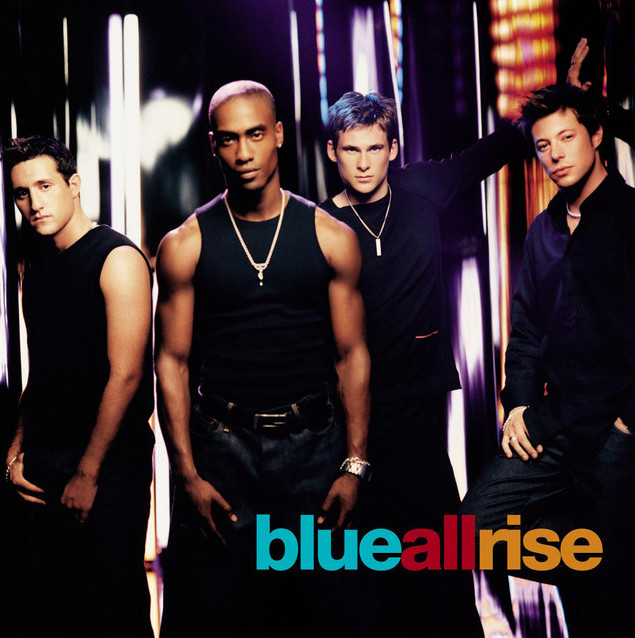 ---
Hitting the #1 one spot on the Official Album Chart in its first week of release, and featuring the hit singles All Rise, Too Close, If You Come Back, Fly By and Best In Me, the career-making record went on to sell over 1.4 million copies in the U.K. alone, and has since been certified 4x Platinum. 
"The first song we recorded for the album was 'If You Come Back' which was actually supposed to be our first single, and I think I'm right in remembering there were only three of us in the band at that time, I don't think Simon had officially joined yet?.." Anthony tells us when we ask what memories spring to mind from the time they spent making the album. "Anyway, so we were all set to go, and then the record company called us into the office after a writing trip we'd done in Norway, and told us that there'd been a change of plan and 'All Rise' was going now going to be our first single! Initially we were all like 'no, it's a mid-tempo, we want to come out with a ballad like Westlife because they're doing really well and getting loads of No.1's' (Laughs). But in the end, we listened to our team and we went with 'All Rise' and I guess the rest is history! It's mad to think what would have happened if we'd gone with 'If You Come Back' though; things might have been a lot different for us." 
---
If You Come Back (Official Music Video)
---
As a new band, keen to make their mark on an industry known for being notoriously difficult to break into, we imagine for Simon, Duncan, Lee and Anthony, the experience of making their debut album would differ significantly from subsequent LPs they would go onto make in the future, for back in 2000 and 2001, Blue were a group very much on the up, with no pressures to maintain a certain level of success. That being said, a pop act only ever has one opportunity to make a first impression, so we wonder did the boys ever feel there was a nagging sense of expectation for them to deliver big right out of the gate.
"There are a lot of emotions and insecurities that go into making your first album." Anthony admits. "You spend a lot of time recording a ton of material, and in the back of your mind you're almost always thinking 'will the record label that have signed us, like this? Will they believe in us and will they put all their effort in to backing us?' It's kind of like going into the unknown in a way, we had a lot of control, but I don't know how in control we felt if that makes sense, because everything was so new to us. But low and behold, we did get the backing from the record company, which then allowed us to embark on this fantastic journey together."
"The most important thing for us during that time was to create our own identity." Simon adds further. "When you're launching into a market that's already got *NSYNC, Backstreet Boys, 5ive and Westlife, who were all great bands, enjoying incredible success at the time we were launched, the last thing you want to do is try to copy what they're doing because you're never going to be able to compete, because it just wouldn't be authentic. So the challenge if you like was to try and find a sound that was going to be different to theirs, but something that was still current and fresh at the same time. I would say for me, there was always a thought in my head saying 'is what we're doing going to be accepted?' But luckily we were working with a great A&R by the name of Hugh Goldsmith, who really instilled a confidence in us, so we just followed his lead and here we are today, still talking about the songs we released 20 years so… we must have done something right (laughs). Put it this way, we always enjoyed being in the studio, but at this stage in our career, we're definitely ready to get back out on the road."
---
"Feel my heart beating when the crowd calls…"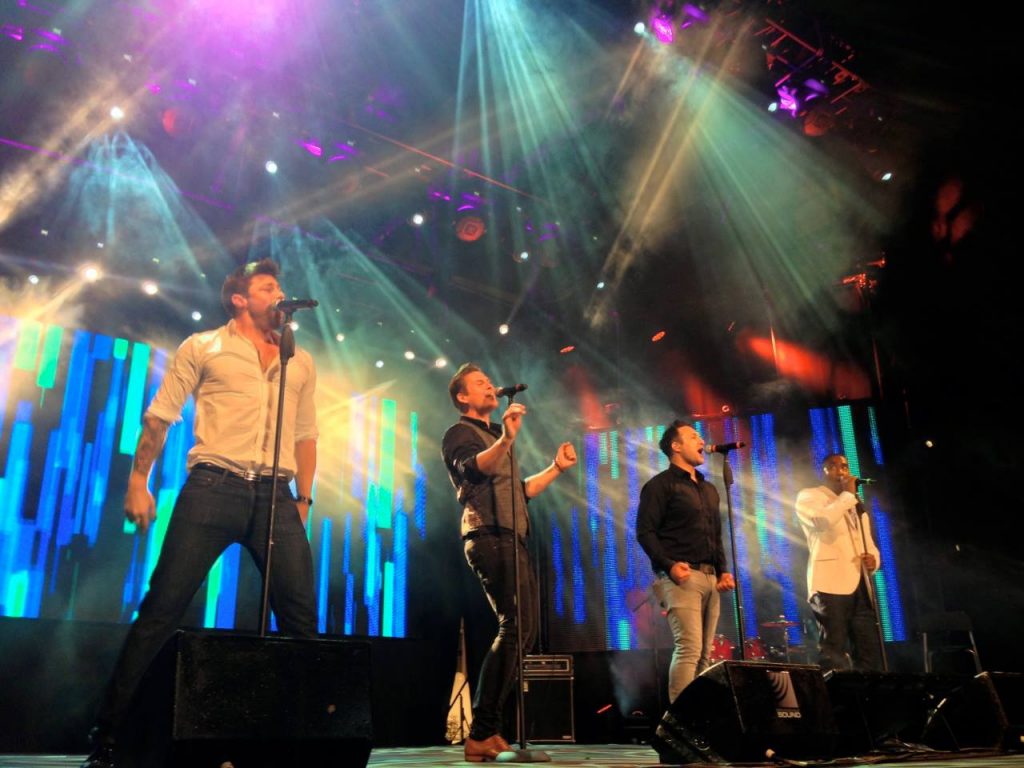 Set to kick at the Waterfront Hall in Belfast on Sunday, September 11th 2022, the groups 20th anniversary Heart & Soul Tour will see Blue play 14 shows around the U.K., with special guests and friends Atomic Kitten serving as their opening act. 
"One of the things we loved doing most the first time around, was being on stage and singing together… live" Duncan says when asked about how he feels ahead of what will be the bands first headline tour in five years. "I put the emphasis on the word 'live' there because a lot of the pop bands back when we started out, used to do the whole lip-synching thing, which is cool, each to their own, but I think because of that, there was this sort of idea that people in girl bands and boy bands couldn't sing. So we made the decision very early on in our career to to take real pride in our vocals and where possible, always sing live. So for me personally, the thing that makes me most excited about this tour is being able to do that again! I love nothing more than singing with these guys and I can't wait to hit the arenas with a live band, see all of our fans and just vibe off the audience, it's going to be amazing!" 
And of the tours special guests, Atomic Kitten? Duncan says he has nothing but love for Liz, Natasha and Jenny – who's appearance on the tour will mark the first time the trio have performed together in over a decade. "I can't wait to see the Kittens again!" James says excitedly. "We were label mates with them back in the day and we love them! Both our audiences were quite similar so I think it's going to be wicked for fans to come along and see us all performing again… we're bringing back the fun!"
---
One Love (Official Music Video)
---
"I'll be there till the end of time…"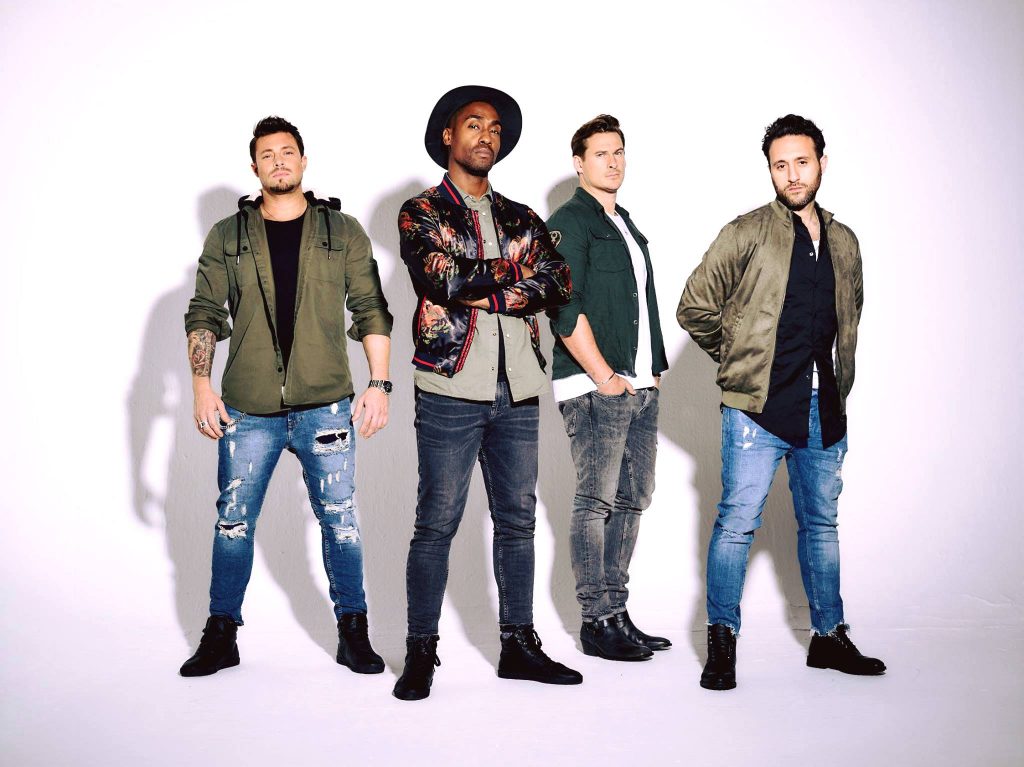 As a band of brothers, who have long been a constant in each others lives both personally and professionally, over the course of the last two decades, the shared, unbreakable bond between the members of Blue is evident for all to see. Always respectful, forever supportive and fiercely loyal to one another, the four friends remain as close as ever, and continue to be each others biggest cheerleaders.
"I firmly believe that I am so lucky to be a part of this band!" Anthony says with a sense of pride when we ask each of the boys individually, what it means to them to be a member of Blue. "We've been through so much together, there's been great times and there's been some not great times, but that's just part of life, and what makes the journey we're on all that more exciting."
"People often talk what is the true measure or define success…" Simon contemplates when giving his answer. "For me it's all about staying true to yourself, and that's something I'm proud to say we've always managed to do as a band; we've remained true to ourselves no matter what changes may be going on around us. And I say that because this industry is forever evolving, and it's run completely differently now compared to how it was when we first started out – we're not from the streaming era, we're not from the social media era, but we know that and we're cool with that, so we'll just continue to do what we do and be happy with whatever comes our way."
"I feel really lucky!" Duncan adds. "Lucky to still be here, and blessed to still be talking about our music 20 years on. To me that shows a) the sign of a good pop song and b) the sign of a good pop act."
Looking at each of his bandmates, Anthony concedes: "Being in Blue is about three things love, respect and having a laugh… that's what we've all about, and what we will always be about."
Tickets for Blue's 2022 Heart & Soul Tour go on sale, Friday December 3rd at 9am on officialblue.com.
---
Let us know your thoughts on Blue over on Twitter @CelebMix now!