With his uplifting podcast and cheerful new single, Danyl Johnson is spreading positivity during difficult times. His song and show, which are both titled 'Best Thing', are certainly worth a listen!
Since rising to prominence on The X Factor back in 2009, Danyl Johnson hasn't stopped working and it's fair to say that he's become a household name over the years. Whether he's singing or hosting his own podcast, Danyl is a natural behind the microphone.
We recently caught up with Danyl Johnson. In our exclusive interview, the man of many talents spoke about: life in lockdown, the inspiration for his latest single, future plans for his podcast, competing to represent the UK at Eurovision, his time on The X Factor and much more.
You can read highlights and hear our full interview with Danyl Johnson below!
So 2020 has obviously been a bit of crazy year but you've certainly been keeping yourself busy with lots of different projects. How have you been finding life in lockdown?
"Yeah, crazy. I think they say when things like this happen, the creativity levels go up for a certain proportion of the population. For me, I didn't want to sit on my backside and do nothing waiting for it to be over because I don't think we know when it's going to be over or if we're ever going to go back to normal. I was being imaginative and coming up with ideas. I made all these little videos of me and my dog Darcie which hopefully I'm going to put up on TikTok.
"I decided to start a podcast called 'Best Thing'. I've been looking at social media and watching the news and it's all doom and gloom. We've been doing these Zooms and I was chatting to my mates doing some quizzes. I thought what a great way to call people I haven't spoken to in ages or catch up with celebrities I've grown up with. So I thought why not start a podcast. I have a song called 'Best Thing' and it's really uplifting. The song is uplifting, the podcast is uplifting. Even though it doesn't work, I'd say the podcast is like Gogglebox for the ears. Yes, I understand that goggles would be for the eyes but I couldn't think of anything more clever. We talk about: food, travel, music, TV and film and something random of the guest's choice."
You've just released your brand new single 'Best Thing' which we absolutely love – what is the best thing about the song for you?
"Thanks. So it's those things that change your life in the smallest kind of ways and those things that are not just about us being self-indulgent in things that we do. It's about what other people project onto us. It's so funny. Every single person that you've met in your life that you would equate to being a really good friend or your best friend, there was one time you didn't know them. They weren't anything to you and now look at them and those sort of stories and chapters. They help mould you and you grow up with them. You get older and you get advice from these people and you give advice. It's those things. For me, it was friends and family that are some of my best things in my life. They have really helped me through all of it; even before The X Factor and stuff like that.
"But really, what the song is about is my dog Darcie. When I got her, I wrote the song and we were just talking about what is the best thing in my life and what responsibilities I have. Pretty much my main responsibility, apart from myself which is just self-indulgent, is my dog. I could use the excuse to go home early to things that I didn't want to stay out at because I had to go home and look after my dog. She always comes on the road with me, she's in the new Postcode Lottery advert for Christmas. It's just like this lovely furry friend that sits on the end of the couch that doesn't want to be not in the room with me which is slightly annoying but very sweet.
"In the first lyric of the song 'Best Thing', I say 'I didn't know you but I barely even really knew myself'. When I first saw Darcie as this little tiny puppy, I didn't know that she was going to completely and utterly change my life. She dictated the house I lived in, the friends I met through dog walking, the relationships I've had with friends and family because we'd go out for a dog walk instead of just sitting in and watching TV which is not a bad thing but we need to do a variety of stuff. So that's where it came from. I wrote it with a great singer-songwriter called Tom Baxter at Universal and we're putting it out. It's been drip-fed in the podcast."
How did Darcie react when you first played her the song? That's the important question.
Danyl: "I mean she couldn't care less. She's stony-faced but, in heart, she's got a nice little glint in her eyes which means that hopefully she enjoyed it."
CelebMix: "Were you not tempted to put a sneaky little bark in the background somewhere?"
Danyl: "Who says there isn't? You just haven't found it yet. Listen closely. It's slowed down and reversed and it's a completely different sound. (laughs)"
As you said, you've also started a podcast called 'Best Thing' which is really uplifting and helps put a smile on people's faces. You go through 5 categories but were there any other categories you nearly included or would like to introduce in the future?
"Yeah, it was really difficult because I was trying to think of really generic things that people could easily talk about from any walk of life. You can always talk about: food, music, TV, travelling and I obviously added something random. We've had: Greek mythology, boxing, UFOs and documentaries. Loads of people have gone out there and really chose so many categories which is nice. Coming up with categories, I was going to do one about family or maybe animals but I thought maybe not everyone has had a pet or maybe not everyone's had a good relationship with their family.
"But what actually is coming in series two, we've added a new category. It's a really difficult question. I think because we're British, we're going to find this the hardest question of them all and that is: 'What is the best thing about you?' You don't want to seem sycophantic or self indulgent so you're always like 'erm'. We're halfway through season two and everyone has said sort of things about helping people and being a good parent or partner or good friend which is really nice. I want someone to be like 'I'm good at doing IKEA furniture'."
From Ben Haenow and Lucie Jones to Jo O'Meara and Aaron Renfree, you've had some amazing guests on the podcast. This might be a hard question but do you have any highlights or favourite moments from season one?
"Yeah, I do. For me, it's great talking to all of these people and Ben Haenow was so much fun. I've actually met Ben when he played at a gig in Reading and a friend of mine Christian Burrows supported him on his tour. Ben was so lovely and that was a while ago. I always had it in the back of my mind that I wanted Ben to be part of 'Best Thing' and obviously he did it so I loved doing that. The highlight for me is there's a girl called Chinchilla and she is the sixth episode. She has just signed a deal with Warner and she is going to be huge. To have someone like that on the first series of a podcast; right at the beginning. I'm still friends with her, we get on really well and I help support her career a lot. I'd love to interview her in five years when we see her star has completely shined so bright. We'd be like 'do you remember what happened in season one when we talked about this?' and she'd be like 'oh my god'. It'd be a different life and I love those aspects of it. Obviously we had Connor Reeves who was a great soul singer in the 90s and he's back on tour next year. It was great to talk to these childhood legends for me. It's been a great series and I'm really proud of it."
You've mentioned that season two will be starting soon – can you give us any hints about upcoming guests or what to expect?
"Yeah, we are literally smashing and punching above our weight when it comes to season two. I'm so excited with the guests that we've had. So I think it's all cast season two now. We've got someone from The Great British Bake Off and his name's Michael Chakraverty. He's going to be kicking off the first episode. When series two gets released in October, it's going to be in and around when Bake Off is on TV so his social media is going to be going crazy. He's a great personality and really fun. Season two is the sweariest of the seasons. Everyone went full out with swear words which is fine; there's no big ones but some there. We've got Derren Litten, the writer of Benidorm, who also wrote with Catherine Tate for her sketch shows and he is an absolute delight. We've got the wonderful Peter Dickson who is the voice of The X Factor. I don't if you've seen it but we've got an actor from 'I May Destroy You' as well. We have all these wonderful people in season two but I'm going to be biased… the best one is my mum. My mum is going to be on season two. We just recorded it and she was a bit nervous but she did really well."
Going back to music, you recently released a collaboration with Elis Mraz titled 'Hello To Me' – how did you find the response to that song?
"Yeah it was really really sweet. It was kind of a soft launch when we did that song. We didn't really give it too much promotion. We just wanted to put it out there. We shot a very elaborate music video in Prague because that's where Elis is from so we have a lovely backing. I was running across bridges trying to find her and she's trying to find me. The video doesn't really have a happy ending; well depending how you may take it. The song 'Hello To Me' is pretty much about when you fancy someone and they fancy you but you don't tell each other and then you just miss the boat. I've seen this in my friend's and family's situations. People just miss the boat on people that are potentially the loves of their life. People are sometimes not brave enough to say it or their situation is not in a great place and they might be with the wrong person. So that's what me and Elis put together. I wrote the song in my kitchen and I was doing some projects in the Czech Republic. I saw Elis on The Voice and I just loved her so I reached out to her. We did Czech Republic Pride so it was really great and then me and Elis decided to do the song after I asked her many times."
We think the video tells the story really well and the final look you both give each other at the end sums up the essence of the song.
"It's funny because obviously I'm gay but it doesn't mean that I can't be an actor. People were like 'how come you didn't hug a guy at the end?' but I didn't need to make it about me. It was about a song and it might have been from other people's perspective. The funny thing about the video is the girl that I hug Veronica, who is a supermodel, and the guy who Elis is with are actually brother and sister in real life. Everyone was so lovely. We had a really good time."
You also feature on ToMusic's brilliant new dance track 'So Loved' – how did that come about?
"This young producer messaged me and he's from Holland I think. He sent me this piano and said 'hey, do you want to work together on something?' I was like 'cool' and I had no idea what it was going to sound like. I just wrote a song, put some lyrics down and sent it to him. Then I was 'ah ok, that's what it's going to be like'. We did a couple of other tracks too and it's been really exciting. Yet again, I'm not screaming and shouting about this song. I'm 38 and I don't need to be mixed in the same pool as everyone else coming into the music industry who is young and vibrant and having their first chance. I just feel like I'll put it out. If people listen, people listen."
It's a cool track. Can we expect more song releases from you in the near future?
"Yes, I think so. We'll be adding some new sections to the podcast moving forward and I'll drip-feed some other songs on there. Adam Harris, who does Fat Chicken and is kind of my co-presenter on it, is going to have a new segment on some of the live things. I can't tell you what it's going to be yet but it's a secret; that's what I'll say."
You shot to fame on The X Factor over 10 years ago. Looking back, what were some of your highlights? Is it crazy to think it was so long ago?
"It's mad. You're a little young whippersnapper at that time. For it to be 11 years ago and the names still roll off people's tongues from our year, we're very lucky. We have the wonderful Lucie Jones who not only has smashed the West End but also smashed it in Eurovision for us as well and who is just a beautiful person. Then we've got Olly Murs; everyone knows Olly and he's a judge on The Voice. We've got Stacey Solomon who is on Loose Women and her social media is flawless. She's just being a great person and a great ambassador for being a mum and all the things that go with that. Rachel Adedeji who has the most amazing name; even Peter Dickson says that it's one of his favourite names to say. We have Jedward. Joe McElderry who I'm going to say is the hardest fucking working man ever. I don't know if you watch any of his socials but he never stops working and his voice gets better and better."
Do you keep in contact with your fellow X Factor finalists much? You've had Lucie on your podcast already but can we expect more of them as guests?
"Yeah, I've had Lucie already. I think Jamie Afro is going to be doing season three; I'm very close with him and we played tennis a couple of weeks ago. It was nice to catch up with him. It would be lovely to have some of the others on there as well. No pressure and we are all a mini family from 2009/2010 from the tour and stuff so we will always support each other even if we sometimes don't have the time to do that. I asked Stacey if she could do a video for the Pride of Reading Awards that I'm part of in my local town and she did it straight away and she was very sweet to do it. We will help each other out. Also, I missed out some of the other people before. Like I've just said, Jamie Afro and also Lloyd Daniels who has literally smashed it and done some really good stuff. His singing, yet again, is flawless and he's pretty much as good as Joe McElderry."
And it's been three years since you competed to represent the UK in Eurovision with 'Light Up The World' – how did you find that whole experience? You obviously competed alongside Lucie.
"Yeah, I mean I couldn't have been more proud of my girl Lucie. She unbelievably went into that competition with a song so different to anyone else's and they actually did a really good remix of it as well which I thought they should have popped into. I got asked to do that show on Christmas Eve so I knew I was very late to the casting of it but it was an amazing experience. It was really fun to get out there and be back at the place where me and Lucie actually met. We met at Hammersmith Apollo doing X Factor bootcamp back in 2009. So for us to be up there again and singing a song was really nice. The other contestants were great and had some really nice songs but, for me, I really was voting for Lucie even against myself which is normally like me. I remember being on The X Factor and I voted for Jedward then I wanted Olly to win."
With a similarly titled song, you recently sang 'Light of the World' for Godspell's 50th anniversary – what was it like being involved with that?
"You have done your research Mark. The cast, everyone behind the scenes and the musical director did such a really tough job. We really weren't allowed out at the time when we were cast and doing stuff. I got to do a video and we got to have an amazing time. I've never done any musical theatre professionally so when I got asked to do this, I really didn't want to do it because I was a bit scared. I'm up amongst all these powerhouses but I was so glad that I did. I don't know if you know but there's actually going to be a drive through version of the show and some of the cast members are going to be doing the songs live. It's incredibly difficult because my song couldn't be any higher so that's going to be fun trying to do out in the cold. It's going to be great and I think it's going to be a good experience. We can't go into theatres so this is the second best thing."
Talking of live shows, you've also got a Manband charity show lined up next year – can you tell us more about that? What can people expect?
"Yeah, we're raising money for Sue Ryder and Ataxia. Some friends I've known for a very long time managed to put a show together. It's a bit of a mockumentary about being in a band and stuff. Some of us were actually in some cheesy boy bands when we were younger. It's really good fun and we've been enjoying it. It's been difficult to rehearse. We were supposed to do the show around now but we had to push it back because we couldn't rehearse. We tried to through Zoom and stuff but trying to learn routines was really difficult. It's a great cast and we have a wonderful musical director on it called Matt. It's come together really nicely. Luckily enough, there's only five of us in the cast and I've got a garden so we can rehearse outside and socially distance."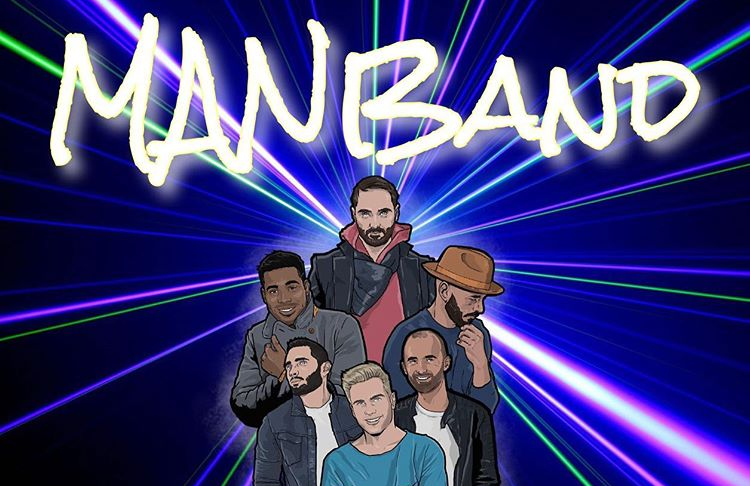 Being an ambassador for the People's Postcode Lottery is also a huge part of your life. It must be amazing to make someone's day by giving them money – have you found it even more rewarding in these challenging times?
"It's been incredible. I think that we have been this lovely sort of ray of sunlight that they never thought was going to happen. They had me, Judie McCourt, Jeff Brazier and Matt Johnson giving them a call on video chat and telling them that they've won money. I'll tell you what's been really nice. Over the last couple of months, there's been a couple of wins in Reading. One of the main ones in Reading was in a place called Wokingham and it was a really difficult time because an attack happened in a park just after lockdown. One of the teachers that got killed used to teach in Wokingham and that area won a huge amount of money. When things are really tough and really sad, it doesn't replace anything. It doesn't make anything feel better. It's just a little bit of something to distract. I think three million pounds was distributed in that area. We hear all these stories and the other day we were telling people how much they won. We had nine people in one postcode and spoke to seven of them. One of them said 'my husband died and today is his birthday so this is like a lovely present from him' so you know. If you win £1000 or £30,000 like I was doing the other day, it's such a huge amount that people can put in their bank account and take a little bit of a breath."
Have there been moments over the years where you've nearly been brought to tears?
"One hundred percent. When it comes to money, you know everyone has a bit of worry. I always say if you gave someone £1000 and they're like 'oh that's not a lot of money' but if I took £1000 out of your bank account then you might care. When you give someone £30,000 or £100,000 and they've had debts or worries of £5000, they can just pay it and it's done. Then they can just enjoy the rest of the money. It's so great to have this going on right now and that we got to do it even though we weren't knocking on anyone's door. It's very good we got to do that."
What does the rest of 2020 and next year have in store for Danyl Johnson?
"More podcasts. Season two of 'Best Thing' will come out in October and run all the way to Christmas. We'll have some added bonuses as well. We're going to actually record the best bits of 'Best Thing' series one so hopefully that should be out soon. We're going to be dropping all the episodes of series one onto YouTube. I've made some videos; it's not of us talking but there's kind of like holding pages and stuff. Not everyone has Spotify and not everyone has an Apple phone but everyone can get onto YouTube so you can have a little listen there and watch yourself. Then we'll roll into Christmas and I'll start recording series three in December. We'll come back in the new year with series three and then I think we're taking 'Best Thing' out on tour. We've got some great ideas with that. Maybe some new music will be released too and we'll see what happens from there."
If you could leave a message for your fans, what would you say?
"I would just say thank you for being super loyal. You've reeled off about six billion things that I'm doing so it's a lot to follow but there's loads coming. Hopefully we'll have a nice website so you only have to go to one place to find out what I'm doing next. So thank you so much and a lot of love to anyone that supports and follows me from friends to family to fans. I've always said that my fans, who are called fanyls, are like family."
Danyl Johnson's new single 'Best Thing' is available here on all digital platforms. You can listen to his brilliant podcast here on Apple Podcasts, here on Spotify or here on Acast. Season one's guests were as follows: Adam Harris, Connor Reeves, Bethia, Aaron Renfree, Ben Haenow, Chinchilla, Jordan Luke Gage, Jo O'Meara, Jesse Smith and Lucie Jones.
With the second season of his feel-good podcast starting soon, Danyl is sure to keep putting smiles on people's faces. We look forward to hearing more celebrities reveal some of the best things in their life. Keep Danyl Johnson on your radar by following him on Twitter, Instagram and Facebook.
Have you been listening to Danyl Johnson's podcast? What do you think of his new single? Make sure you let us know over on Twitter @CelebMix!