With effervescence and enthusiasm, Hayley Palmer has worked her way up the ranks to become a well-loved name in entertainment journalism. The Portsmouth-born presenter, who is known for her broadcasting brilliance, has interviewed hundreds of celebrities over the years.
As well as hosting her own TV shows, Hayley has landed presenting roles on platforms such as BBC Radio and GB News. Her weekly music shows, At Home With Hayley and Saturday Night With Hayley Palmer, have been a huge success on air and online.
We recently caught up with Hayley Palmer. In our exclusive interview, the self-confessed showbiz expert spoke about: some of her favourite guests, working on a documentary with The Fizz, playing Soccer Six, attending industry events such as the National Television Awards and much more.
You can read our full interview with Hayley below!
Over the years, you've interviewed tons of incredible celebrities. Are there any that you particularly enjoyed speaking to or any of your shows that you found particularly special?
"I love people and I love hearing people's stories. When I interview them, I just love hearing how it all started. Most people have got a journey; they haven't just had fame and success overnight. There's often been knock-backs or rejections and it's really interesting hearing how they've overcome it. I loved interviewing X Factor winner Ben Haenow; he's just so much fun and he was a real joy to have on the show. I also loved interviewing Lady Colin Campbell; I went to Castle Goring and it was just so fascinating. I got lost going to the toilet and couldn't find my way back. She's such an incredible woman and lovely so it really was just like a fairytale. I won't ever forget that because it was such a good experience."
Looking forward, who would some of your dream guests be for the future? Are there any stars that you'd really love to interview?
"I would love to interview the cast of Gavin & Stacey because I'm a huge fan so any of the cast members from that would be an absolute joy. I think they'd all be absolutely hilarious; the whole lot all at once would be absolutely amazing. I'd also love to interview Rylan; I'm a big fan and I think he's a brilliant presenter. I love what he does so I would absolutely love to have Rylan on the show."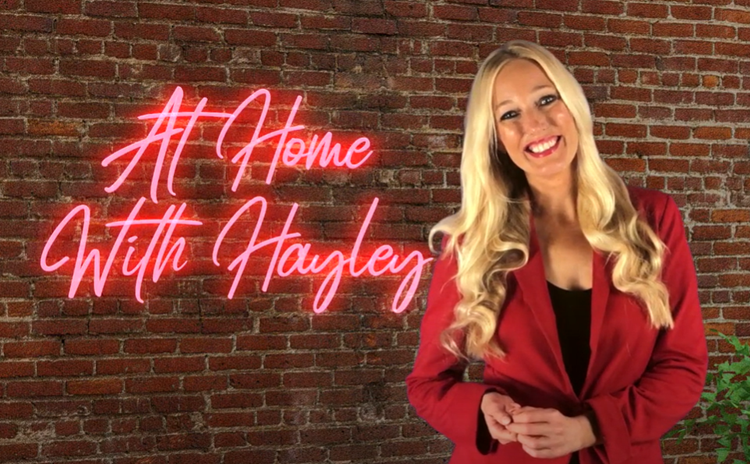 You often ask guests what their favourite songs of all time are. To turn the tables, what are some of your favourite songs? Are there any that hold a special place in your heart?
"The first song I ever bought holds a special place in my heart and that is 'Too Many Broken Hearts' by Jason Donovan. When I hear it, and I am showing my age now, it gives me goosebumps. It brings back so many memories of being young and loving music. Plus it was produced by Stock, Aitken and Waterman who I love and I have now worked with Mike Stock. I also love 'It's All Coming Back To Me Now' by Celine Dion because that song is an absolute banger. I like to get my hairbrush and sing full blast to that; I like to absolutely go for it and give 110%. I love all types of music but, to be honest, I prefer music from the: 60s, 70s, 80s and 90s. Everyone always says 'Hayley you're in a time warp' because I love the older stuff."
Over lockdown, you turned your dining room into a TV studio and launched the hugely successful show 'At Home With Hayley' – did you find filming in lockdown quite challenging or do you feel doing things virtually opened more doors in some ways?
"Yes, that's right. I came back from London and we turned the dining room into a green screen studio. At first, we had no idea what we were doing. We had all the gear and no idea. Once we got to grips with the technical side of it, my dad became the cameraman and we got quite good. The studio looked like a proper TV studio and we secured some great guests which we probably wouldn't have been able to get if we didn't have the facilities to do it. People like Anton Du Beke and Brian Conley came on plus Michael Bolton from America for the Christmas special. It enabled us to get so many guests on the show and I do really appreciate the virtual platform."
Mark Read from A1 recorded the official theme tune for 'Saturday Night With Hayley Palmer' – can you tell us more about that? How did that come about?
"That's true, Mark Read wrote the theme tune and he's actually from Portsmouth like me. He is super musically talented. We had an opportunity to record a theme tune and I just asked him if there's anything he could do and he came up with it. Instantly, I just thought it was so catchy. I asked my executive producer what he thought and he said exactly the same. It's funny because, whenever I go out, I get people coming up to me singing 'It's Saturday! It's Saturday!' which just shows that it's really catchy. It's quite simple but it's effective and it works."
You recap the latest entertainment news on GB News on Saturday mornings – how do you find that and are there any showbiz stories that you particularly enjoyed discussing this year?
"I absolutely love reporting the entertainment news on GB News because it's something that I study in any case. Every day, I'm flicking through the latest papers finding out the latest showbiz gossip. I'm completely on top of my game because they could call me at any time and say they want reports on this or that so I need to know exactly what is going on in the world of showbiz. I really like reporting on reality shows because, again, I'm on top of those. I watch every single one so I completely know what I'm talking about. I like to predict who is going to win and nine times out of ten I do get it right. I particularly liked reporting on I'm A Celebrity Get Me Out Of Here this year. I'm on a panel on GB News and we all like to debate and we all had our own thoughts and feelings about each celebrity on there."
You can often be heard on BBC Radio Sussex and BBC Radio Surrey – how would you compare presenting on the radio to hosting a TV show?
"Radio is something that I first started in and I can remember the magic of sitting at a community station getting interviewed and just thinking it was the best thing ever. I had a light bulb moment where I thought 'Wow! This is what I want to do'. With radio, the listener can't always see you so there's more pressure with TV because you're thinking about what you look like from different angles. You're more self-critical with TV whereas I feel like you can really let yourself go with radio and give little looks to the other presenter if you've gone wrong. There's something really special to me about radio and I'll never forget where I started and the opportunities that it has given me."
You've attended hundreds of red carpet press events over the years – are there any that you can't quite believe you got to attend?
"I'm going to have to say the National Television Awards because that was absolutely the most incredible night. It's really weird when you go to these things because there's everyone all in one room and you can't quite take it all in. It was really exciting walking on the red carpet and seeing heroes of mine like Ricky Gervais and Boy George. I couldn't believe that Boy George is as tall as he is. It was surreal having This Morning sat in front of me and Coronation Street to the left of me. For me, that was a great night out and I really enjoyed the afterparty too. I got in at 4am the following morning and my feet were killing me."
You recently spent 3 days recording a documentary with The Fizz – what was it like spending so much time with the group? Do you have any idea when we will be able to watch the documentary?
"I love spending days with The Fizz. They're all just really lovely in different ways. Cheryl is someone you can really chat to and have a cup of tea and biscuit with. Before you know it, you've been chatting away for ages. Mike Nolan is really funny and he cracks me up because he's a real joker and always messing about so we have fun with him. Jay is a lovely person and we have real in-depth chats. I get on really well her daughter Josie as well. They're all just really great in different ways and it was amazing to spend time with everyone. When you go to events, you don't always get too much time to chat whereas we spent quite a lot of time because we were filming all day. We also filmed with Mike Stock from Stock, Aitken and Waterman. I don't know which bits will be shown in the documentary yet but I'm really interested to see it because we filmed so much. I'll keep everyone posted about when it will be coming out."
Huge fans of 80s music will recognise you as one of the hosts of 'That Was Then, This Is Now' – did you enjoy co-presenting with Mike Read and how would you explain the concept of the show for people who haven't yet seen it?
"'That Was Then, This Is Now' is a show very similar to the style of Top of the Pops if you remember that. They were the good old days for me; I loved Thursdays nights at 7:30pm when it came on. I presented 'That Was Then, This Is Now' with the legendary presenter Mike Read and that was a really great experience because I saw how professional he was. He would remember all of his lines and he would deliver them in such a professional way. I also really appreciate the opportunity that Mike Stock from Stock, Aitken and Waterman gave me because he was the person behind it and I really will be forever grateful that he gave me the chance to present with Mike Read and be involved in such an iconic programme. We had Chesney Hawkes, Sonia, Bucks Fizz who are now known as The Fizz, Paul Young, Leee John, Limahl and so many more. It was absolutely a surreal experience. I had to stand up and introduce the acts as well as interview them and we spent more or less a week filming. Like I say, it was one of the best experiences ever. It felt like a dream doing it. I believe it is now available on StagePlayer+. The artists all sing an old song and a new song so it's a great show. Make sure you check it out."
Aside from broadcast journalism, you also have your own column with Revive Magazine – would you say reflecting on your week is therapeutic in ways?
"Regarding Revive Magazine, it's something that I like to do just to round up the week. Writing is not something that comes naturally to me as I'm much more of a talker but I do find when I put pen to paper that I get really into it and enjoy it. Sometimes we're so busy in life that we don't stop and appreciate the great things that are happening or where we've visited or who we've bumped into. I think looking back is a good way of having gratitude. Revive Magazine is a great magazine and I very much appreciate the column that I do there weekly."
Back in May, you took to the football pitch and played at Soccer Six's charity match. How was that experience and who else was on your team?
"I got asked to do it a couple of months before and it literally came around way quicker than I thought. I roped Jo O'Meara from S Club into it and, I've got to say, she was a lot better than me. It was really surreal because we all had our kits on and the warm-up exercises beforehand were so funny. Everyone wanted to put me in goal because I'm the tallest and I said no but I gave it my best and actually really enjoyed it. I went on GB News the next day and spoke about it. Everyone was like 'Hayley I think you liked it' and I was like 'I did! I want to play again!' It was all for a great cause and that's the main thing. It was great to help the charity and be part of Soccer Six."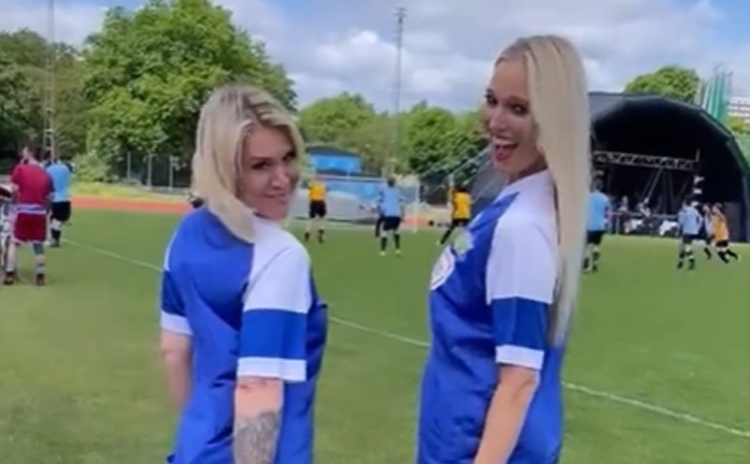 What does a day in the life of Hayley Palmer involve?
"Each day is completely different and I really like that. When I did have to work a 9 to 5 job, I just couldn't handle the same thing every day. At the moment, it constantly changes. One day I could be filming, the next day could be radio, the day after could be a big event and the next day could be GB News so it does vary from day to day. It is a job where you do have to be on top of your game because you can't turn up to these things feeling hungover or tired. You have to look and feel good to give good results. I love the buzz of it. Sometimes you do get nervous beforehand but nerves are good. Afterwards, you're on such a high because it's a great feeling when you've completed a job. Live TV gives the best buzz afterwards and then you're on a real high for the rest of the day. If you love that kind of buzz and energy, I definitely recommend presenting."
When you do get some quiet time to yourself, how do you enjoy spending it?
"The only time I have a quiet day is when I go to my mum and dad's house back in Portsmouth. I look rubbish, I eat rubbish and I relax. It does me the world of good because London lifestyle is on the go the whole time. Being in Portsmouth is the only time I get to completely switch off. I love to have cuddles with my dog Suki; we take her for walks down the beach and in the woods. It's just a lovely escape for the day and then I feel raring to go coming back to London so it's something I do try and schedule into my diary."
As someone whose face is always on TV, you must often get recognised out and about in your daily life. Where is the strangest place that anyone has ever approached you?
"I got recognised in McDonalds after a night out and I wasn't looking my best. I had changed from my heels to my flats, I had tied my hair back, I had mascara down my face and I was there ordering my Happy Meal. Someone was like 'excuse me, I've seen you before' but they must have thought I look bad in real life because it wasn't my best look. (laughs)"
What advice would you give to any aspiring TV presenters hoping to get into the industry?
"Someone said 'keep knocking on doors' to me when I first started out and it's only now that I really understand what that means. Whether you're first starting out or you've been doing it for a couple of years, just keep reaching out to people and keep letting them know that you're available for work. If you got rejected a year ago and you come back again, it could be that the person in charge has changed and there's a new person who has got different ways that you're suited to. You just don't know. I think, in this industry, rejection is a big thing that nobody talks about. Of course we don't go on Instagram and say we've just been rejected but it is actually a huge part and I think you just have to take it on the chin and keep going. I always say that rejection is protection. If you want it enough and you put in enough hard work, I think those are the two main keys to success. That's my best advice. You've got to absolutely be married to it and want it 100%. Most people don't want to put the work in, which I understand, but you have to work really hard to be in this industry and stand out from other people."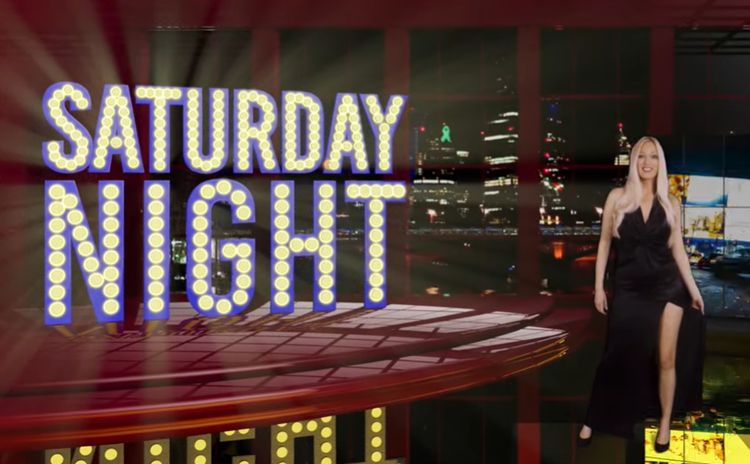 As a presenter on different platforms with various different companies, you have interviewed some stars more than once. Would you say preparing for a second or third interview with a guest is very different to a first? And do you enjoy getting to speak to some of the same people again?
"Yeah, it's really lovely when you interview people more than once. When I first came into the industry, I wasn't known at all and that's the hardest thing really to break the ice and make sure people are having a lovely time. When you interview someone again, wherever it is, it's a really nice experience when they remember you. You can start the interview normally and end it laughing and joking which is my aim. My best skill is to make people feel really welcome so they have a lovely experience and want to come back. It's a really nice feeling. People have also become friends; I've been around to Kim Wilde and Marty Wilde's house for lunch. I've also been to Cheryl Baker's house. It's just lovely to be part of that and I don't take that for granted either."
What were some of your highlights from 2022?
"One of my highlights of 2022 was meeting and interviewing TJ Jackson who is the nephew of Michael Jackson. I'm a huge fan. Meeting and interviewing TJ was such an honour. I was a little bit nervous beforehand but, I have to say, he was genuinely one of the most down to earth and kindest people that I've ever interviewed. It was such an insight to hear all of TJ's stories about his life and career as well as about his uncle. I just found it a wonderful experience and it's something that I will treasure forever. Also, another highlight was going to the National Television Awards because that was a real insight into the world of TV and showbiz. I met so many amazing people. Experiencing the whole evening was great and the afterparty of course."
From hosting your own TV shows to working with huge companies such as the BBC and GB News, you've certainly achieved a lot. Did you ever see yourself here 10 years ago?
"When I started in the industry, I just knew that I loved it. I didn't really have a plan and just thought this is a bit of me so let's see what happens. I'm always striving for more. As human beings, we're always trying to go for the next thing but to actually look where you've come so far is important. I am really proud of my achievements because it is a tough industry. Unless you want it, like really want it, then I don't think you would keep going. It's something you've got to keep working for. I get up every day and make a to do list for the day. I've actually got a little pad where you set hours for tasks like emails and things like that. I think you have to be pretty self-motivated in the industry to step forward and nobody sees that hard work that you're doing. They see you on the red carpet but they haven't seen the graft that you've put in all day. When I go to a red carpet, it's super glamorous but that is just a reward for doing all of the work that I've been doing all day. I think it's definitely something that I didn't see coming; getting to this level and also just growing in confidence. With experience, you get so confident in what you're saying and it comes across on camera as well."
What are your dreams for the future? Where would you like to be 10 years from now?
"Well, of course, I'd love to be on primetime TV. That would be the absolute goal. That is what I'm focusing on and I'm going to keep working hard every day. But, also, I try not to make that so big that it's unachievable. I try to break it down into little small tasks every day which are working towards that. For anyone that wants to get into the industry, I would definitely recommend doing a podcast or a YouTube channel. We're so lucky today that you can actually do that. When I started, that wasn't really a thing but now you can pretty much do your own show and get it out there for people to look at. Definitely keep going and follow your dreams."
2022 was another fantastic year for Hayley Palmer. The presenter's personable nature, undeniable broadcasting skills and determination to achieve her dreams will continue to take her a very long way in the industry. We are sure to see Hayley on more shows and more red carpets next year.
Make sure you subscribe to Hayley Palmer's official YouTube channel here to keep up to date with all of her latest showbiz interviews. You can also follow her on: Twitter, Instagram and TikTok.
Who would you like to see Hayley interview in the future? Let us know over on Twitter @CelebMix!